Why Buffalo Wild Wings' 15-Minute Lunch Guarantee Is Great News for Investors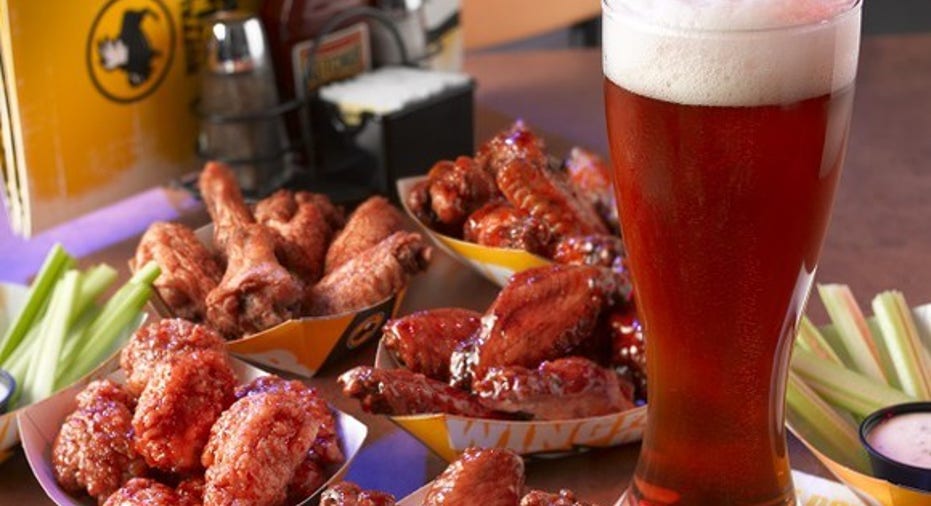 Image source: Buffalo Wild Wings
If you're hankering for some wings, but don't typically have the time during your lunch hour, Buffalo Wild Wings (NASDAQ: BWLD) has you covered. On Wednesday, the wings, beer, and sports-centric restaurant chain announced that, for a limited time, it's offering a 15-minute lunch guarantee across almost 900 of its U.S. locations.
More specifically, Buffalo Wild Wings is guaranteeing it will take no longer than 15 minutes from the time a guest orders a meal from its B-Dubs Fast Break Lunch menu for the food to arrive. If it fails to meet that promise, that guest will receive the meal and a fountain soda drink for free.
Buffalo Wild Wings' VP of food and beverage, Todd Kronesbusch, pointed out their standard was already to deliver Fast Break Lunch meals within 15 minutes of the order. "[B]ut the new guarantee adds a promise to our guests," Kronesbusch said, "and some fun, friendly competition."
The development should be good for investors, too, especially on the heels of Buffalo Wild Wings' book%20of%20the%20same%20name%20co-authored%20with%20Raj%20Sisodia.
%20
Let%20it%20suffice%20to%20say%20that%20Whole%20Foods%20management%20strives%20to%20run%20the%20business%20while%20keeping%20the%20principles%20of%20conscious%20capitalism%20 at%20its%20core,%20including%20efforts%20to%20maintain%20industry-leading%20quality%20standards%20for%20the%20natural%20and%20organic%20products%20it%20sells,%20recognizing%20its%20"customers%20are%20the%20most%20important%20stakeholders%20[...]%20and%20the%20lifeblood%20of%20our%20business,"%20driving%20a%20number%20of%20initiatives%20to%20empower%20its%20employees%20to%20"support%20team%20member%20happiness%20and%20excellence,"%20working%20to%20advance%20environmental%20stewardship%20through%20sustainable%20agriculture,%20and%20promoting%20a%20healthier%20lifestyle%20for%20its%20stakeholders%20through%20healthy%20eating%20education. %20href="http:>
%20
And%20of%20course,%20taken%20with%20its%20goal%20of%20eventually%20nearly%20tripling%20its%20store%20base%20to%201,200%20locations%20--%20and%20that%20excludes%20any%20incremental%20contribution%20from%20its%20newer%20value-oriented,%20small-format%20365%20concept%20stores%20--%20collectively%20these%20principles%20should%20continue%20to%20drive%20market-beating%20returns%20for%20shareholders%20over%20the%20long%20term.
" target="_blank">disappointing first-quarter 2016 results in April. At the time, CEO Sally Smith lamented they were "dissatisfied" after same-store sales fell 1.7% and 2.4% at company-owned and franchised locations, respectively. However, Smith also promised investors they were tackling "several sales-driving initiatives to regain momentum." During the subsequent conference call, Smith elaborated one of those initiatives involved the early testing of an "enhancement" to Fast Break to include a speed-of-service guarantee.
"We believe this combination of speed, value, and variety is an attractive offering to guests," Smith added. "And when combined with additional advertising spend around lunch, it will drive incremental sales."
Now we know exactly what form that speed-of-service guarantee has taken. But I also think it speaks volumes of the success of that early testing that Buffalo Wild Wings is now expanding the guarantee to more than 75% of its roughly 1,190 worldwide locations.
Exactly what kind of top-line impact could this have? When Buffalo Wild Wings introduced its Fast Break Lunch menu a little over a year ago, just 19% of total revenue came from the lunch daypart, with the remaining 81% of the business coming from its combined dinner (49%), happy hour (16%), and late night (16%) segments. At the time, I suggestedthe "more segregated [and underserved] Lunch daypart arguably offers the most compelling incremental revenue opportunity."
However, even as Buffalo Wild Wings has suffered relatively broad weakness across its business, given headwinds in the casual dining space, management has noted that growth in takeout orders has significantly outpaced that of in-restaurant orders since then. This is indicative of the rise of more price- and time-sensitive consumers, who still want higher-quality food, but don't mind foregoing the full in-restaurant experience that Buffalo Wild Wings uses to differentiate itself from its casual-dining peers.
At the same time, Buffalo Wild Wings is happy to continue fulfilling takeout demand. But if it can capitalize on its new speed-of-service guarantee to capture any meaningful slice of the sit-down lunch market, it could prove to be great news for investors, as Buffalo Wild Wings strives to return same-store sales to sustained growth going forward.
var FoolAnalyticsData = FoolAnalyticsData || []; FoolAnalyticsData.push({ eventType: "ArticlePitch", contentByline: "Steve Symington", contentId: "cms.211117", contentTickers: "", contentTitle: "Why Buffalo Wild Wings' 15-Minute Lunch Guarantee Is Great News for Investors", hasVideo: "False", pitchId: "2667", pitchTickers: "", pitchTitle: "", pitchType: "", sfrId: "" });