Why Bristol-Myers Squibb Co. Stock Surged in November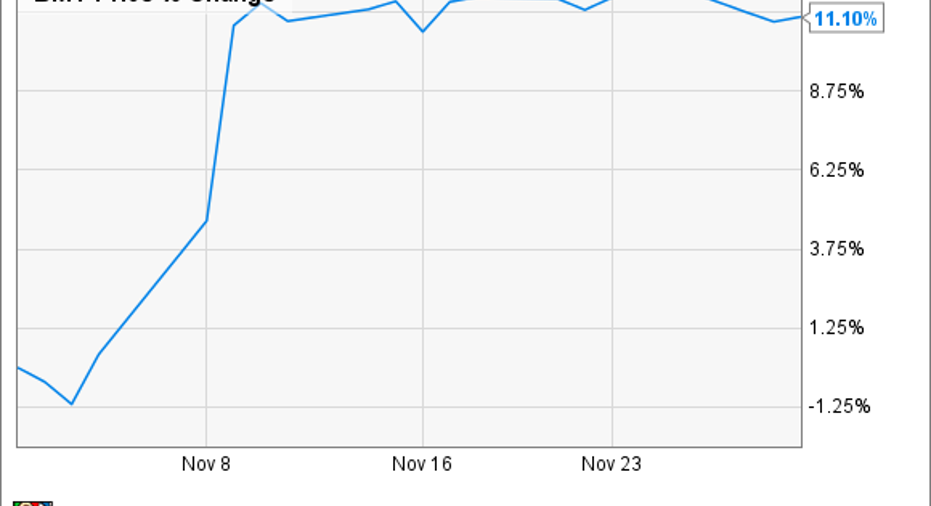 Image source: Getty Images.
What happened
According to data fromS&P Global Market Intelligence, Bristol-Myers Squibb's (NYSE: BMY)stock climbed higher by more than 11% last month. This double-digit move northward appears to have been triggered by the unexpected victory of Donald Trump over his Democratic opponent Hillary Clinton, perhaps signaling the end -- or at least the significant curtailing -- of the raging drug pricing debate inside the United States that's been weighing heavily on the shares of all major drugmakers this year.
So what
Prior to this rally, Bristol's shares were having trouble finding a bottom following the failure of Opdivo's pivotal stage study in front-linenon-small cell lung cancer (NSCLC). In short, this critical failure opened the door for Merck's (NYSE: MRK) rival immunotherapy Keytruda to enter the market as the only approved checkpoint inhibitor for this high-dollar indication, and potentially eat into Opdivo's NSCLC market share for its approved use in later line settings.
Now what
Now, Opdivo may eventually break into the NSCLC front-line setting as part of a combination therapy, but there's no doubt that Merck's first-mover advantage isn't a major setback for Bristol and its shareholders. After all, this clinical miss may have wiped away approximately $4 billion in sales off of Opdivo's peak commercial potential.
Having said that, the good news is that Opdivo continues to rack up other important clinical hits and regulatory approvals. Last month, for instance, the FDA approved the drug forrecurrent or metastatic SCCHN (squamous cell carcinoma of the head and neck). In other words, this miss in front-line NSCLC appears to be more of a hiccup than a worrisome new trend.
Bristol's shares, however, are arguably on the expensive side after this hefty surge based on its current forward price-to-earnings ratio of 18.7. So, it's probably not the most compelling buy in the pharma space at the moment.
Nonetheless, the drugmaker does offer deep value with Opdivo's overall stellar track record in the clinic, combined with its broader immuno-oncology pipeline that is among the best in the industry. That's why this stock may be worth picking up right now, despite its sizable premium compared to many other large-cap healthcare stocks.
10 stocks we like better than Bristol-Myers Squibb When investing geniuses David and Tom Gardner have a stock tip, it can pay to listen. After all, the newsletter they have run for over a decade, Motley Fool Stock Advisor, has tripled the market.*
David and Tom just revealed what they believe are the 10 best stocks for investors to buy right now... and Bristol-Myers Squibb wasn't one of them! That's right -- they think these 10 stocks are even better buys.
Click here to learn about these picks!
*Stock Advisor returns as of November 7, 2016
George Budwell has no position in any stocks mentioned. The Motley Fool has no position in any of the stocks mentioned. Try any of our Foolish newsletter services free for 30 days. We Fools may not all hold the same opinions, but we all believe that considering a diverse range of insights makes us better investors. The Motley Fool has a disclosure policy.