Why BMW's Futuristic Self-Driving Rolls-Royce Holds Lessons for Investors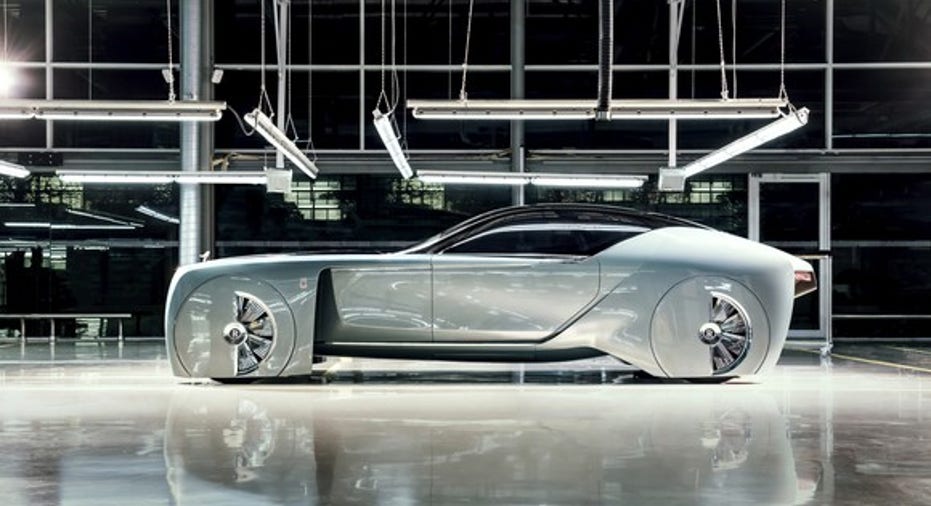 The Rolls-Royce 103EX is a vision of what a super-luxury car might look like in the hyper-connected, self-driving future. It's part of corporate parent BMW's "Vision Next 100" program, in which the company has challenged its business units to show how they will be profitable and relevant as personal mobility evolves. Image source: Rolls-Royce/BMW.
One vision of the future of cars holds that most of us will be sharing our rides: Instead of owning cars that mostly sit idle, we'll look to self-driving taxis operated by services like Uber and Lyft for most of our transportation needs. They'll be cheap andavailable quickly -- but they may not be luxurious. Some rides mayeven be shared with other passengers headed in the same direction.
It's not a bad vision -- if nothing else, it probably beats taking a bus. But what does luxury look like under that vision? Serious, high-end luxury?
If Rolls-Royce is right, it might be a lot like the radical-looking car pictured above.
What will "luxury" look like in the connected car-sharing future?
That car, codenamed 103EX, is Rolls-Royce's contribution to corporate parent BMW's "Vision Next 100" look into the future of autos and personal mobility.
Rolls-Royce said in a statement that the 103EX
Size (it's big) and curb presence were important considerations in Rolls-Royce's design: The company's customers like to make grand arrivals, and that's not likely to change in the future. Image source: Rolls-Royce/BMW.
In other words, Rolls-Royce's customers said they would continue to want to ownRolls-Royces even as the nature of "personal mobility" evolves. In the car-sharing future, "luxury" might well mean owning a distinctive vehicle that takesadvantage of smart, self-driving technology, but that the owner doesn't have to share. The 103EX is the company's look at what those future Rolls-Royces might be like.
A zero-emissions, self-driving, "smart" car that's still a Rolls-Royce
Simply put, the 103EX is Rolls-Royce's take on a zero-emissions, self-driving, "smart" car of the maybe-not-too-distant future. In keeping with Rolls-Royce tradition, it's silent, extremely comfortable, and very posh -- and much more tailored to each individual customer than is possible today.
Don't pay too much attention to the radical exterior styling of the 103EX. Part of the vision, Rolls-Royce said, is that advanced manufacturing techniques will allow customers much more say in the "shape, size, and silhouette" of their cars.
Another part of the vision: The Rolls-Royce of the future will be smart. An artificial-intelligence assistant called "Eleanor" will be the passengers' "virtual assistant and chauffeur," Rolls promises, "freeing them of all effort and encumbrance."
Surprisingly, the 103EX's interior lacks leather. Instead, its designers chose silk, wool, and fine woods to deliver a vision of future luxury. Image source: Rolls-Royce/BMW.
As you'd expect, the interior is swathed in opulent materials. But interestingly, those materials don't include leather: The "sofa," as Rolls calls it, is upholstered in silk and wool and surrounded by wood paneling and deep-pile wool carpets. A large, transparent OLED screen on the front wall of the cabin provides in-ride information and entertainment without obstructing the panoramic view.
What powers this Rolls-Royce of the future? The company was vague on that point, saying only that the car would be "zero-emission" and that it's highly unlikely to be powered by the gasoline-burning V12 engines used in the company's current models. But it's easy to see that the 103EX's propulsion could be battery-electric, with the batteries in the car's floor.
Rolls-Royce and BMW are figuring out how to stay relevant as the nature of mobility evolves
For now, this car is just a set of ideas expressed as a concept vehicle. Rolls-Royce may never produce a car quite like the 103EX.
But the thinking behind it is very real, and very necessary.
The auto industry is over 100 years old, but the changes coming in the next few years will transform it drastically. It seems clear that new entrants like Uber and Tesla Motors will play important roles in the decades to come, and it also seems clear that not all of the established automakers will survive.
The Rolls-Royce 103EX from behind. There's a lot of fanciful thinking in its design, but the key ideas are important. Image source: Rolls-Royce/BMW.
That means all automakers, from Rolls-Royce on down, need to be thinking now about how they will find customers and generate profits as the nature of "personal mobility" changes and evolves in the coming years. The 103EX is a look at what Rolls-Royce is currently thinking, and a way for it to have a conversation with its customers over time.
There's an important lesson here for investors
Rolls-Royce is tiny. Its contribution to BMW's bottom line isn't all that significant. But for investors who may be looking at attractively valued auto stocks, or who own shares of the big automakers, the example of the 103EX is important: What is your company saying (and importantly, doing) to ensure that it stays profitable and relevant as personal mobility evolves?
If the answer to that question isn't obvious, think carefully before investing.
The article Why BMW's Futuristic Self-Driving Rolls-Royce Holds Lessons for Investors originally appeared on Fool.com.
John Rosevear has no position in any stocks mentioned. The Motley Fool owns shares of and recommends Tesla Motors. The Motley Fool recommends BMW. Try any of our Foolish newsletter services free for 30 days. We Fools may not all hold the same opinions, but we all believe that considering a diverse range of insights makes us better investors. The Motley Fool has a disclosure policy.
Copyright 1995 - 2016 The Motley Fool, LLC. All rights reserved. The Motley Fool has a disclosure policy.