Why bluebird bio Shares Rallied 24.7% In November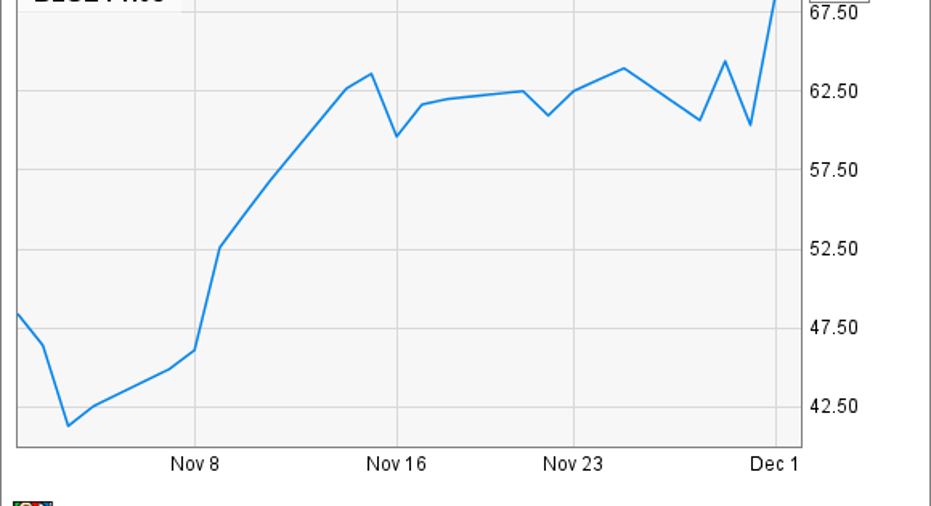 Image source: Getty Images.
What happened
After business-friendly Donald Trump's presidential victory, and ahead of phase 1 interim trial results for its multiple myeloma therapy on Nov. 30, shares in bluebird bio (NASDAQ: BLUE) soared 24.7% last month,according toS&P Global Market Intelligence.
So what
Fear that drug pricing would fall into the regulatory crosshairs if Hillary Clinton won the White House decreased afterDonald Trump was elected on Nov 8. Trump ran on a deregulation, free-market platform that suggests biotech companies have less to worry about now that he'll be the next president.
Trump's industry-friendly status sent Bluebird's shares soaring from $46.10 on election night to $63.60 on Nov. 15. Shares continued to climb into the end of November after management told investors on Nov. 14 that they would present interim results from Bluebird's multiple myeloma phase 1 trial at a symposium on Dec. 1.
Now what
Management reported interim data ahead of the symosium on Nov. 30, and it didn't disappoint. So far, Bluebird's bb2121, which is being developed in collaboration withmultiple myeloma powerhouse Celgene(NASDAQ: CELG), is delivering bothhigh response rates and top-notch safety.
In the nine-person trial, bb2121's response rate was78%, including two complete responses that were maintained at the four- and six-month mark, respectively. Furthermore, no dose-limiting toxicities, grade 3 or grade 4 cases of cytokine release syndrome, nor any grade 3 or grade 4 neurotoxicity have been observed yet.
The results are intriguing because the average person participating in this study received a median six prior treatments before receiving bb2121. Assuming that bb2121 continues to produce high response rates and solid safety in tough-to-treat patients like these, it could someday reshape multiple myeloma treatment. Of course, it doesn't hurt to have Celgene's significant experience in the indication at its disposal, either. Celgene already markets the best-selling first-, second-, and third-line multiple myeloma drugs on the market.
Nevertheless, there's no guarantee that bb2121's future studies will pan out, and given that more than 90% of cancer drug trials fail, some caution may be warranted now that Bluebird's shares have catapulted its market cap to $2.6 billion.
10 stocks we like better than Bluebird Bio When investing geniuses David and Tom Gardner have a stock tip, it can pay to listen. After all, the newsletter they have run for over a decade, Motley Fool Stock Advisor, has tripled the market.*
David and Tom just revealed what they believe are the 10 best stocks for investors to buy right now... and Bluebird Bio wasn't one of them! That's right -- they think these 10 stocks are even better buys.
Click here to learn about these picks!
*Stock Advisor returns as of November 7, 2016
Todd Campbell owns shares of Celgene.Todd owns E.B. Capital Markets, LLC. E.B. Capital's clients may have positions in the companies mentioned.Like this article? Follow him onTwitter where he goes by the handle@ebcapitalto see more articles like this.
The Motley Fool owns shares of and recommends Celgene. The Motley Fool recommends Bluebird Bio. Try any of our Foolish newsletter services free for 30 days. We Fools may not all hold the same opinions, but we all believe that considering a diverse range of insights makes us better investors. The Motley Fool has a disclosure policy.