Why Blue Nile Inc. Stock Plunged 25% in February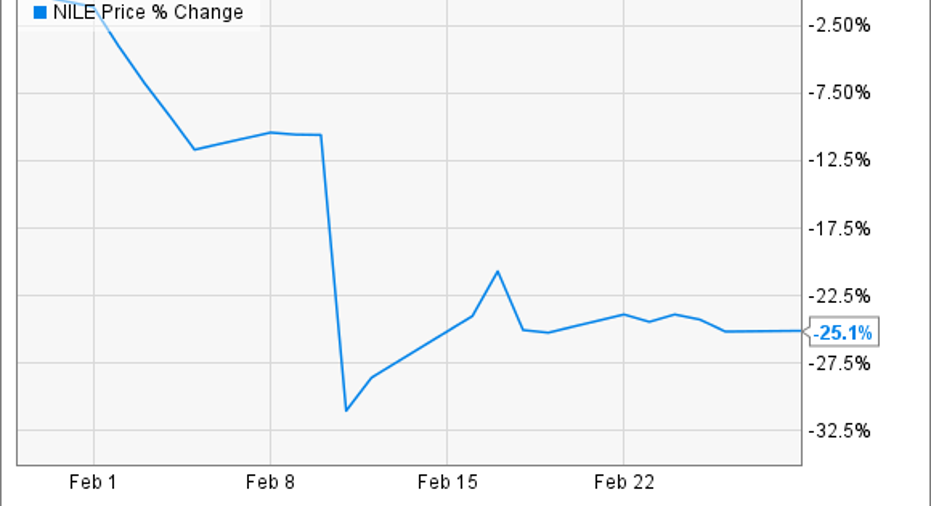 What: Shares of online jewelry retailer Blue Nile(NASDAQ: NILE) sank 25% in February, according to data provided by S&P Global Market Intelligence, leaving shareholders trailing the broader market over the last year (the stock had been trouncing indexes by 30 percentage points as recently as December).
So what: Investors reacted harshly to the company's fourth-quarter results. Sales for the holiday period declined by 5%, which left Blue Nile at just $480 million of revenue for all of 2015, compared to management's forecast of $493 million. Engagement jewelry sales fell 8% in Q4, marking a significant slowdown from the prior quarter's 7% uptick.
Nile is hardly alone in that struggle, though. Jewelry giant Tiffany's (NYSE: TIF) holiday sales fell 5% as well, which the company blamed on "restrained consumer spending tied to challenging and uncertain global economic conditions."
As for earnings, Blue Nile held the line on pricing and raised its profitability in the process. Gross margin improved from 18.1% of sales to 19.4%.
Now what: Consistent with rival Tiffany's forecast, Blue Nile management sees more weakness in the global jewel market this year -- annual sales are projected to show no improvement and weigh in at $480 million. For a growth stock, that uninspiring outlook was enough to sink shares last month.
Image source: Blue Nile.
The company expects to keep booking modest profit margin gains in 2016 while expanding its Webroom concept that allows customers to handle jewelry before making their purchase decisions.
Investors smarting from the business' lower growth potential also received a key financial consolation: Blue Nile initiated a dividend to the tune of 80% of last year's earnings. Without promising that it will be a regular payout, management said they would assess the company's capital position each year when determining whether to issue a dividend, and how much of the prior year's earnings to pay out to shareholders.
The article Why Blue Nile Inc. Stock Plunged 25% in February originally appeared on Fool.com.
Demitrios Kalogeropoulos has no position in any stocks mentioned. The Motley Fool recommends Blue Nile. Try any of our Foolish newsletter services free for 30 days. We Fools may not all hold the same opinions, but we all believe that considering a diverse range of insights makes us better investors. The Motley Fool has a disclosure policy.
Copyright 1995 - 2016 The Motley Fool, LLC. All rights reserved. The Motley Fool has a disclosure policy.