Why Bloomin' Brands, Knowles, and Sanmina Jumped This Morning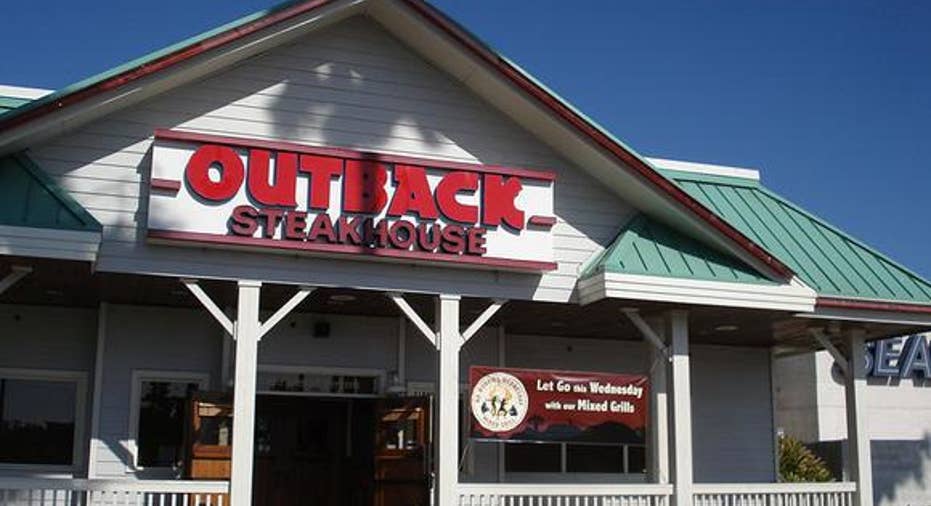 Image: Bloomin' Brands.
The stock market didn't move much Tuesday morning, as investors seemed content to wait to see whether the Federal Reserve would make any interest rate changes when it completes its two-day meeting Wednesday afternoon. After the big drop to start 2016 and the subsequent recovery to approach all-time highs, stocks are pausing to deal with company-specific aspects of earnings season. Even though major market benchmarks moved modestly on both sides of the unchanged line during the first 90 minutes of the trading day, several stocks managed to post substantial gains. Among them were Bloomin' Brands , Knowles , and Sanmina .
Bloomin' Brands climbed 8% after announcing its first-quarter earnings results. The restaurant company behind the Outback Steakhouse chain said that its earnings came to $0.29 per share for the quarter, down almost 40% from year-ago figures. Combined comparable-restaurant sales were weak, falling 1.5% as the Outback, Carrabba's Italian Grill, and Bonefish Grill concepts all posted declines in comps. Wage inflation and unfavorable product mix weighed on operating margins, and restructuring costs also held back Bloomin' Brands from growing. Yet the company highlighted some success stories internationally, including an 8.8% rise in comps in its Brazilian Outback Steakhouse locations. Moreover, investors appeared to respond favorably to repurchases of $75 million during the quarter, along with the fact that the company reiterated its full-year 2016 guidance even in light of its results.
Knowles jumped 17% in the wake of its first-quarter earnings success. The provider of audio processing, micro-acoustic, and specialty components and solutions said that revenue came in at $185.3 million, falling just 1% from year-ago levels. Knowles said it lost $29.4 million during the quarter, nearly doubling its loss from the previous year's first quarter. However, after adjusting for discontinued operations and one-time charges, adjusted earnings of $0.08 per share were stronger than expected. CEO Jeffrey Niew pointed to microphone shipments on mobile consumer electronics that helped offset seasonal weakness in health-related hearing products. In addition, Knowles pointed to accelerating sales and earnings in the second half of the year as it looks to launch new products and boost awareness of some of its intelligent audio solutions. Second-quarter guidance for $180 million to $200 million in sales and adjusted earnings of $0.08 to $0.14 per share were also received favorably.
Finally, Sanmina gained 11%. The contractor for electronics manufacturing services reported fiscal second-quarter results that included a 5% rise in revenue and earnings per share that topped expectations by nearly 10%. Guidance for the current quarter was also favorable, with Sanmina now expecting earnings of $0.61 to $0.65 per share on revenue of $1.625 billion to $1.675 billion. CEO Jure Sola celebrated the company's best earnings per share in more than a decade, and he cited "solid execution coupled with growth in the majority of our market segments [that] drove improvements in our results." With demand for manufacturing services following the health of the markets for electronic devices, Sanmina looks primed to do well as long as the mobile revolution keeps pushing forward.
The article Why Bloomin' Brands, Knowles, and Sanmina Jumped This Morning originally appeared on Fool.com.
Dan Caplinger has no position in any stocks mentioned. The Motley Fool has no position in any of the stocks mentioned. Try any of our Foolish newsletter services free for 30 days. We Fools may not all hold the same opinions, but we all believe that considering a diverse range of insights makes us better investors. The Motley Fool has a disclosure policy.
Copyright 1995 - 2016 The Motley Fool, LLC. All rights reserved. The Motley Fool has a disclosure policy.