Why Biogen Inc. Stock Dropped 15.7% in June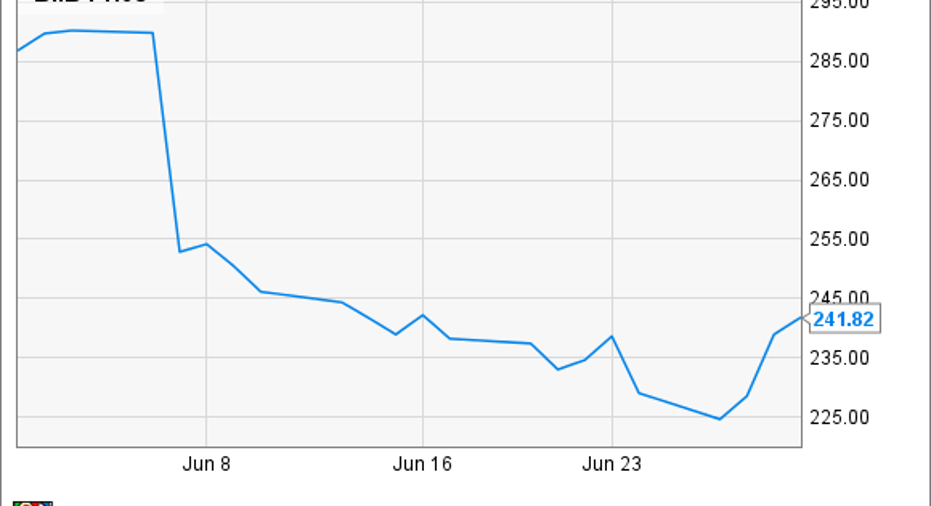 Image source: Getty Images.
What: Shares of Biogen Inc., a large neurology-focused biotechnology company, tumbled 15.7% last month, according to data from S&P Global Market Intelligence. Disappointing clinical results from a long shot new drug candidate was the main culprit.
So what:Biogen was developing opicinumab, formerly anti-lingo-1, as a first-in-class therapy aimed at repairing multiple sclerosis patients' damaged nerves. Last year a clinical study in another neurodegenerative disease, optic neuritis, showed opicinumab was capable of forming newmyelin along the nerve cells. It's these interspersed lipid layers that allow nerve cells to transmit signals at speeds most people outside the multiple sclerosis community take for granted.
Existing drugs can significantly slow progression of the disease, but a drug capable of reversing multiple sclerosis damage would have been a game changer. When Biogen announced opicinumab failed to significantly improve patient outcomes, Wall Street cleaved about $8 billion from the biotech's market cap in a day.
Now what:Although opicinumabwas a potential game-changer, it was in phase 2 for multiple sclerosis. Developing neurology drugs is a risky business, and over the past decade only 14% of new candidates that had succeeded in phase 2 eventually earned approval. Opicinumab may have had enormous potential, but to suggest its risk-adjusted worth was $8 billion is ludicrous.
The good news is, at recent prices the stock is trading at just 13 times this year's earnings expectations. With the average stock in theS&P 500 trading at 17.8 times forward estimates, Biogen is a rock-solid bargain in an overbought market.
Image source: Biogen.
Outside its industry-leading Alzheimer's disease candidates, the company has more than a few potential growth drivers. Its biosimilar joint venture with Samsung Bioepis recently presented data for patients switched fromJohnson & Johnson's Remicade to its Flixabi, andAmgen's Enbrel to its Benepali. After long-term use, the patients' outcomes using the copycat drugs were wonderfully similar to outcomes while using the drugs the biosimilars reference.
Flixabi and Benepali are both available in the EU and have been pressuring sales of the products they reference. Last year J&J's U.S. sales of Remicade grew 7.2% over the previous year, but worldwide sales of the drug fell 4.5% to $6.56 billion.Pfizer markets Enbrel outside of the U.S. and Canada, and revenue from the drug fell 3.4% to $733 million in the first quarter of 2016.
While Biogen's biosimilar sales probably won't reach these heights, they could feasibly pass the $1 billion annual sales mark. The lengthy approval process for biosimilars limits competing entrants, and pricing of around 70% of the reference drug's price is fairly common.
Biogen generated $3.7 billion in free cash flow over the past 12 months, and ended March with about $5 billion in cash and short term assets.Opicinumab's failure was heart-breaking, but the company has what it needs to continue growing over the long term.
The article Why Biogen Inc. Stock Dropped 15.7% in June originally appeared on Fool.com.
Cory Renauer owns shares of Johnson and Johnson. You can follow Cory on Twitter @TMFang4apples or connect with him on LinkedIn for more healthcare industry insight. The Motley Fool owns shares of and recommends Biogen and Johnson and Johnson. Try any of our Foolish newsletter services free for 30 days. We Fools may not all hold the same opinions, but we all believe that considering a diverse range of insights makes us better investors. The Motley Fool has a disclosure policy.
Copyright 1995 - 2016 The Motley Fool, LLC. All rights reserved. The Motley Fool has a disclosure policy.