Why Best Buy Co Inc. Stock Gained 40% in 2016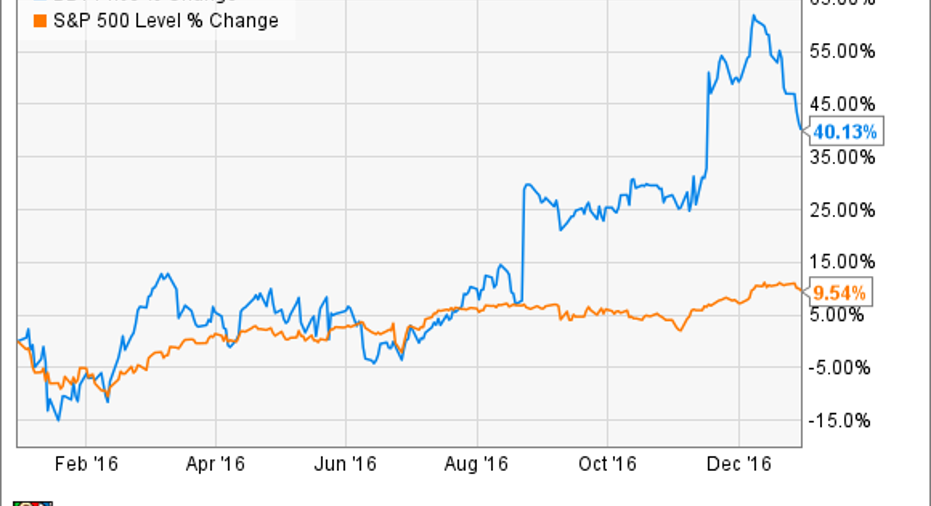 Image source: Getty Images.
What happened
Shares of Best Buy (NYSE: BBY) rose 40.1% in 2016, according to data from S&P Global Market Intelligence.
So what
The technology retailer's strong 2016 returns rested on two fantastic earnings reports. Best Buy shares rose 14.5% in August and another 17% in November, propelled by earnings surprises in the second and third quarters. In both cases, the retailer exceeded Wall Street's expectations on both the top and bottom lines. Earnings guidance figures were also optimistic throughout the year, giving investors confidence that the good times should keep on rolling for the foreseeable future.
Now what
Preparing for the all-important holiday season, Best Buy's management looked ready to deliver the goods.
Under the tag line, "Holiday Gifting Made Easy," the company offered free shipping on everything in the online store. For the brick-and-mortar locations, Best Buy brought in additional help in key product categories such as drones, virtual reality platforms, and 4K television setups. Giving in-store customers more help in these unfamiliar shopping categories was meant to help them reach a pucharse decision.
The fourth-quarter report in mid-February will tell us whether Best Buy's holiday efforts paid off. Meanwhile, share prices reached new nine-year highs in December.
10 stocks we like better than Best Buy When investing geniuses David and Tom Gardner have a stock tip, it can pay to listen. After all, the newsletter they have run for over a decade, Motley Fool Stock Advisor, has tripled the market.*
David and Tom just revealed what they believe are the 10 best stocks for investors to buy right now... and Best Buy wasn't one of them! That's right -- they think these 10 stocks are even better buys.
Click here to learn about these picks!
*Stock Advisor returns as of Nov. 7, 2016
Anders Bylund has no position in any stocks mentioned. The Motley Fool has no position in any of the stocks mentioned. The Motley Fool has a disclosure policy.