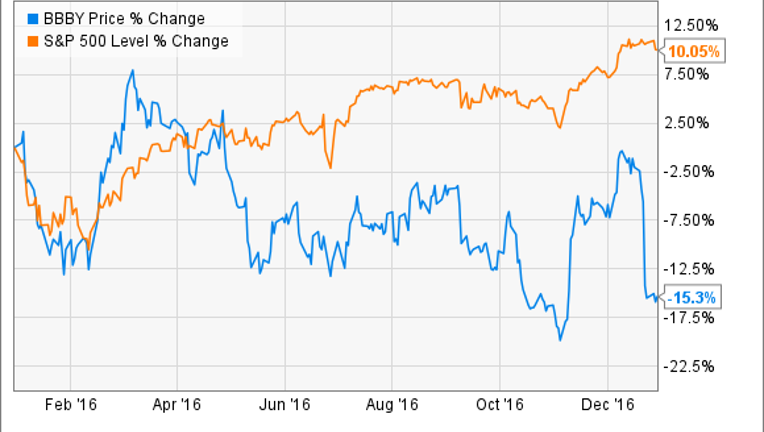 What happened
Specialty retailer Bed Bath & Beyond (NASDAQ: BBBY) dropped 15% last year, according to data provided by S&P Global Market Intelligence.
The decline ensured that shares trailed the broader market's 10% rise, but the company fared better than many peers in a retailing industry pinched by slumping customer traffic.
So what
Bed Bath & Beyond was up by as much as 7% early in the year, but those gains morphed into losses as operating trends worsened. Its first quarterly report of the year showed a healthy 2% boost in comparable-store sales and gross profit margin of 38%.
Image source: Bed Bath & Beyond.
Subsequent announcements weren't as rosy. Bed Bath & Beyond's comps fell in each of the next three quarters as gross profit margin slipped to 37% of sales. Overall, the company believes comps will fall by about 1% for the full fiscal year.
Now what
Declining customer traffic is proving to be a huge challenge for the retailer. It can lessen the negative impact from the dearth of shoppers by improving its merchandising and thus boosting average spending per visit. But that's a tough balance to strike because higher prices tend to drive customers away.
The e-commerce sales channel shows more promise, given that it grew by over 20% in every quarter of 2016. Yet this expansion comes at a price, too. Capital expenditures are up to nearly $425 million from $329 million last year.
Thanks to falling profit margins and increasing costs, Bed Bath & Beyond appears set to earn just $4.50 per share for the fiscal year that ends in February, 2017, for its lowest annual result since 2012. Under those circumstances, it's hard to see the stock price rebounding -- at least until comps growth returns and investors start seeing financial benefits from management's e-commerce spending spree.
10 stocks we like better than Bed Bath and Beyond When investing geniuses David and Tom Gardner have a stock tip, it can pay to listen. After all, the newsletter they have run for over a decade, Motley Fool Stock Advisor, has tripled the market.*
David and Tom just revealed what they believe are the 10 best stocks for investors to buy right now...and Bed Bath and Beyond wasn't one of them! That's right -- they think these 10 stocks are even better buys.
Click here to learn about these picks!
*Stock Advisor returns as of January 4, 2017.
Demitrios Kalogeropoulos has no position in any stocks mentioned. The Motley Fool recommends Bed Bath and Beyond. The Motley Fool has a disclosure policy.