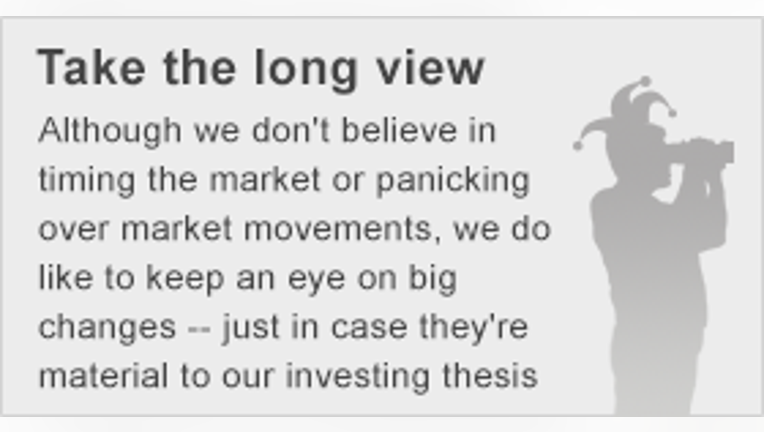 Image source: Barrick Gold.
What: Barrick Gold Corporation's shares jumped by nearly a third last month. Newmont Mining Corporation wasn't far behind, with a stock advance just a hair shy of 30%. For the year through April, these precious-metals miners were up 90% and 150%, respectively.
So what: There's no particular magic going on at either Newmont or Barrick. They both worked hard to cut costs and streamline their businesses in the face of falling precious-metals prices. The downturn that started in 2011 was brutal for their stocks, too, despite the hard work being done. Newmont's stock declined roughly 70% between 2011 and the end of 2015. Barrick's stock fell 86%. So there's material ground to make up.
And with gold and silver prices heading higher since around the middle of January, this pair of giant miners has started to recover. Last month, gold ended higher than it started, though the gains weren't as robust as some rallies seen earlier in the year. Silver, however, had a fairly sizable run. So, as you might expect, the silver and gold price advance is why this pair of miners saw another month of good stock gains.
Now what: If you look at the precious-metals space, there are miners whose shares have outperformed Newmont and Barrick to the upside. But that's probably because those miners aren't as well positioned as these industry giants. Indeed, both Newmont and Barrick have gotten their costs down to the point where they could still make a profit even if gold and silver were trading at much lower levels then they are today. For more conservative investors looking for a precious-metals miner, both of these stocks are worth a deeper dive. Just remember that precious metals are volatile, and as nice as the recent gains are, they could still turn out to be fleeting.
The article Why Barrick Gold Corporation Stock Advanced 32.3% in April and Newmont Mining Corporation Stock Rose 29.8% originally appeared on Fool.com.
Reuben Brewer has no position in any stocks mentioned. The Motley Fool has no position in any of the stocks mentioned. Try any of our Foolish newsletter services free for 30 days. We Fools may not all hold the same opinions, but we all believe that considering a diverse range of insights makes us better investors. The Motley Fool has a disclosure policy.
Copyright 1995 - 2016 The Motley Fool, LLC. All rights reserved. The Motley Fool has a disclosure policy.