Why Barnes & Noble Education, Inc. Dropped 12% in January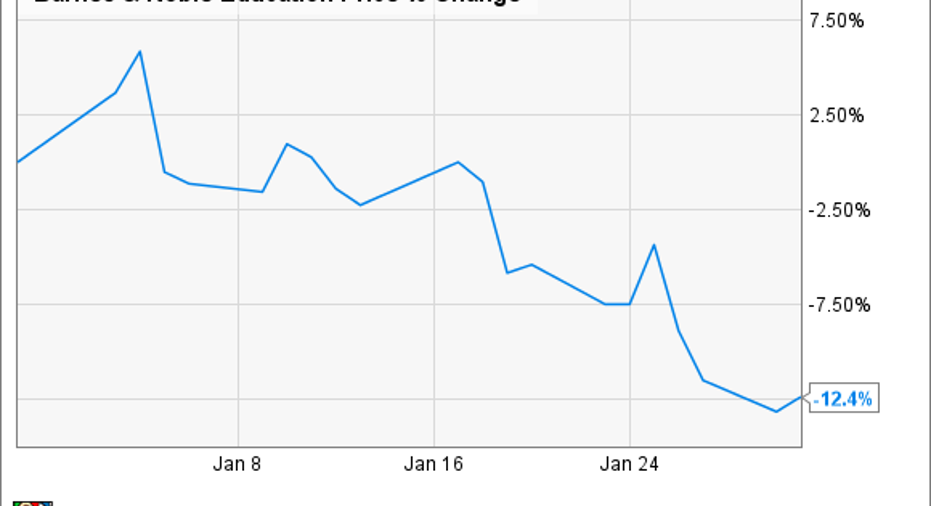 What happened
Shares of Barnes & Noble Education (NYSE: BNED)fell 12.4% last month, according to data provided by S&P Global Market Intelligence.
So what
Barnes & Noble Education's January swoon comes on the heels of alackluster second-quarter earnings reportthat saw its revenue and earnings fall well short of Wall Street's expectations. Sales rose only 2% to $770.7 million, below analysts' estimates of $779 million. And adjusted earnings per share fell 11% to $0.63, significantly below the $0.78 Wall Street expected.
Even more troubling was the deteriorating trend in comparable sales. Comps fell 2.9%, driven by a 3.3% decline in textbook sales. Notably, general-merchandise sales -- which had helped to offset falling textbook sales in the first quarter -- also came in lower, falling 1.3%.
Image source: Getty Images.
B&N Education CEO Max Roberts said that the decline was related to lower enrollment at colleges and a "softer retail environment."
Roberts' comments echo those of British textbook publisher Pearson PLC (NYSE: PSO); that company's stock lost 29% in value on Jan. 18 when it slashed its revenue and profit forecast for 2017, due to lower-than-expected college enrollment and rising textbook rentals, both of which reduce demand for textbook purchases.
Now what
Barnes & Noble Education plans to continue to grow its store count by partnering with more colleges and universities that wish to outsource their campus bookstore operations. But the pace of that growth appears to be slowing, with the company opening only one store in the second quarter -- compared to 33 in the first quarter -- and management guiding for just two additional store openings in fiscal 2017.
Moreover, Barnes & Noble Education, like Pearson, finds itself on the wrong side of several powerful trends: slumping college enrollment, increasing textbook rentals, and rising digital book sales. As long as these trends persist, they're likely to continue to weigh on Barnes and Noble Education's still primarily brick-and-mortar business.
10 stocks we like better than Barnes and Noble EducationWhen investing geniuses David and Tom Gardner have a stock tip, it can pay to listen. After all, the newsletter they have run for over a decade, Motley Fool Stock Advisor, has tripled the market.*
David and Tom just revealed what they believe are the 10 best stocks for investors to buy right now... and Barnes and Noble Education wasn't one of them! That's right -- they think these 10 stocks are even better buys.
Click here to learn about these picks!
*Stock Advisor returns as of February 6, 2017
Joe Tenebruso has no position in any stocks mentioned. The Motley Fool has no position in any of the stocks mentioned. The Motley Fool has a disclosure policy.