Why Barnes & Noble, Dick's Sporting Goods, and Bed Bath & Beyond Dropped in 2015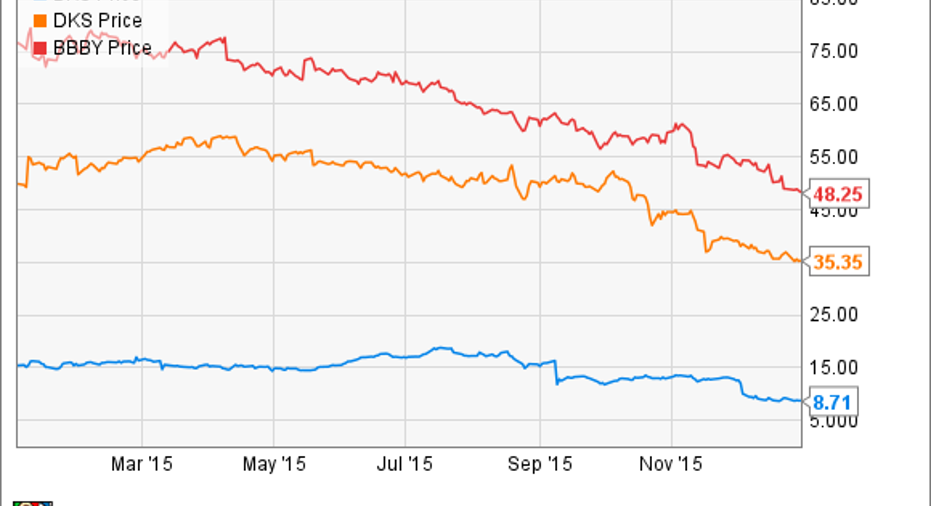 With limited exceptions, 2015 was a difficult year for big-box retailers.
The Internet simply sucked the life out of traditional bricks-and-mortar businesses. Shopping online was not only cheaper in some cases, but free shipping sweetened the deal with convenience.
This has left some traditional stores as little more than a last-minute backup plan for online shoppers or a place to look at the items they want before buying them elsewhere digitally. For physical chains that have neglected their online presence, the last 12 months were particularly bad.
Three notable brands -- Barnes & Noble,Dick's Sporting Goods, andBed Bath & Beyond -- all had poor years during which their stock prices sank.
Source: YCharts.com
Barnes & Noble struggled for answersThe challenge for Barnes & Noble has been that it essentially lost the digital book sales battle to Amazon. Its digital reader and tablet line, the Nook, is dead in the water, declining each quarter. For the most recent reporting period, the three months before the holiday season, Nook sales were $43.5 million, a drop of 31.9% due, the company said, "primarily to lower content sales."
That digital failure has left the company struggling to grow in-store sales with very little hope that its online operation will be a meaningful contributor. In part, that's why the company saw its stock open the year at $23.40 before falling to $8.71 at the New Year's Eve close, according to S&P Capital IQ data. That's a stunning 62.77% drop, which suggests that the market is not satisfied with the steps the company has taken to minimize its losses.
It's an increasingly digital world for retail and Barnes & Noble is not making its way there and it faces the obstacle of trying to make money in its very large stores, many of which have long-term leases, in a time where smaller physical locations make more sense. That's a very difficult prospect and investors clearly understand just how big a hill the company has to climb.
Dick's Sporting Goods needs a cold frontUnlike Barnes & Noble, prospects are not as dim for DIck's Sporting Goods. The company has been hurt by online retailers and its own digital presence is being massively upgraded, but its stock has been punished partly due to overall market concerns and partly because it simply hasn't gotten cold in much of the country.
"A balmy stretch this November and December has hurt sales of cold-weather clothing and gear, a major category for Dick's," wrote Kiplinger's Daren Fonda.
The lack of low temperatures helped lead to stores showing an increase in inventory, prompting the company to cut its earnings forecast for the remainder of its fiscal year, which ends Jan. 31. Dick's stock opened the year at $49.93 and closed it at $35.35, a 29.2% drop.
Not to quoteGame of Thrones, but winter is coming. It will eventually get cold and the company should be able to move its cold-weather inventory. Investors, at least long-term ones, almost certainly understand that, making it likely that part of the stock drop is due to concerns over how the company will compete with online retailers moving forward.
Dick's is not in the same state as Barnes & Noble, but it does have huge infrastructure expenses and large stores that put it at risk for showrooming. This is a stock which could bounce back -- partly because people do want to hold golf clubs, skis, and other sporting goods before buying them -- but it will face continued pricing pressure in 2016.
Bed Bath & Beyond overshot its predictionsLike its fellow retailers, Bed Bath and Beyond's overall success for the year hinges largely on how it does in the calendar fourth quarter, specifically the holiday season. In 2015, the company, which has only reported preliminary results for the period, missed its predictions and had to revise an expected 1.8%-4% gain to a 0.3% pickup.
Those poor numbers gave the retailer's stock a final negative jolt in a year it opened at $78.43 but finished at $48.25, a 38.48% drop. In the month of December alone the stock shed $6.27.
The company acknowledged in the preliminary results statement that the numbers during the holiday season were in line with recent trends that have seen it losing sales to digital players. But CEO Steven Temares seemed hopeful that the company could eventually compete online, something he said is already starting to happen.
"On the one hand we experienced softer in-store transaction counts, and on the other hand sales from our customer-facing digital channels demonstrated strong growth, in excess of 25%," he said. "These mixed results were also affected by the overall softness reported in the macro-retail environment during the quarter."
It's all about digitalAll three of these retailers saw their stock suffer in 2015 partly because of sales being lost to online rivals. That's not going to change in 2016. In fact, the percentage of sales going to digital retailers will almost certainly grow.
Dick's and Bed Bath & Beyond are taking steps to address this. It's hard to imagine they will fully be able to blunt the impact, but both could leverage the advantages of having physical stores for returns, handling or trying on merchandise, and exchanges. For Barnes & Noble however, it's hard to see how it will become a digital player when the vast majority of e-book readers are simply not on its platform.
The article Why Barnes & Noble, Dick's Sporting Goods, and Bed Bath & Beyond Dropped in 2015 originally appeared on Fool.com.
Daniel Kline has no position in any stocks mentioned. His skis are from the 1980s and could probably use an upgrade. The Motley Fool owns shares of and recommends AMZN. The Motley Fool owns shares of BKS. The Motley Fool recommends BBBY. Try any of our Foolish newsletter services free for 30 days. We Fools may not all hold the same opinions, but we all believe that considering a diverse range of insights makes us better investors. The Motley Fool has a disclosure policy.
Copyright 1995 - 2016 The Motley Fool, LLC. All rights reserved. The Motley Fool has a disclosure policy.