Why Bank of America Shares Jumped 5% on Monday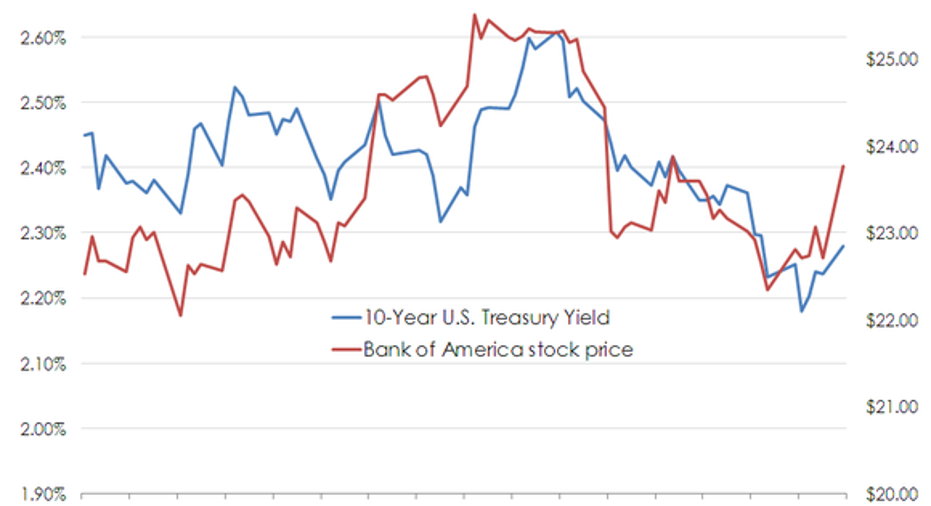 What happened
Shares of Bank of America (NYSE: BAC) are leading U.S. bank stocks higher, rising by as much as 5% on Monday as yields on U.S. Treasuries push higher.
So what
The yield on the 10-Year U.S. Treasury is rising for the fourth straight day in a row, jumping to 2.28% on Monday from a relative low of 2.18% on April 18, 2017. The market is now pricing in higher odds of a June rate hike by the Federal Reserve, which would be a boon for most American banks.
Image source: Getty Images.
The odds of a June rate increase rose to a 66% chance vs. 53% on Friday, based on implied odds extrapolated from the futures market. A rate increase by the Fed would be especially good for Bank of America's earnings, given it is sensitive to interest rates on the short end of the curve.
On its most recent conference call, the company explained that a 1-percentage-point increase in rates across the curve would add $3.3 billion to net interest income, of which "nearly three-quarters" would come from the short end of rate curve. The short end of the rate curve is most affected by any changes in the Fed Funds rate.
Data source: Yahoo! Finance. Chart by author.
Now what
Frequently one of the most active stocks on the market by volume, many traders and investors use Bank of America shares as something of a leveraged bet on the direction of interest rates.With the market pricing in greater odds of a rate increase, it's no surprise to see Bank of America shares moving higher in active trading on Monday.
10 stocks we like better than Bank of AmericaWhen investing geniuses David and Tom Gardner have a stock tip, it can pay to listen. After all, the newsletter they have run for over a decade, Motley Fool Stock Advisor, has tripled the market.*
David and Tom just revealed what they believe are the 10 best stocks for investors to buy right now... and Bank of America wasn't one of them! That's right -- they think these 10 stocks are even better buys.
Click here to learn about these picks!
*Stock Advisor returns as of April 3, 2017
Jordan Wathen has no position in any stocks mentioned. The Motley Fool has no position in any of the stocks mentioned. The Motley Fool has a disclosure policy.