Why Automation Could Soon Be Coming to a Restaurant Near You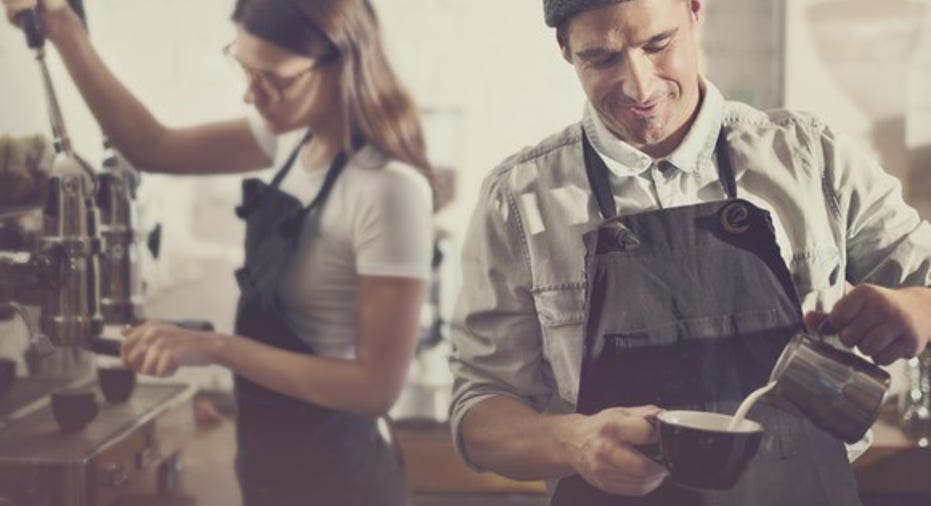 With President Trump now in office, automation has taken center stage in the employment debate.
Manufacturing jobs in the U.S. have declined steadily over the last generation, largely due to automation, and now new technology is threatening the jobs of millions of other Americans. Self-driving vehicles could put truck drivers and cab drivers out of business, and in the restaurant industry, which employs about 12 million people in the U.S., new technology is increasingly making human tasks unnecessary.
Image source: Getty Images.
Fast-food chains likeMcDonald's(NYSE: MCD) and convenience stores like Wawa have turned to kiosks to take customers orders, replacing a job formerly done by order takers and cashiers, and full-service restaurants like Brinker International's(NYSE: EAT) Chili's have installed tens of thousands of tableside tablets, allowing customers to order items directly from the kitchen without the need to communicate with a server.Chili's has found that doing so not only cuts down on labor, but also encourages customers to order more.
Andy Puzder, the CEO of the parent of Carl's Jr. and Hardee's and Trump's first pick for Labor Secretary, has been a big advocate for automation, saying about machines, "They're always polite, they always upsell, they never take a vacation, they never show up late, there's never a slip-and-fall, or an age, sex, or race discrimination case."
And it's not just in the front of the house where technology is edging out human labor, as restaurants are increasingly adopting machines to perform basic and even complicated kitchen tasks.
Meet Flippy
A burger chain in California called CaliBurger just raised the bar in kitchen automation last week when it introduced a new machine called Flippy, which can fully cook a burger from start to finish. Like other robots built on artificial intelligence, the machine, designed by Miso Robotics, uses cameras and sensors to determine when a burger is fully cooked. It also uses machine learning to teach itself as it goes so it constantly improves with experience.
David Zito, CEO of Miso, said, "Though we are starting with the relatively 'simple' task of cooking burgers, our proprietary AI software allows our kitchen assistants to be adaptable and therefore can be trained to help with almost any dull, dirty, or dangerous task in a commercial kitchen -- whether it's frying chicken, cutting vegetables, or final plating."
CaliBurger said the advantages of Flippy is that it's faster, safer, and less likely to make a mistake, and it plans to add 50 of them to its restaurants by 2019.
It's all about economics
Technology alone isn't enough to convince restaurant operators to invest in robots like Flippy; such a switch must be financially viable.
But restaurants are one of the most labor-intensive businesses out there, with operators often spending 25% of their revenue on labor. Many chains have complained recently of rising labor costs as a number of states have hiked their minimum wages in the last year or two.Shake Shack(NYSE: SHAK), for example, which makes a concerted effort to stay ahead of the curve by paying above-average wages for the industry, cited labor costs as the primary factor pushing its restaurant-level operating margin down 280 basis points in its most recent quarter, and expects wage hikes to compress margins further this year.
Other chains likeChipotle(NYSE: CMG) that disproportionately rely on company-operated restaurants versus franchising have also complained about rising wages.
But restaurants aren't just feeling the pinch on the bottom line. Comparable sales have been down across the industry, and traffic fell every month in 2016. Many seem to be victims of the so-called restaurant recession, as a number of factors, including food deflation and a decline in retail traffic at malls and shopping centers, are pressuring restaurants' performance.
The cost of Flippy has not been disclosed, but prices for new technology tend to come down over time, while labor generally increases, especially in a tightening market like today's. It may not be this year, but eventually the economic case for restaurants to invest in machines like Flippy will be too strong to ignore. That will be good news for restaurant investors and consumers alike, but it also means another industry's workforce now has reason to fear the robots.
10 stocks we like better thanWal-MartWhen investing geniuses David and TomGardner have a stock tip, it can pay to listen. After all, the newsletter theyhave run for over a decade, the Motley Fool Stock Advisor, has tripled the market.*
David and Tomjust revealed what they believe are theten best stocksfor investors to buy right now... and Wal-Mart wasn't one of them! That's right -- theythink these 10 stocks are even better buys.
Click hereto learn about these picks!
*StockAdvisor returns as of March 6, 2017The author(s) may have a position in any stocks mentioned.
Jeremy Bowman owns shares of Chipotle Mexican Grill and Shake Shack. The Motley Fool owns shares of and recommends Chipotle Mexican Grill. The Motley Fool is short Shake Shack. The Motley Fool has a disclosure policy.