Why Athenahealth, Synchrony Financial, and Time Slumped Today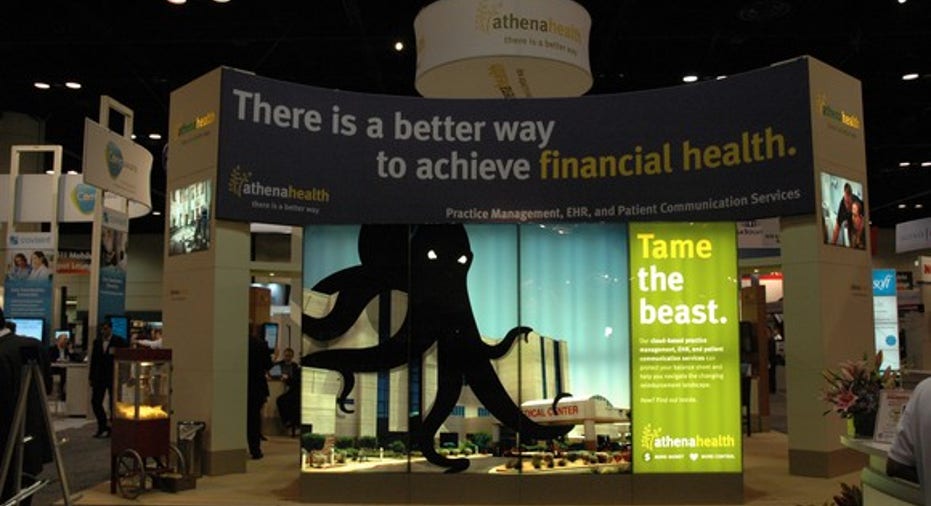 The stock market sank slightly on Friday, with all three major market benchmarks giving up a small amount of ground from Thursday's close. Slow GDP growth got the bulk of the blame from Wall Street, but it's also common for market participants to take some money off the table going into the weekend after a strong week.
Meanwhile, earnings season continued to play out, and although the technology industry saw some extremely encouraging reports, not all stocks participated in the rally. Athenahealth (NASDAQ: ATHN), Synchrony Financial (NYSE: SYF), and Time (NYSE: TIME) were among the worst performers on the day. Below, we'll look more closely at these stocks to tell you why they did so poorly.
Athenahealth gets a little sick
Shares of Athenahealth plunged 20% after the company reported discouraging results in its first-quarter financial report. The provider of cloud-based medical records said that sales were up 11% from the year-ago quarter, but the company posted a net loss, and even after adjusting for extraordinary items, Athenahealth saw its bottom line give up ground from the first quarter of 2016. Yet even though management remains optimistic about long-term business prospects for the company, CFO Karl Stubelis noted that sales were below expectations, and Athenahealth chose to revise its full-year outlook for both revenue and earnings downward. With investors having gotten used to lightning-fast growth from the medical records provider, Athenahealth will have to find ways to speed back up if it wants to satisfy its shareholders going forward.
Image source: Athenahealth.
Synchrony charges lower
Synchrony Financial stock dropped 16% in the wake of poor quarterly results from the private label credit card specialist. Net interest income was up 12% on strong loan receivables growth, but the company saw a huge boost in its loan loss provisions to beef up its loss reserves. As a result, net earnings were down 14% from year-ago levels. Moreover, some troubling trends in credit quality have started to appear, including upticks in loans that are 30 or more days overdue and the percentage of loan receivables that the company chose to charge off. Given the importance of the consumer to the general strength of the economy, signs that Synchrony is seeing pressure on its card customers suggest that tougher times could be ahead -- even after a period in which retailers have already seen major struggles.
Time takes itself off the market
Finally, shares of Time dropped 17%. The publisher behind the namesake magazine, as well as People and Sports Illustrated, made the strategic decision not to seek an acquirer, instead looking at ways to move forward on its own. According to a statement from Time's board of directors, the publisher intends to seek further digital growth through branded content and video, as well as broadening its base of product offerings. Time also wants to look at its portfolio of business offerings to find the most promising and concentrate on them, while seeking to minimize costs in any way possible. CEO Rich Battista is optimistic that Time "is better positioned to capitalize on this potential with its recent shift from a siloed, legacy publishing structure to an integrated, enterprise platform structure." Still, Time faces an uphill battle in dealing with what has been a tough industry for a long time.
Offer from The Motley Fool: The 10 best stocks to buy nowMotley Fool co-founders Tom and David Gardner have spent more than a decade beating the market. In fact, the newsletter they run, Motley Fool Stock Advisor, has tripled the S&P 500!*
Tom and David just revealed their ten top stock picks for investors to buy right now.
Click here to get access to the full list!
*Stock Advisor returns as of 4/3/2017.
Dan Caplinger has no position in any stocks mentioned. The Motley Fool recommends athenahealth and Synchrony Financial. The Motley Fool has a disclosure policy.