Why Ariad Pharmaceuticals, VCA, and Exact Sciences Jumped Today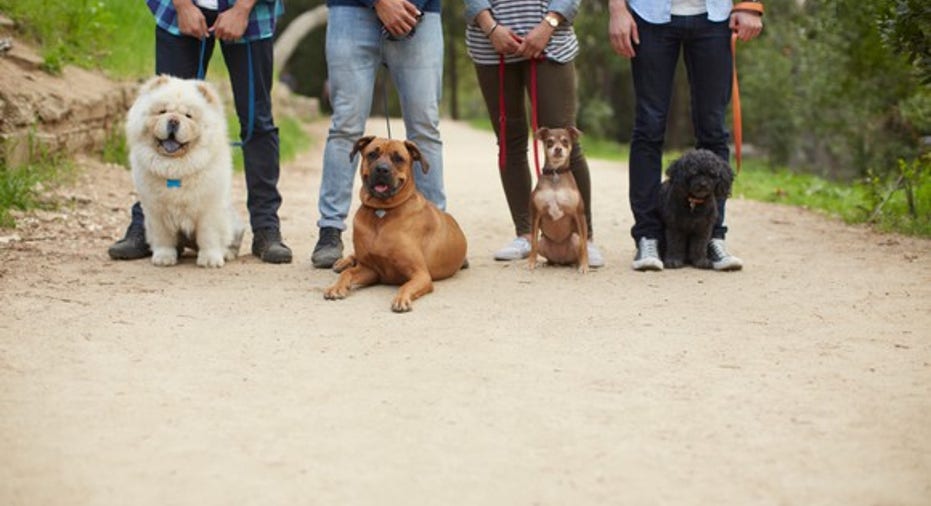 The stock market started the new week on a sluggish note Monday, and the broadest-based market benchmarks gave up ground as the Dow fell further away from the 20,000 mark. Even though the Nasdaq Composite climbed to new highs, a $2 per barrel plunge in the price of oil to fall below $53 weighed on sentiment. Even with the pause in the upward trend, some stocks posted solid gains, and Ariad Pharmaceuticals (NASDAQ: ARIA), VCA (NASDAQ: WOOF), and Exact Sciences (NASDAQ: EXAS) were among the best performers on the day. Below, we'll look more closely at these stocks to tell you why they did so well.
Image source: VCA.
Ariad gets an offer it can't refuse
Ariad Pharmaceuticals soared 73% after the cancer drugmaker announced it had agreed to an acquisition bid from Japan's Takeda Pharmaceuticals. Takeda agreed to a $24 per share cash bid for Ariad, which values the company at $5.2 billion when you take Ariad's enterprise value into account. Ariad CEO Paris Panayiotopoulos noted that the merger "will allow us to not only accelerate our mission to discover, develop, and deliver precision therapies to patients with rare cancers but also deliver meaningful value to our shareholders." Meanwhile, Ariad board chairman Alexander Denner also claimed his share of the credit for finding a buyer, noting that the deal "underscores the tremendous value that shareholder activism can create," and pointing to his Sarissa Capital as helping to make the deal possible. The companies expect the deal to be complete by next month.
VCA gets a treat
VCA climbed 28% after it too got an acquisition bid. Privately held Mars, which is best known for its M&M candy operation, agreed to buy the animal hospital company for $9.1 billion, paying $93 per share in cash for VCA. Mars also owns the Pedigree and IAMS pet food brands, so the deal feeds further into its strategic vision of building up its pet-care business. As VCA CEO Bob Antin said:
Pets are big business in the U.S., and investors can expect even more attention to be paid to the segment in the future.
Exact Sciences has healthy results
Finally, Exact Sciences gained 19%. The maker of the Cologuard colon-cancer screening test gave preliminary fourth-quarter results, predicting that it would report sales of between $34.9 million and $35.4 million. That would be up more than 140% from year-ago levels, and Exact Sciences said it performed about 82,000 Cologuard tests during the quarter, more than double what it did during the same period in 2015. Progress in getting new healthcare providers and insurance companies to embrace the test had Exact Sciences CEO Kevin Conroy proclaiming that, "Cologuard is becoming a standard of care for 80 million Americans who should be screened for colon cancer." Final results won't be available until February, but investors are convinced that Exact Sciences is on exactly the right path toward success.
10 stocks we like better than Ariad Pharmaceuticals When investing geniuses David and Tom Gardner have a stock tip, it can pay to listen. After all, the newsletter they have run for over a decade, Motley Fool Stock Advisor, has tripled the market.*
David and Tom just revealed what they believe are the 10 best stocks for investors to buy right now...and Ariad Pharmaceuticals wasn't one of them! That's right -- they think these 10 stocks are even better buys.
Click here to learn about these picks!
*Stock Advisor returns as of January 4, 2017.
Dan Caplinger has no position in any stocks mentioned. The Motley Fool has no position in any of the stocks mentioned. The Motley Fool has a disclosure policy.