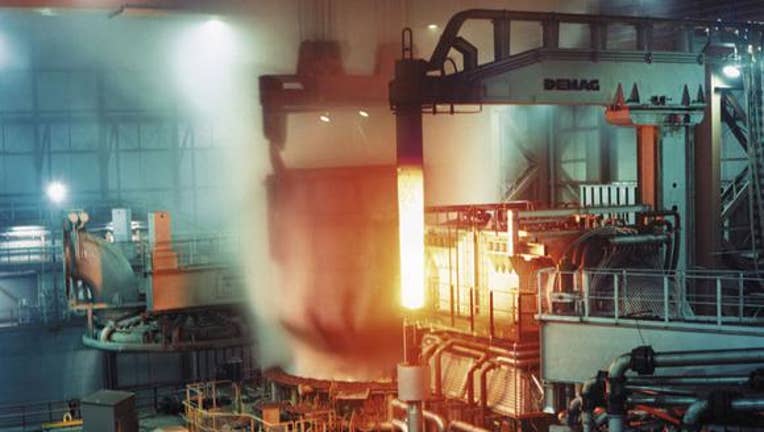 Image source: ArcelorMittal.
What: ArcelorMittal's stock price jumped 20% higher in March. That's a nice gain, but it was one of the smallest moves among the larger steel mills with significant U.S. exposure. What gives?
So what: The first thing to note about ArcelorMittal is that it's the world's largest steel mill, with operations spanning developed markets and developing markets. The Americas, for example, only make up around 40% of the company's sales, with Mexico, Canada, and the United States accounting for just 25 percentage points of that and Brazil the rest. So, while U.S. focused mills like U.S. Steel advanced some 75% because of domestic-based issues, ArcelorMittal's benefit from those same things was inherently muted.
On that score, steel tariffs on low-priced imports were an important benefit in that span for U.S. Steel and its domestic peers. Those hikes also helped to set up some domestic pricing strength, which was a blessing for companies like U.S. Steel that make heavy use of more expensive blast furnaces. But, again, with more exposure around the world, ArcelorMittal's upside wasn't what it was for other players.
Making matters worse, Europe (roughly half of ArcelorMittal's sales) continues to be a weak spot in the global steel trade. To give you an idea of just how bad it remains, competitor Tata Steel is looking to close a British steel mill, leading to talk of nationalization of the mill. And two of Tata's Scottish mills are being sold, with the help of that country's government, after similar closure concerns. Meanwhile, Italy is being investigated by the European Commission to see if its helping one of its steel makers a little too much.
Now what: While there are signs of life in the U.S. steel market, helping stocks like U.S. Steel post huge gains in March, ArcelorMittal is a much broader bet on the steel industry. An improving U.S. market will clearly help this global giant out, but it won't be enough to really push the needle. For that to happen, the global supply/demand imbalance needs to resolve itself. Clear signs of this happening, however, haven't appeared just yet.
That said, with its shares down some 85% over the past five years, ArcelorMittal could be a good way for more aggressive investors to get worldwide exposure to steel while the industry is still in a funk. Just don't get too caught up in the machinations of the U.S. market, because they aren't as big a deal for ArcelorMittal as they are for some of the domestic industry's biggest names.
The article Why ArcelorMittal Shares Rose 20.5% in March originally appeared on Fool.com.
Reuben Brewer has no position in any stocks mentioned. The Motley Fool has no position in any of the stocks mentioned. Try any of our Foolish newsletter services free for 30 days. We Fools may not all hold the same opinions, but we all believe that considering a diverse range of insights makes us better investors. The Motley Fool has a disclosure policy.
Copyright 1995 - 2016 The Motley Fool, LLC. All rights reserved. The Motley Fool has a disclosure policy.