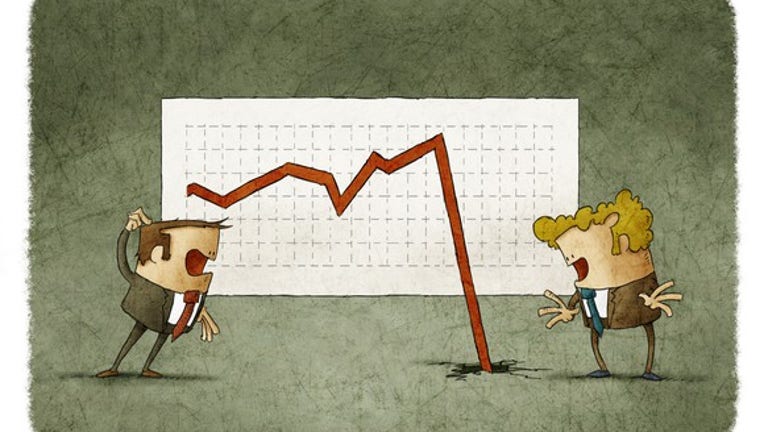 What happened
Shares of trucker ArcBest (NASDAQ: ARCB) are plunging today, down 22.8% as of 2:30 p.m. EDT.
So what
Considering that it's earnings season on Wall Street, you might suspect that an earnings report had something to do with why ArcBest is sinking like a rock -- and you'd be right. ArcBest reported its fiscal Q1 2017 earnings results this morning, and these were some of the "ArcWorst" numbers we've seen in quite a while.
Regarding revenues, sales climbed a bit less than 5% year over year in Q1 -- not that they did the stock much good. Operating costs, you see, rose a bit more than 5%, with the result that ArcBest was entirely incapable of cutting the size of last year's Q1 loss. Instead, operating losses swelled 31% larger.
Even a sizable $5.2 million tax credit wasn't enough to stem the bleeding, and by the time ArcBest reached the bottom line, its net loss was $7.4 million, or $0.29 per diluted share -- 21% worse than last year.
Free cash flow, by the way, was even worse. ArcBest burned only $1 million in cash in last year's first quarter. This quarter, cash burned 10 times as fast -- $10.5 million in negative free cash flow.
ArcBest shares are headed for the basement -- but it's no great headscratcher why. Image source: Getty Images.
Now what
This is about the time in an earnings story when management is supposed to step in and tell folks that things aren't as bad as they seem and are bound to get better soon. But ArcBest didn't.
Instead, the best that CEO Judy R. McReynolds could muster were a few words about how "regardless of the environment, our entire team is singularly focused on delivering an excellent customer experience and broadening awareness of the full scope of solutions we provide." Maybe that will be enough to convince a few more customers to buy transportation services from ArcBest.
As for investors, though, they just aren't buying it.
10 stocks we like better than ArcBestWhen investing geniuses David and Tom Gardner have a stock tip, it can pay to listen. After all, the newsletter they have run for over a decade, Motley Fool Stock Advisor, has tripled the market.*
David and Tom just revealed what they believe are the 10 best stocks for investors to buy right now... and ArcBest wasn't one of them! That's right -- they think these 10 stocks are even better buys.
Click here to learn about these picks!
*Stock Advisor returns as of May 1, 2017
Rich Smith has no position in any stocks mentioned. The Motley Fool has no position in any of the stocks mentioned. The Motley Fool has a disclosure policy.