Why Aratana Therapeutics Inc. Rocketed 42.7% Higher in 2016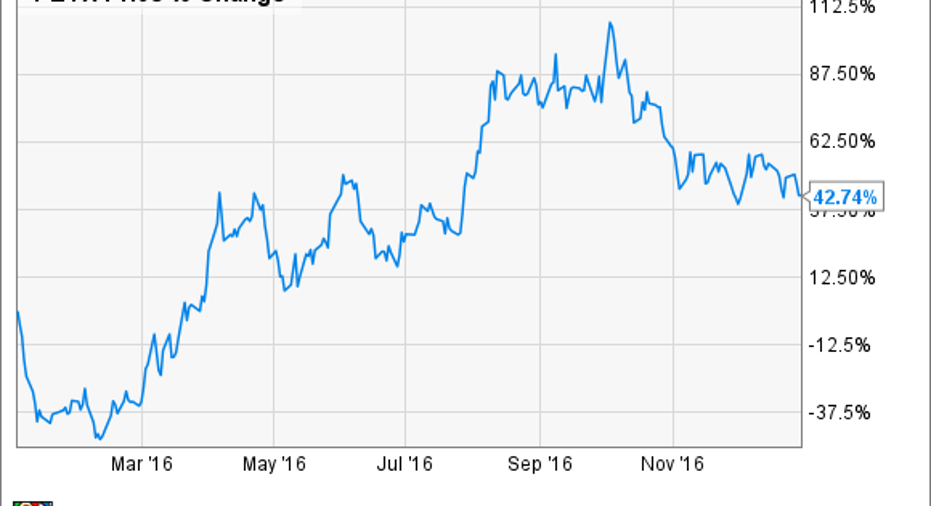 Image source: Getty Images.
What happened
Investors in Aratana Therapeutics(NASDAQ: PETX),a small-cap biotech company focused on developing therapies for pets, had a prosperous 2016. The company's shares rose by more than 42% during the year, according to data fromS&P Global Market Intelligence.
So what
Here's a quick recap of the year's key news items:
In March, the company announced that the Food and Drug Administration had approved the sale of its first drug, Galliprant. This product is used to control pain and inflammation associated with osteoarthritis in dogs.
In April, management announced a global strategic alignment withElanco Animal Health, a division of Eli Lilly (NYSE: LLY). The deal provided Elanco with theexclusive rights to develop, manufacture, market, and commercialize Galliprant globally and co-promote the drug with Aratana inthe U.S. Aratana received an up-front payment of$45 million and is eligible to receive additional milestone payments worth up to$83 million, plus co-promotion fees and royalty payments.
In May, it gained FDA approval for Entyce, a drug that is designed to stimulate a dog's appetite. Management believes that roughly 10 milliondogs are diagnosed with inappetence each year.
In August, Aratana won FDA approval for Nocita, alocal post-operative analgesia for cranial cruciate ligament surgery in dogs.
Given all of the good financial and regulatory news, it is easy to understand why shares rocketed higher during the year.
Now what
Estimates from theAmerican Pet Products Association show that U.S. spending on veterinary care was more than$15.4 billion in 2015 alone. Better yet, that number continues to grow with each passing year, providing Aratana with a lucrative market opportunity. As long as the company can successfully execute with its drug launches, its future is looking quite bright. Signing the lucrative deal with Eli Lilly should go a long way toward helping the company achieve its goals, too.
However, even with a handful of products on the market, investors would be wise to remember that this company is still losing money. In addition, marketing new veterinary products isn't cheap or easy, so success is still far from guaranteed.
Sill, the data shows that pet owners are increasingly willing to pay up to take care of their animals, which is a positive tailwind for this company to ride. That makes Aratana Therapeutics a high-risk stock that just might be worth taking a bite out of today.
10 stocks we like better than Aratana Therapeutics When investing geniuses David and Tom Gardner have a stock tip, it can pay to listen. After all, the newsletter they have run for over a decade, Motley Fool Stock Advisor, has tripled the market.*
David and Tom just revealed what they believe are the 10 best stocks for investors to buy right now... and Aratana Therapeutics wasn't one of them! That's right -- they think these 10 stocks are even better buys.
Click here to learn about these picks!
*Stock Advisor returns as of January 4, 2017
Brian Feroldi has no position in any stocks mentioned.Like this article? Follow him onTwitter, where he goes by the handle@BrianFeroldi, or connect with him on LinkedIn to see more articles like this.The Motley Fool has no position in any of the stocks mentioned. The Motley Fool has a disclosure policy.