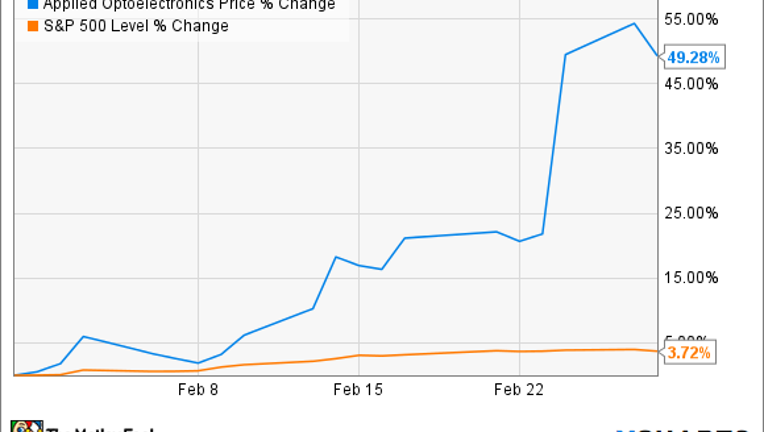 What happened
Shares of Applied Optoelectronics (NASDAQ: AAOI) rose 49.3% last month, according to data from S&P Global Market Intelligence.
So what
In January, the fiber-optic networking component maker sent share prices skyrocketing on the release of preliminary fourth-quarter results. February's presentation of the full quarterly report resulted in yet another surge, as the final figures hit or exceeded the top end of the preliminary report.
Image source: Getty Images.
Now what
Applied Optoelectronics' rise has only continued in early March, including a 7% jump today on nothing more than a bullish analyst report on head-to-head rival Oclaro (NASDAQ: OCLR).
All told, AOI investors have enjoyed a 125% return year to date and a triple in six months. The fiber-optic networking sector as a whole is bouncing back from a couple of slow years, ready to pounce on the next wave of telecommunications infrastructure upgrades. In particular, cellular network operators are preparing to roll out another generation of high-speed networking standards, requiring a lot of additional fiber-optic capacity to be added on the back-end of those hyper-connected cell towers.
The orders are already pouring in. Applied Optoelectronics may be looking back at a massive share price surge, but the stock still trades at a fairly cheap 14 times forward earnings.
This rally could keep going for a while.
10 stocks we like better than Applied OptoelectronicsWhen investing geniuses David and Tom Gardner have a stock tip, it can pay to listen. After all, the newsletter they have run for over a decade, Motley Fool Stock Advisor, has tripled the market.*
David and Tom just revealed what they believe are the 10 best stocks for investors to buy right now... and Applied Optoelectronics wasn't one of them! That's right -- they think these 10 stocks are even better buys.
Click here to learn about these picks!
*Stock Advisor returns as of February 6, 2017
Anders Bylund has no position in any stocks mentioned. The Motley Fool has no position in any of the stocks mentioned. The Motley Fool has a disclosure policy.