Why Apple's Cheaper iPad Was Bad News for This Company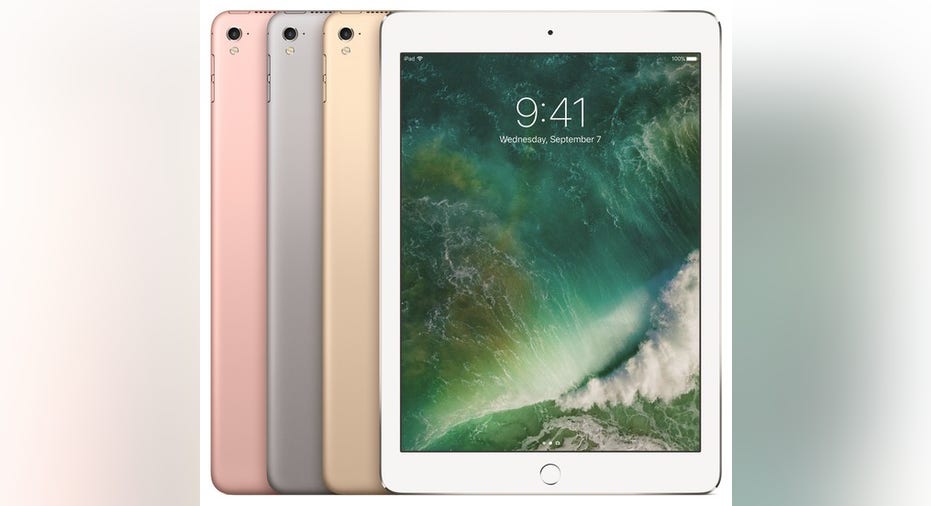 Apple's (NASDAQ: AAPL) recently announced low-cost iPad (known simply as the iPad) is an interesting device; it's essentially a variant of the company's older iPad Air 2, with some changes that ultimately allow Apple to sell it at a modest price point ($329 for the entry-level variant with 32 gigabytes of storage) while maintaining reasonable margins.
Although the device is, in my view, a win for Apple, there's one Apple supplier that stands to lose from Apple selling this new iPad, rather than a price-reduced iPad Air 2: Taiwan Semiconductor Manufacturing Company (NYSE: TSM), or TSMC for short.
Image source: Apple.
Out with the A8X, in with the A9
In a previous column, I went over why I believe that the A9 is both cheaper to manufacture and simply a better processor than the A8X found inside the iPad Air 2. For potential iPad customers, Apple's use of the A9, rather than the A8X, in the low-cost iPad is a clear win.
It's worth noting, though, that the A8X was manufactured exclusively by TSMC. This means that had Apple simply discounted the iPad Air 2 to the levels that the new iPad currently sells for, TSMC would see a clear benefit from any unit-volume upside that those price cuts might engender.
With the new iPad incorporating an A9 processor, on the other hand, the situation isn't as nice for TSMC. Recall that the A9 was (infamously) dual-sourced from both TSMC and its archrival Samsung (NASDAQOTH: SSNLF).
Apple's current supply arrangements for the A9 aren't entirely clear, but it's reasonable to expect that Apple is buying A9 chips from both Samsung and TSMC. If so, TSMC isn't going to sell as many chips to Apple as it would have if Apple had used the A8X in the new iPad.
Moreover, Apple had previously sold the iPad Air 2 as the cost-reduced product (though at a higher price point than the new iPad), so this isn't a case of "lack of upside" for TSMC, but more a story of potential share loss at the low end of Apple's iPad product stack.
Is this a big deal?
The good news for TSMC is that Apple's iPad business simply isn't anywhere near as large as its iPhone business (Apple shipped almost 212 million iPhone units in fiscal 2016; it shipped just under 46 million iPad units in that time), so share shifts -- especially at the lower end of the iPad stack -- aren't going to impact TSMC's financial results as much as, say, shifts in iPhone chip share would.
I do expect TSMC's position in Apple's iPad to improve over time. The upcoming iPad Pro refreshes should use chips built using TSMC's latest 10-nanometer technology (the current iPad Pro models use TSMC-built application processors exclusively), and I wouldn't be surprised to see the 2018 models use TSMC's 7-nanometer technology.
At the same time, I expect that next year, the low-cost iPad will be updated to use the A10 Fusion processor, manufactured exclusively by TSMC.
There will likely come a time when all of Apple's tablets are powered by application processors built only by TSMC, but when that time comes, it likely won't make much of a difference.
10 stocks we like better than Taiwan Semiconductor ManufacturingWhen investing geniuses David and Tom Gardner have a stock tip, it can pay to listen. After all, the newsletter they have run for over a decade, Motley Fool Stock Advisor, has tripled the market.*
David and Tom just revealed what they believe are the 10 best stocks for investors to buy right now... and Taiwan Semiconductor Manufacturing wasn't one of them! That's right -- they think these 10 stocks are even better buys.
Click here to learn about these picks!
*Stock Advisor returns as of February 6, 2017
Ashraf Eassa has no position in any stocks mentioned. The Motley Fool owns shares of and recommends Apple. The Motley Fool has the following options: long January 2018 $90 calls on Apple and short January 2018 $95 calls on Apple. The Motley Fool has a disclosure policy.