Why Apple Inc. Won't Skip AMOLED Displays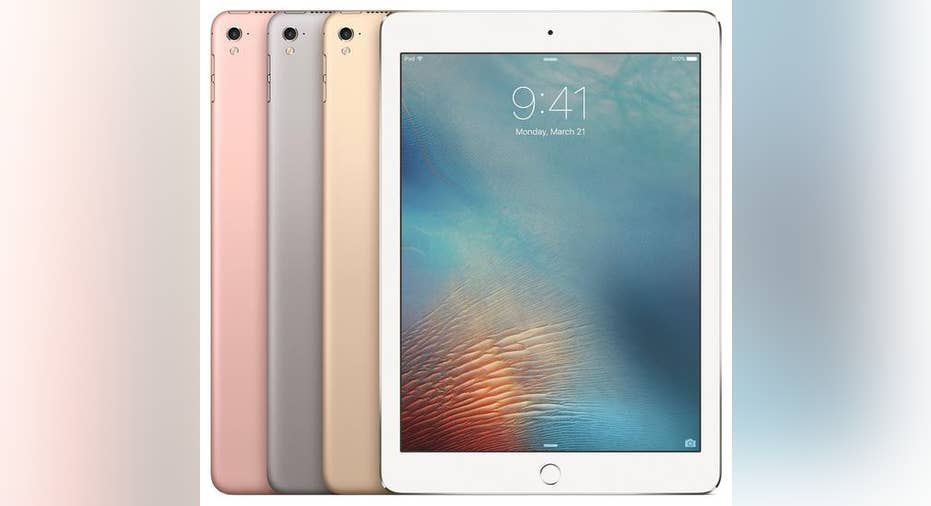 Image source: Apple.
Mark Hibben, writing for Seeking Alpha, recently cast doubt on the rumors that Apple will eventually transition from using liquid crystal displays (LCDs) to using AMOLED displays for its popular iPhone line of smartphones.
Hibben first noted that current-generation AMOLED displays suffer from "burn in" issues as well as "response non-uniformity." He also argues that the LCD found on the 9.7-inch iPad Pro -- which DisplayMate's Raymond Soneira reviewed quite positively in a number of critical areas -- is so good that it could "cancel any perceived advantage that AMOLED might offer in terms of color accuracy and contrast."
I respectfully disagree and wholeheartedly believe that Apple will eventually transition the iPhone to AMOLED displays. Here's why.
The 9.7-inch iPad Pro display is awesome, but...There's no denying that the LCD found on the 9.7-inch iPad Pro is truly excellent. In fact, aside from surprisingly high black levels (which leads to relatively low "true" contrast ratio relative to the "infinite" of a good AMOLED panel), the panel delivers wins in DisplayMate's test against the display found on the Galaxy S7 that a reasonable argument could be made for Apple's iPad Pro 9.7-inch LCD being superior to the one on the Samsung phone.
There's no doubt in my mind at this point that the LCDs that will be featured in the iPhone 7/7 Plus will be truly excellent and even better than the ones found on the 9.7-inch iPad Pro. Apple may very well be able to claim smartphone display superiority over the rest of the industry come September using LCDs (and evidence suggests that Apple does significant proprietary display technology R&D, so it may be unique to Apple for a while).
That being said, though the iPhone 7/7 Plus displays should be excellent, there is still reason for Apple to move to OLED.
Perfect black levels, curved panels, and thinner displaysIt is well known that AMOLED displays allow for "perfect" black levels. This is due to the fact that the displays do not require a backlight and each pixel is, as Soneira puts it, "individually directly powered."
In other words, when a pixel is supposed to be black, the pixel is simply turned off.
Beyond that, though, there are other advantages. Soneira points out that OLEDs can be manufactured on flexible substrates allowing for curved displays, as seen on a handful of Android devices (primarily from Samsung ).
Unsurprisingly, Apple is rumored to be planning to roll out a premium iPhone with a curved AMOLED display in 2017.
Finally, Apple is pretty bent on making its devices thinner, with Apple's Dan Riccio once saying in an interview that every tenth of a millimeter in Apple's products is "sacred." OLED displays don't require backlights, which add additional thickness to a device. By eliminating the backlight, Apple can be free to make even thinner devices without sacrificing battery capacity.
But, wait, there's more to Hibben's argumentAs I noted early on in this column, Hibben rightfully points to some of the issues that current-generation AMOLED displays face relative to LCDs; AMOLEDs certainly aren't perfect and I suspect that current technical issues, coupled with cost considerations, are why Apple isn't likely to use such displays in the iPhone 7/7 Plus generation of phones.
However, Apple has added many display experts to its ranks, with a large number of them being experts in OLED display technology. These highly paid experts are certainly working to develop next-generation display technologies, likely in conjunction with critical display manufacturers (LG Display , Samsung Display, Japan Display, and perhaps others).
The advantages of OLEDs are clear, but so are the current drawbacks. It will be up to these engineers to solve these problems to produce unequivocally leadership smartphone displays for future Apple products that deliver on all of the advantages of OLEDs while solving the current challenges/drawbacks of the technology.
It won't be easy, but given how important display technology is to Apple's key profit drivers and how large Apple's R&D budget has gotten, I have every confidence that these issues can and will be solved in due course.
The article Why Apple Inc. Won't Skip AMOLED Displays originally appeared on Fool.com.
Ashraf Eassa has no position in any stocks mentioned. The Motley Fool owns shares of and recommends Apple. Try any of our Foolish newsletter services free for 30 days. We Fools may not all hold the same opinions, but we all believe that considering a diverse range of insights makes us better investors. The Motley Fool has a disclosure policy.
Copyright 1995 - 2016 The Motley Fool, LLC. All rights reserved. The Motley Fool has a disclosure policy.