Why Apache Corporation Stock Rallied 10.8% in November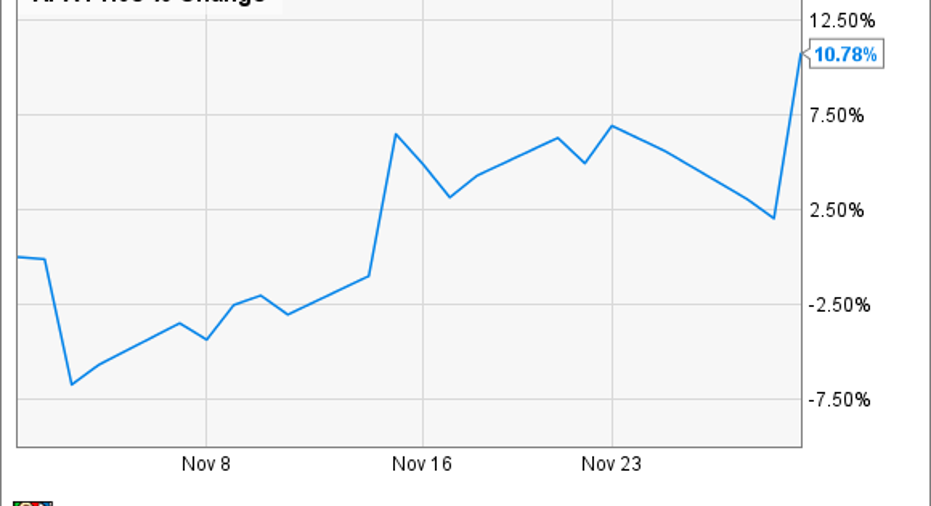 Image source: Apache Corporation.
What happened
Shares of Apache (NYSE: APA) were on fire last month, jumping double digits thanks to several catalysts.
So what
Apache stumbled a bit to start the month despite releasing solid third-quarter results. While the oil driller reported an adjusted loss of $12 million, or $0.03 per share, that was not nearly as steep as the $0.16-per-share loss analysts were anticipating. Fueling that expectation-beating result was solid production across the company's portfolio and a significant drop in costs. Meanwhile, the highlight of the quarter was the discovery of the Alpine High oil play.
Despite the strong quarter, Apache's stock initially sold off on the news. This decline prompted analysts at Societe Generale to call the sell-off a buying opportunity. They also praised the Alpine High discovery, which they thought the market was underappreciating.
However, the bulk of Apache's gains came as a result of a big rally on the last day of the month. One catalyst was a report that the company sold a pipeline system in the North Sea to a U.K. pension fund for an undisclosed amount. That deal came on the heels of the company noting in its third-quarter earnings release that it intended to sell non-core assets to allow it to increase capex spending while living within its means. This tactic has been common amongU.S. oil companies this year. For example, Devon Energy (NYSE: DVN) recently completed $3.2 billion in asset sales, which enabled the company to reduce debt and boost capex by $200 million.
That said, the mostpowerful catalyst behind Apache's November rally was OPEC's decision to intervene in the oil market by cutting production by more than 1 million barrels per day. That announcement fueled a massive rally across the sector, including large oil stocks like Apache and Devon Energy. The reason oil stocks rallied so sharply is that they should make more money in the near term due to the expectation that oil prices will rise.
Now what
Apache has had a string of successes this year, including discovering Alpine High, significantly reducing costs, and selling assets so that it could balance capex with cash inflows. What these accomplishments prove is that the company did not need OPEC to come to its rescue. That said, the deal could allow the company to accelerate future growth because the higher oil prices that are the likely outcome of the deal should push more cash into Apache's coffers.
10 stocks we like better than Apache When investing geniuses David and Tom Gardner have a stock tip, it can pay to listen. After all, the newsletter they have run for over a decade, Motley Fool Stock Advisor, has tripled the market.*
David and Tom just revealed what they believe are the 10 best stocks for investors to buy right now... and Apache wasn't one of them! That's right -- they think these 10 stocks are even better buys.
Click here to learn about these picks!
*Stock Advisor returns as of November 7, 2016
Matt DiLallo has no position in any stocks mentioned. The Motley Fool owns shares of Devon Energy. Try any of our Foolish newsletter services free for 30 days. We Fools may not all hold the same opinions, but we all believe that considering a diverse range of insights makes us better investors. The Motley Fool has a disclosure policy.