Why Angie's List Inc Stock Jumped 51% in 2015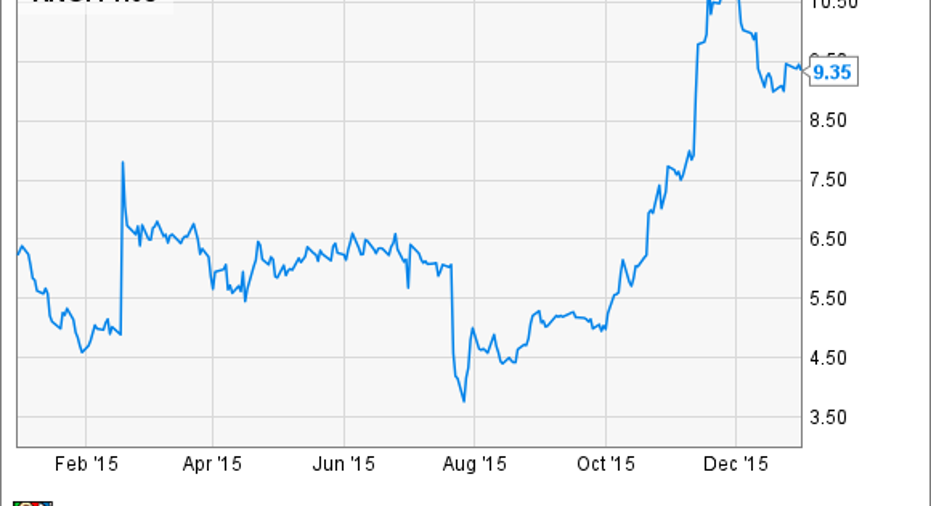 What:Though the stock has struggled in its relatively short history as a publicly traded company, 2015 was a banner year for Angie's List Incas the stock jumped 51%, according to data from S&P Capital IQ. As the chart below shows, the stock soared throughout the second half of the year, jumping from a low of $3.73 to more than $9.
So what:After an unremarkable first half of the year, Angie's List stock fell 25% on July 22 when it posted a disappointing earnings report that included declining membership revenue.The stock gradually recouped those losses over the next three months and then soared after it delivered its first-ever third-quarter profit in October. The summer months are generally a slow period for the subscription-based review site, but investors were impressed by solid improvements across the board including 7% growth in revenue, and the bottom line flipped a $5.2 million loss to a $0.1 million profit.
Following that, the stock rose in November when the company received an unsolicited buyout offer fromIAC/Interactive Corp. . The media company offered to acquire Angie's List for $8.75 a share. The stock soared above $8.75 a share, and Angie's List's board unanimously voted against the buyout offer, claiming that the original 10% premium it implied was too low. The stock had been pumped in preceding months in part due to buyout speculation, however. Angie's List reached an intraday trading high of $11.25 on Nov. 25, but the stock slipped in December as no subsequent buyout offer came through.
Now what:Looking ahead to 2016, the company finally seems to have reached consistent profitability. Analysts expect it to finish out 2015 with a $0.20-per-share profit and grow that this year to $0.30 a share. Considering the momentum from the turnaround and profit growth and the acquisition interest by outside parties, 2016 could be another strong year for Angie's List.
The article Why Angie's List Inc Stock Jumped 51% in 2015 originally appeared on Fool.com.
Jeremy Bowman has no position in any stocks mentioned. The Motley Fool has no position in any of the stocks mentioned. Try any of our Foolish newsletter services free for 30 days. We Fools may not all hold the same opinions, but we all believe that considering a diverse range of insights makes us better investors. The Motley Fool has a disclosure policy.
Copyright 1995 - 2016 The Motley Fool, LLC. All rights reserved. The Motley Fool has a disclosure policy.