Why Angie's List, Inc. Stock Jumped 39.8% in November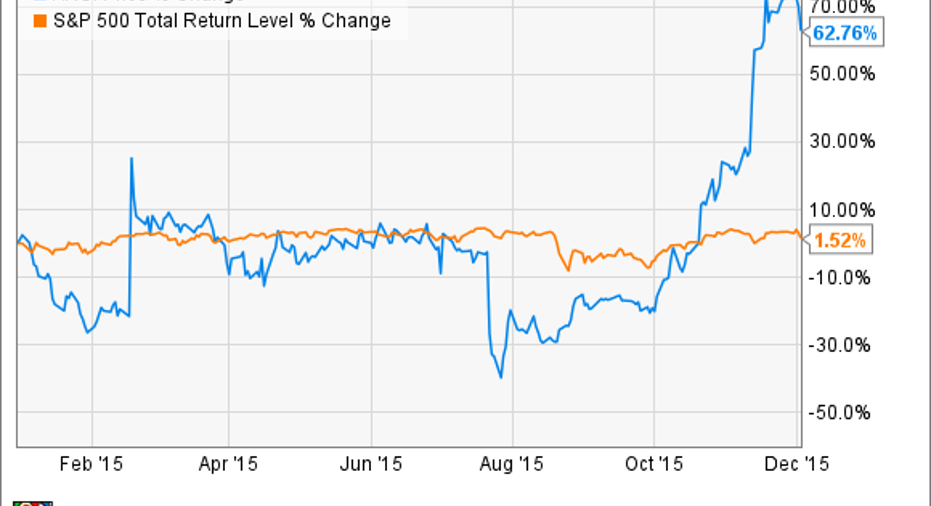 What:Shares ofAngie's Listjumped 39.8% in November,according toS&P Capital IQdata, after it rejected an unsolicited buyout offer from IAC/InteractiveCorp. . Keeping in mind this pop came on the heels of aneven betterOctober for the local business review specialist, that leaves Angie's List stock up more than 60% so far in 2015:
So what: Specifically,Angie's List confirmed on Nov. 11, 2015 that it had received the unsolicited proposal from IACI to acquire the company for $8.75 per share in cash. Alternatively, IACI also provided the option for a tax-free stock-for-stock exchange.
One week later, however, Angie's List's board unanimously voted not to pursue the proposal. In part, the company noted IACI's offer "only" represented a 10% premium to the company's stock price at the time -- even if Angie's List stock had effectively skyrocketed the month before thanks to a combination of its solid third-quarter report and speculation such a deal could come to fruition.
Angie's List CEO Scott Durchslag elaborated that before considering such a transaction, the company should first "fully evaluate" their yet-to-be-revealed plan to achieve profitable growth. That plan was previewed along with Angie's List's third-quarter results, and remains under development.
Now what:But Angie's List also promised to announce specific details of the plan at its upcoming Investor Day next quarter. For now, Angie's List investors will need to hurry up and wait before they can realistically evaluate whether that plan holds promise.
In the meantime, however, it seems the market is rightly excited by the relative strength Angie's List demonstrated in its most recent quarter, notably including improved operational efficiencies and strong revenue growth from the core service-provider segment. Given that momentum, it's no surprise the company and its investors would rather stay the course.
The article Why Angie's List, Inc. Stock Jumped 39.8% in November originally appeared on Fool.com.
Steve Symington has no position in any stocks mentioned. The Motley Fool has no position in any of the stocks mentioned. Try any of our Foolish newsletter services free for 30 days. We Fools may not all hold the same opinions, but we all believe that considering a diverse range of insights makes us better investors. The Motley Fool has a disclosure policy.
Copyright 1995 - 2015 The Motley Fool, LLC. All rights reserved. The Motley Fool has a disclosure policy.