Why Amyris Plummeted 26% in March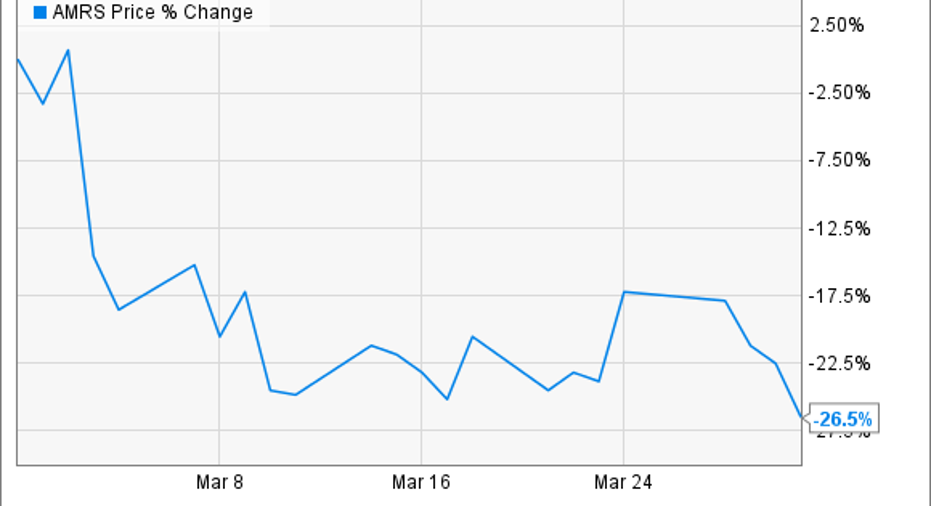 What: Shares of engineered biology and next-generation industrial biotech company Amyris plummeted 26% in March due to continued pessimism about the ability of operations to demonstrate long-promised growth.
So what: During the month, the company announced full-year 2015 earnings that failed to impress. Last summer, Amyris management guided for GAAP revenue of at least $63 million, but actual revenue failed to break $35 million -- the lowest since the company pivoted operations in 2012.
A major shipment of a high-value fragrance molecule -- one in a portfolio that underpins much of the growth story for the company -- was delayed in the fourth quarter due to downstream processing missteps from a third party. Meanwhile, bulk sales of the company's cosmetic ingredient squalane suffered from major headwinds for most of 2015.
There are signs of hope ranging from continually falling production costs to the formation of new partnerships, from expanded joint ventures to two newly launched consumer product portfolios. But after years of over promising and under delivering from management, investors are right to be frustrated.
Now what: At the end of 2014, I called Amyris my favorite stock to buy for 2015 because the company had achieved something no other next-generation industrial biotech company had: demonstrated ability to reign in large-scale manufacturing expenses. I figured that would translate into improved margins, increased interest in the platform, and multi-year sales growth. Obviously, that hasn't occurred.
While high growth is still a possibility, the slow pace of execution puts Amyris' future in doubt, with more than $55 million in debt payments due in 2016 alone. That will likely result in more dilution and less flexibility to throw capital at real growth projects.
The article Why Amyris Plummeted 26% in March originally appeared on Fool.com.
Maxx Chatsko owns shares of Amyris. Follow him on Twitter to keep up with developments in the engineered biology field.The Motley Fool has no position in any of the stocks mentioned. Try any of our Foolish newsletter services free for 30 days. We Fools may not all hold the same opinions, but we all believe that considering a diverse range of insights makes us better investors. The Motley Fool has a disclosure policy.
Copyright 1995 - 2016 The Motley Fool, LLC. All rights reserved. The Motley Fool has a disclosure policy.