Why Amgen's Stock Slumped in 2016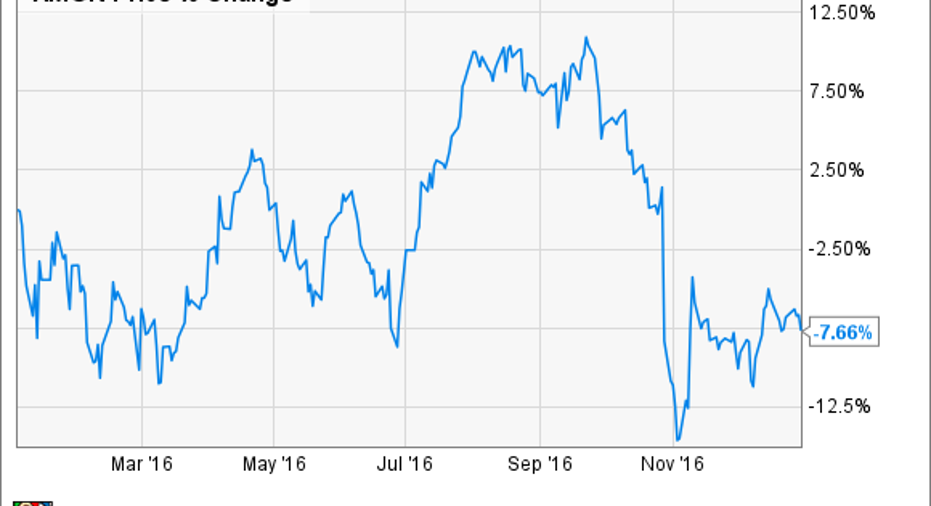 Image Source: Getty Images.
What happened
Shares of biotech giant Amgen (NASDAQ: AMGN)fell by 7.6% in 2016, according to data fromS&P Global Market Intelligence.
The drugmaker's anemic performance last year can be traced to four related issues:
Most of the biotech's top revenue generators, such as the rheumatoid arthritis medicine Enbrel, faced an increasingly competitive landscape in 2016.
To counter these competitive threats, Amgen often used substantial price increases to offset lower sales volumes.
The U.S. presidential election transformed the industry's practice of regular price hikes for older medicines into a hot-button issue -- damaging the valuations of most major drug manufacturers in the process, including Amgen.
The commercial launch of Amgen's cholesterol medicine Repatha got off to a weaker than expected start, generating only $40 million in worldwide sales in Q3.
So what
As Amgen's management just outlined in their presentation at the 35th Annual J.P. Morgan Healthcare Conference, the company actually delivered solid financial results in 2016 despite these headwinds. Specifically, the biotech's revenue grew by a healthy 6% year over year during the first nine months of 2016, and its non-GAAP EPS also rose by a noteworthy 12% over the same period. The market's deep concern about the drug pricing issue nevertheless overshadowed the company's improving fundamental picture.
Now what
Amgen's brass just revealed at the J.P. Morgan Healthcare Conference that a clinical update on Repatha's all-importantFOURIER cardiovascular outcomes trial should be unveiled at the American College of Cardiologymeeting that's being held from March 17 to 19.A positive result in this outcomes study is absolutely key to convincing payers to provide broader coverage for cholesterol-bustingRepatha, and hence unlocking the drug's megablockbuster potential. Amgen's shareholders will therefore definitely want to mark this pivotal event on the calendar -- especially after the biotech's successful legal challenge, which pushed Sanofi and Regeneron's rival drug Praluent out of the U.S. market for the time being.
10 stocks we like better than Amgen When investing geniuses David and Tom Gardner have a stock tip, it can pay to listen. After all, the newsletter they have run for over a decade, Motley Fool Stock Advisor, has tripled the market.*
David and Tom just revealed what they believe are the 10 best stocks for investors to buy right now... and Amgen wasn't one of them! That's right -- they think these 10 stocks are even better buys.
Click here to learn about these picks!
*Stock Advisor returns as of January 4, 2017
George Budwell has no position in any stocks mentioned. The Motley Fool has no position in any of the stocks mentioned. The Motley Fool has a disclosure policy.