Why Amgen's Becoming One of My Top Dividend Stocks to Buy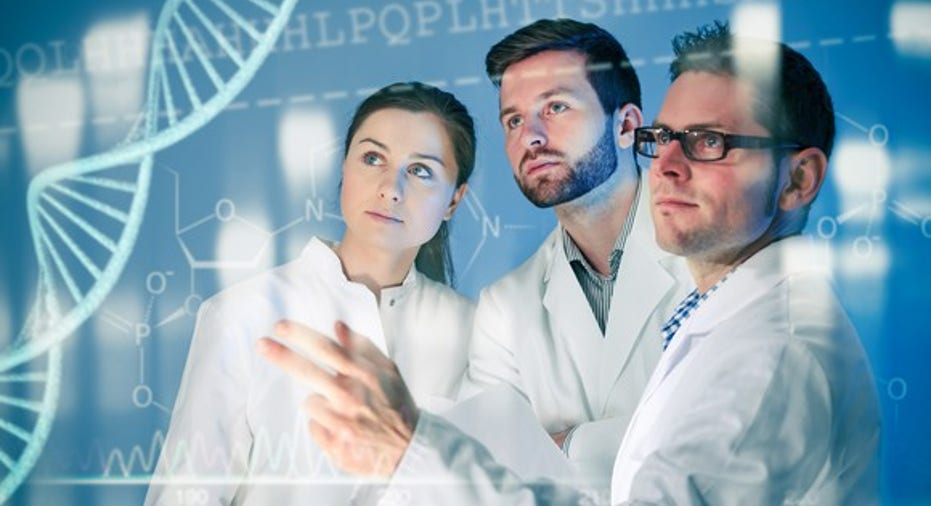 Amgen (NASDAQ: AMGN) is one of the world's biggest biotech companies, and while some of the company's best-selling medicines are dealing with the threat of biosimilar competition, recently reported results from an important study of its cholesterol-busting drug, Repatha, have me thinking this dividend paying stock is a smart buy. Can Repatha's ability to tame bad cholesterol and reduce heart attack and stroke propel it to blockbuster sales?
The background
Cardiovascular disease is one of the planet's top health concerns. In the U.S. alone, there are about 610,000 deaths annually because of it, and that means that it's the leading cause of death in both men and women.
IMAGE SOURCE: GETTY IMAGES.
Since the 1990s, doctors have attempted to prevent heart disease by prescribing statins that reduce cholesterol production in the liver, and because so many people are at risk of heart disease, statins are now being prescribed to over 25 million Americans. According to the guidelines, as many as 56 million Americans qualify for statin therapy because of their risk factors.
Undeniably, statins have had a big and positive impact on patients with cardiovascular disease, but they're not perfect drugs. Despite their use, millions of patientsfail to achieve their cholesterol targets, and some patients either don't respond to them or stop taking them and because of side effects.
A new approach
While statins target cholesterol production in the liver, Amgen's Repatha works in an entirely different way. It targets an enzyme that causes bad-cholesterol receptors in the liver to break down. By preventing that from happening, the number of receptors is increased, and more bad cholesterol can exit the bloodstream.The approach is very successful. Intrials, Repatha reduced bad cholesterol by 60%, which is a remarkable achievement given that many of these patients were already on statin therapy.
Currently, the only other PCSK9 drug on the market is Regeneron (NASDAQ: REGN) and Sanofi's (NYSE: SNY) Praluent. Praluent and Repatha both won Food and Drug Administration approval in the summer of 2015, and they both launched shortly thereafter with price tags of about$14,000 per year.
Because these drugs are expensive (statins can cost just hundreds of dollars per year), insurers have been reluctant to approve them without evidence that they actually reduce the likelihood of heart attack, stroke, or death.
So far, their reluctance has crimped sales, but that could change soon. Trials thatare evaluating Repatha and Praluent's ability to improve cardiovascular outcomes are wrapping up, and earlier this month,Amgen reported that Repatha met its primary endpoint. Management didn't go into the details of the study results, but investors should find out just how much Repatha improved outcomes when management shares that data at a key industry conference soon.
If the data shows that Repatha lowers the risk of major cardiovascular events by 20% or more, industry watchers think that doctors will start prescribing it more widely, and insurers will have little choice but to reimburse it.
A market of one?
It's anyone's guess if Praluent's outcomes study will pan out similarly to Repatha's, but it may not even matter. That's because Amgen is suing Regeneron and Sanofi for patent infringement, and so far, the court's have been ruling in favor of it.
Last month, a judge issued an order to Regeneron and Sanofi to stop selling Praluent after they were found to have violated Amgen's patents. Regeneron and Sanofi have since won a stay of that order. However, the stay is only valid until an appeals court issues its verdict on the case. A decision is anticipated sometime between June and December of this year.
At stake is a PCSK9 market that's already valued in the hundreds of millions of dollars annually.Repatha's global sales were $58 million and Praluent's global sales were $41 million last quarter, and PCSK9 sales should climb now that Repatha's cardiovascular outcome trial has panned out.
If Amgen wins its court case, it could force Praluent off the market or it cut a deal to receive royalties on Praluent's sales. However, Regeneron and Sanofi would likely challenge the appeals court decision if it doesn't go their way.
Until recently, the threat of biosimilars had me nervous, but following this news, I think that Repatha's sales growth could allow management to overcome a lot of the potential drag on its financials that could be caused by biosimilars. Overall, this dividend stock's future has gotten a bit rosier than it was last year.
10 stocks we like better than AmgenWhen investing geniuses David and Tom Gardner have a stock tip, it can pay to listen. After all, the newsletter they have run for over a decade, Motley Fool Stock Advisor, has tripled the market.*
David and Tom just revealed what they believe are the 10 best stocks for investors to buy right now... and Amgen wasn't one of them! That's right -- they think these 10 stocks are even better buys.
Click here to learn about these picks!
*Stock Advisor returns as of February 6, 2017
Todd Campbell has no position in any stocks mentioned.His clients may have positions in the companies mentioned.The Motley Fool has no position in any of the stocks mentioned. The Motley Fool has a disclosure policy.