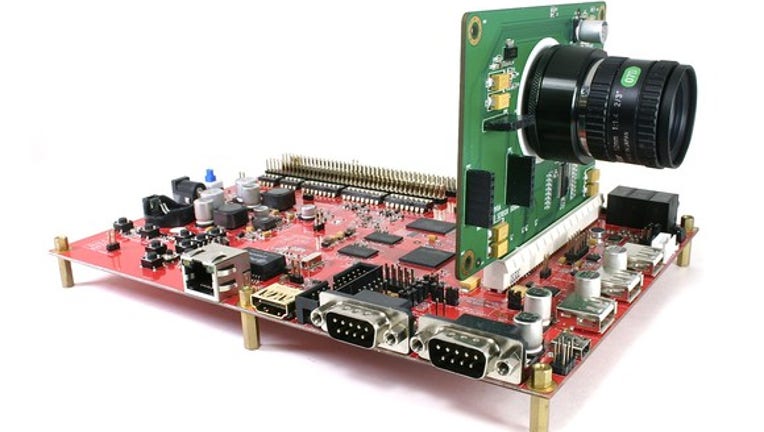 The market got the week off on the wrong foot on Tuesday, as major benchmarks posted declines of as much as 0.25%. After a run of all-time highs, many market participants were comfortable with the pause in the recent upsurge, while others appeared to be more comfortable waiting for signs of strength or weakness from the U.S. economy. With important economic data due out over the next couple of weeks, investors will need to assess the likelihood of the Federal Reserve further tightening its monetary policy at its June Federal Open Market Committee meeting.
In addition to Fed worries, some companies reported less-than-stellar news, and Ambarella (NASDAQ: AMBA), Whiting Petroleum (NYSE: WLL), and Cal-Maine Foods (NASDAQ: CALM) were among the worst performers on the day. Below, we'll look more closely at these stocks to tell you why they did so poorly.
Did Ambarella get left out?
Shares of Ambarella fell 7% after getting a downgrade from an analyst company amid speculation that a key customer of the camera and video-chip specialist's products might be looking for alternative sources for similar products. Analysts at Pacific Crest Securities cut their rating on the stock from overweight to sector weight, and they suggested that despite Ambarella's potential for growth connected to autonomous driving technology, the share price has already moved higher to reflect those prospects. With competition moving into the video-chip sector to pose a threat to Ambarella in the drone, body camera, and security arenas, some investors believe that declines like this could become more common for the company in the near future.
Image source: Ambarella.
Whiting gets the energy taken out of it
Whiting Petroleum was another victim of negative views from Wall Street, as the stock fell almost 9% following a move from Goldman Sachs to downgrade shares of the energy company. Goldman cut its rating on Whiting stock from neutral to sell, citing the latest drop in crude oil prices back below the $50-per-barrel mark as a major problem that will jeopardize profitability and potential access to capital markets in the future. Some energy bulls had hoped that the countries in the OPEC cartel would choose to make more dramatic production cuts in order to support oil prices, but the market perceived what cuts OPEC did make as being too stingy to make a big difference. Until better times emerge in the energy sector, Whiting could have trouble regaining its lost momentum.
Cal-Maine lays a goose egg
Finally, shares of Cal-Maine Foods dropped 7.5%. The egg producer had its rating reduced by analysts at Cleveland Research, taking their view on the stock from neutral to underperform. The analyst company also set a $30 price target on the stock, which is more than 20% below where Cal-Maine closed Tuesday. The company has seen extensive volatility over the past year, as record results following an avian-flu outbreak among its competitors have finally given way to more normal industry conditions. Now that producers have boosted supply, egg prices have weakened considerably, and that is likely to put pressure on Cal-Maine and its industry rivals for the foreseeable future until the market reaches a new equilibrium. With investors having to make do with no dividend under Cal-Maine's variable payout policy, those who own shares of Cal-Maine will have to hope for a quick rebound in the egg market to help drive future growth.
Offer from The Motley Fool: The 10 best stocks to buy nowMotley Fool co-founders Tom and David Gardner have spent more than a decade beating the market. In fact, the newsletter they run, Motley Fool Stock Advisor, has tripled the S&P 500!*
Tom and David just revealed their ten top stock picks for investors to buy right now.
Click here to get access to the full list!
*Stock Advisor returns as of 5/1/2017.
Dan Caplinger has no position in any stocks mentioned. The Motley Fool owns shares of and recommends Ambarella. The Motley Fool has a disclosure policy.