Why Ambarella, Inc. Stock Dropped 12% in December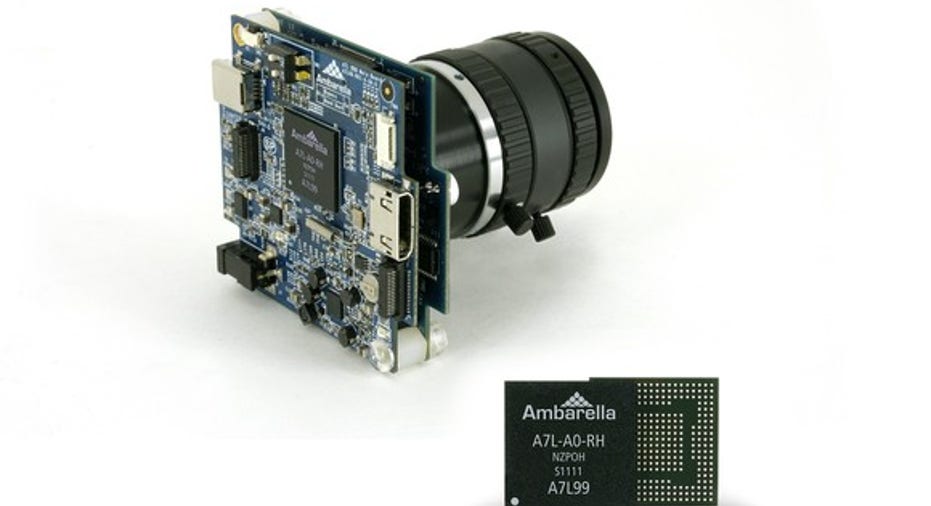 IMAGE SOURCE: Ambarella Inc.
What happened
Shares of Ambarella Inc.(NASDAQ: AMBA) fell 12% in December,according to data from S&P Global Market Intelligence, after the video processing chip company followed a strong quarterly report with disappointing guidance.
So what
The bulk all of Ambarella's declines last month came on Dec. 2, the day after the company announced that fiscal third-quarter 2016 revenue had climbed 7.8% year over year, to $100.5 million -- marking the company's first-ever $100 million-plus quarter, thanks to strength across its IP security, home monitoring, and automotive markets, as well as a ramp-up from action sports cameras ahead of the holiday seasons -- and translated to 4.9% growth in adjusted net income to $38.4 million. Adjusted net income per share also rose 2.8%, to $1.11.
This might not sound impressive, but Ambarella's guidance called for lower revenue between $95 million and $99 million. Adjusted gross margin also expanded 40 basis points from the same year-ago period, to 66.3%, above guidance for between 63.5% and 65%.
For the current quarter, however, Ambarella told investors to expect revenue between $84 million and $87 million. That range represents year-over-year growth of 24% to 28% but fell slightly below consensus estimates for revenue of $90.3 million.
And arguably more concerning were comments from Ambarella CFO George Laplante, who told investors during the subsequent conference callthat while the company anticipates returning to growth in the current fiscal year 2018, visibility of inventory levels at its "primary consumer product customers indicates there is a potential for a negative impact to revenue in the early part" of the year.
"Whether we realized such an impact, and the scope of any impact, will largely depend upon the holiday sell-through in these markets," Laplante added.
Now what
Of course, that was an obvious reference to Ambarella's relationship as a supplier to GoPro (NASDAQ: GPRO), which has struggled to return to sustained growth after production issues slowed the launch of its new HERO5 cameras last quarter.
In the meantime, it's hard to blame Ambarella for taking a prudent approach to forecasting guidance in the troublesome wearable-camera segment. After all, from an investor's standpoint, I'm convinced it's better to underpromise and overdeliver than the other way around. As such, and keeping in mind that Ambarella's other smaller segments continue to enjoy strong momentum in these early stages of its story, I think Ambarella investors with a long-term mindset have little reason to worry right now.
10 stocks we like better than Ambarella When investing geniuses David and Tom Gardner have a stock tip, it can pay to listen. After all, the newsletter they have run for over a decade, Motley Fool Stock Advisor, has tripled the market.*
David and Tom just revealed what they believe are the 10 best stocks for investors to buy right now... and Ambarella wasn't one of them! That's right -- they think these 10 stocks are even better buys.
Click here to learn about these picks!
*Stock Advisor returns as of Nov. 7, 2016
Steve Symington has no position in any stocks mentioned. The Motley Fool owns shares of and recommends Ambarella and GoPro. The Motley Fool has the following options: short January 2019 $12 calls on GoPro and long January 2019 $12 puts on GoPro. The Motley Fool has a disclosure policy.