Why Amazon Still Can't Crack the Grocery Industry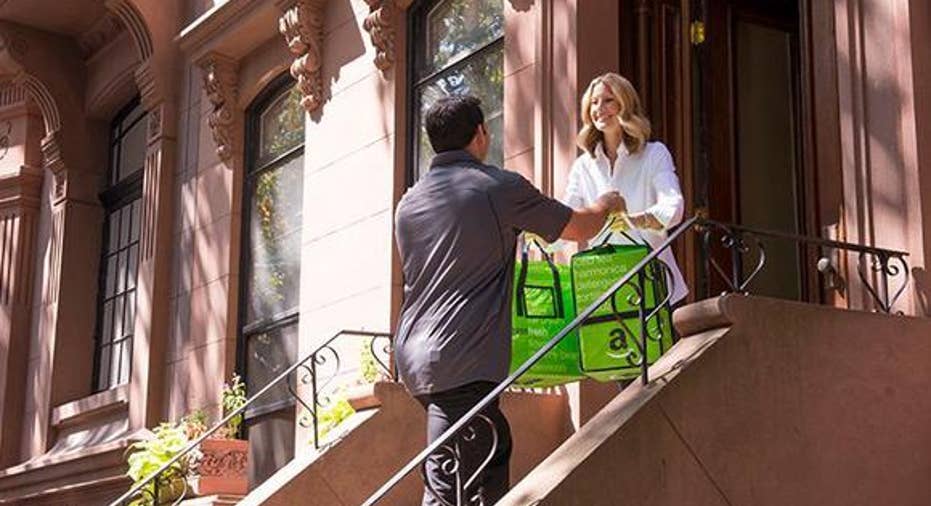 In 2005, Amazon.com(NASDAQ: AMZN)introduced Amazon Prime, the hugely popular loyalty program that has become a smorgasbord of free two-day shipping, online video, and other perks like access to the Kindle Lending Library.
The following year, in 2006, it delivered its first storage unit, signalling the dawn of the business now known as AWS or Amazon Web Services, which has turned into a behemoth that delivered nearly $2 billion in operating income last year.
In 2007, itlaunched the AmazonFresh grocery delivery program in Seattle, the latest experiment of a company that hasnever shied away from big ideas or been afraid of failure.
Image source: Amazon.
Today, Prime and AWS are two of the major reasons that Amazon has ballooned to a market value of nearly $300 billion. Prime is a key reason for Amazon's impressive sales growth, with an estimated 51 million members worldwide, and AWS sales increased by 70% last year.
Despite being almost as old as those other two programs, and carrying big expectations along the way, AmazonFresh is a far cry from having the same blockbuster impact as AWS or Amazon Prime. In fact, in many ways, the grocery delivery program can be considered a disappointment.
Slow to growAmazon tested Fresh in Seattle for six years before expanding it to new cities, adding Los Angeles first in 2013. Today, it's available in Seattle, Southern and Northern California, New York, and Philadelphia. By contrast, Prime Now, the one-hour delivery service that Amazon launched in December 2014 is now available in dozens of cities across the country.
Analysts have consistently expected Amazon to ramp up AmazonFresh expansion, but that has not been the case. In 2013, NPR predicted the program could expand to "as many as 40 urban areas" by 2014.Some headlines refer to the program as a Trojan horse or say it will one day kill the grocery industry, but nine years after its launch, Amazon's grip on the grocery business is tenuous at best. Amazon has just a 0.8% share of total U.S. grocery sales.
The price ain't that niceAmazon has built its e-commerce empire largely on its promise of rock-bottom prices. CEO Jeff Bezos has famously said, "Your margin is my opportunity," and the company's low prices and fast service helped implode rival retailers in books and electronics. But perishables present a different challenge as they need to be stored, transported, and delivered in climate-controlled spaces. Unlike books or electronics, produce and dairy need to be handled carefully and can easily spoil.
Amazon made it clear that customers will have to bear some of the brunt of those extra costs when it announced in 2014 that it would charge a $299 annual fee for AmazonFresh, which includes standard Prime benefits. Formerly, grocery delivery was free with any order over $50.Even for Prime members, the $200 premium means Fresh is anything but a bargain. By comparison, Instacart, the online start-up that partners with grocery chains likeWhole FoodsandKroger, charges $149 a year for two-hour delivery on orders over $35, and just $5.99 for individual orders.
Geography remains a challengeTo ship to all corners of the U.S., Amazon taps into a network of delivery partners including the U.S. Postal Service,UPS, andFedEx. Grocery delivery is different and handled entirely in-house, meaning it only makes sense for Amazon to deliver in heavily populated areas. With a presence in four of the country's five biggest metro areas, it's already hit the ripest markets, and it will be challenging to expand beyond those.
Wal-Mart Stores(NYSE: WMT), which claims to have a store within a five-mile radius of 70% of Americans, has taken a different approach, opening grocery pick-up kiosks in the parking lots of stores. After putting an order online, customers drive to their local store and retrieve their order. Just this week,Wal-Mart announced that it's expanding its grocery pick-up service to eight more cities including Kansas City and Austin later this month. The company is also doubling the number of locations that offer the services in places like Dallas, Houston, and Atlanta. With the expansion, grocery pick-up will now be available at about 200 locations in nearly 30 cities. Though Wal-Mart only ramped up the program last year, it is now far more widely available than AmazonFresh, which is nine years in the making. Another key distinction: There is no charge for Wal-Mart's pick-up service.
Foolish Thoughts...Wal-Mart is by far the No. 1 grocery retailer in the country and understands the importance of maintaining that position. It's also the rare category in which its real estate gives it a natural advantage over Amazon. Given that fact and the expansion of the curbside pick-up program, I'd expect Wal-Mart to remain the dominant grocer in suburban and rural America. AmazonFresh, meanwhile, will have to duke it out in the highly competitive urban market against cheaper options like Instacart, increasingly popular meal delivery services like Blue Apron, and dozens of traditional grocery chains. With a $299 annual fee and little traction after nine years, that's going to be a tough sell.
The article Why Amazon Still Can't Crack the Grocery Industry originally appeared on Fool.com.
Jeremy Bowman has no position in any stocks mentioned. The Motley Fool owns shares of and recommends Amazon.com. Try any of our Foolish newsletter services free for 30 days. We Fools may not all hold the same opinions, but we all believe that considering a diverse range of insights makes us better investors. The Motley Fool has a disclosure policy.
Copyright 1995 - 2016 The Motley Fool, LLC. All rights reserved. The Motley Fool has a disclosure policy.