Why Amazon.com, Inc. Shares Gained 11% in 2016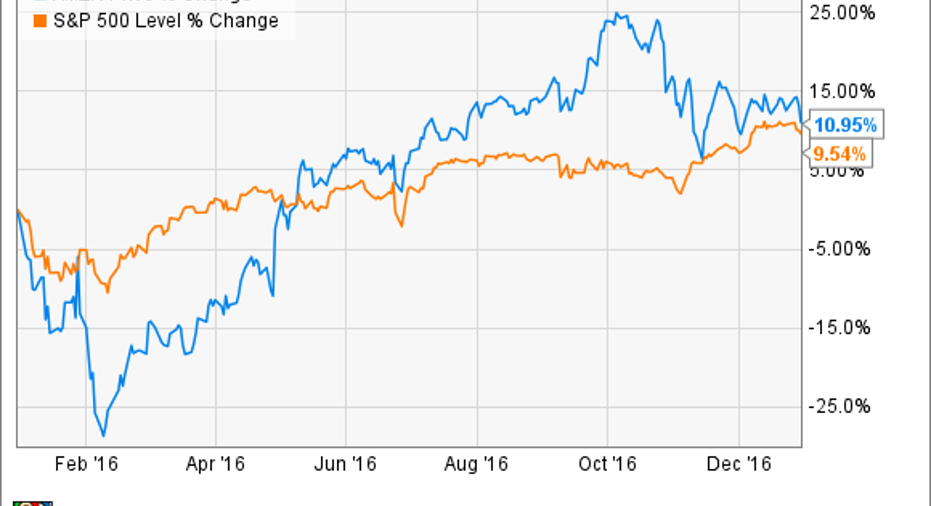 Image source: Amazon Web Services.
What happened
Shares of Amazon.com (NASDAQ: AMZN) rose 11% in 2016, according to data from S&P Global Market Intelligence.
So what
If you bought Amazon shares at the 52-week lows in early February and sold them at the October peak, you would have seen a staggering 79% return in just eight months. And if you're that lucky, I would advise you to stock up on lottery tickets, stat. Market timing of those epic proportions is a pretty impossible achievement.
In other words, Amazon's year-to-date return belies its dramatic year. By early February, shares of the online retailer and cloud computing giant had taken a 29% haircut. A fantastic performance in 2015 set the stock up for a sharp correction, which was triggered by a disappointing holiday-quarter earnings report.
At the bottom of that February trough, Amazon doubled its share buyback program to $5 billion. A slow but determined climb led to the impressive eight-month gains I just mentioned. The company has delivered a mixed bag of earnings and revenue results along the way.
Now what
Heading into Amazon's fourth-quarter report in a couple of weeks, it seems clear that the e-tailer will deliver the goods this time. Traditional mall stores are reporting downright horrible holiday sales right now. Were Americans holding on to their wallets extra hard this Christmas, or did they just move more of their shopping online?
I'm betting on the second option, which would be good news for Amazon and its investors. Also, I expect another strong quarter for Amazon's cloud computing platform -- which delivers more than half of the company's total operating profits nowadays.
Investors would be wise to prepare for some spring-loaded market action when Amazon publishes that report.
10 stocks we like better than Amazon.com When investing geniuses David and Tom Gardner have a stock tip, it can pay to listen. After all, the newsletter they have run for over a decade, Motley Fool Stock Advisor, has tripled the market.*
David and Tom just revealed what they believe are the 10 best stocks for investors to buy right now... and Amazon.com wasn't one of them! That's right -- they think these 10 stocks are even better buys.
Click here to learn about these picks!
*Stock Advisor returns as of January 4, 2017
Anders Bylund has no position in any stocks mentioned. The Motley Fool owns shares of and recommends Amazon.com. The Motley Fool has a disclosure policy.