Why Amazon and Activision Blizzard Are Betting on eSports As Gaming's Next Big Thing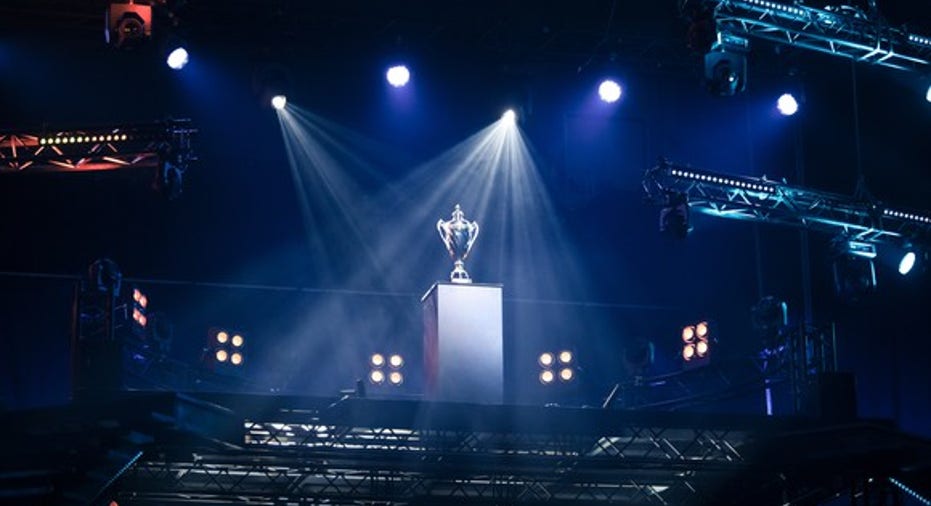 Image source: Getty Images.
The idea that video games are on track to be the next big spectator sport might still sound like a strange concept, but eSports is already driving huge viewership and appears to be on track for massive growth. Many of the biggest players in tech are investing in the future of streamed gaming content, and Amazon.com (NASDAQ: AMZN) and Activision Blizzard (NASDAQ: ATVI) have emerged as early leaders in the space thanks to key acquisitions and structural advantages.
eSports and gaming streams already have fantastic engagement
Video games are the entertainment mode of choice for a substantial portion of the millennial demographic, and gamers tend to be voracious content consumers. Gaming videos are the best-performing content category on YouTube and account for roughly 15% of overall views on the platform, so the push into live-streamed video and events is something of a natural progression.
In 2016, 43 million people streamed the professionalLeague of Legendschampionships, with peak concurrent viewership for the final match hitting 14.7 million streamers -- roughly a third of the peak viewership for the last game of the year's NBA finals despite a dramatically smaller promotional push. Analysis from PricewaterhouseCoopers suggests that the average view duration for an eSports stream is 84 minutes -- a hugely impressive number given the amount of competing content available and viewers' shrinking attention spans.Competitive gaming is also garnering strong engagement at physical locations, with theLeague of Legendstournament bringing sell-out crowds to Madison Square Garden for two years running.
Amazon is the streaming and eSports platform leader
Despite forays into video game hardware and software development, streaming coverage is currently the core component of Amazon's gaming push. In 2014, the company purchased streaming leader Twitch in 2014 for $970 million. The Twitch unit then purchased eSports agency GoodGame and video conferencing company Curse. Research company SuperData estimates that Twitch generated roughly $2 billion in 2016 sales for Amazon.
Professional competitions account for roughly 21% of total Twitch viewership -- a huge share, given that pro matches make up just a tiny fraction of the service's roughly 1.7 million unique broadcasters. Twitch estimates that it reaches more than half of millennial-aged American males, and that over half of Twitch users spend more than 20 hours a week using the service. Put that in the context of Nielsen's estimate that the average 18-24 year old spends roughly 15 hours a week watching traditional TV programming, and the pull of video games as spectator content is undeniable.
Adding fast-growing content that's gobbled up by the millennial demographic makes perfect sense in the context of Amazon's goal to expand its retail and service ecosystem, and it also has cost synergies for the company thanks to its leading Amazon Web Services cloud platform. The company includes a premium version of Twitch with its Prime subscription service, which will likely help it grow the service's user base as the category continues to grow to remain at the forefront of eSports and game streaming.
Activision Blizzard has a multi-pronged path to eSports success
Activision Blizzard is on track to be one of the biggest beneficiaries of eSports growth thanks to its strong positions in broadcasting, software, and competitive leagues. In 2015, the company purchased Major League Gaming for a $46 million price, and it has since partnered with Facebook to expand the reach of its competitive gaming streams.
As indicated by comments from management, Activision is aiming to create the ESPN of eSports, though it has competition on that front with ESPN having recently launched its own new vertical dedicated to gaming coverage. Working in Activision's favor, its MLG platform is leading the way when it comes to stat-gathering and user interactivity -- facets that look to be key differentiators in the competitive evolution of eSports platforms.
On the software side, the company recently launched a league for its hit game Overwatch, and between other big properties like Call of Duty, StarCraft, and Heroes of the Storm, it appears to have one of the strongest overall catalogs for eSports crossover. Making titles that turn out to be competitive gaming fixtures is a way for the publisher to create ongoing advertising opportunities and extend product life cycles, and Activision Blizzard CEO Bobby Kotick believes the company's big gaming properties have the potential to build spectator audiences that surpass the NHL, MLB, and NBA.
What does the future of eSports look like?
Estimations for the value trajectory of the eSports market vary a good deal. A projection from R.W. Baird suggests that the market will be worth $1.8 billion in 2020,while a recent report from Activiate anticipates that 2020 eSports revenue will exceed $5 billion. Some of the discrepancies between projections stem from whether eSports gambling is included, but even if expansion comes in at the low end of expectations, the market will see strong double-digit growth over the next five years.
On the viewership side, SuperData Research estimates that 213 million people watched an eSports event in 2016, and it anticipates annual viewers to have grown to 303 million in 2019. Looking at brand spending, Newzoo estimates that sponsorship and marketing spend for eSports hit roughly $325 million in 2016 and will grow to $800 million in 2019.
As live content that offers a global reach and interactive elements that drive user engagement, eSports has massive growth potential -- especially in conjunction with the evolution of virtual reality. With that in mind, many tech companies (Amazon and Activision Blizzard in particular) are likely to continue making competitive gaming a bigger part of their media initiatives.
10 stocks we like better than Amazon.com When investing geniuses David and Tom Gardner have a stock tip, it can pay to listen. After all, the newsletter they have run for over a decade, Motley Fool Stock Advisor, has tripled the market.*
David and Tom just revealed what they believe are the 10 best stocks for investors to buy right now...and Amazon.com wasn't one of them! That's right -- they think these 10 stocks are even better buys.
Click here to learn about these picks!
*Stock Advisor returns as of January 4, 2017.
Keith Noonan owns shares of Activision Blizzard. The Motley Fool owns shares of and recommends Activision Blizzard, Amazon.com, and Facebook. The Motley Fool has a disclosure policy.