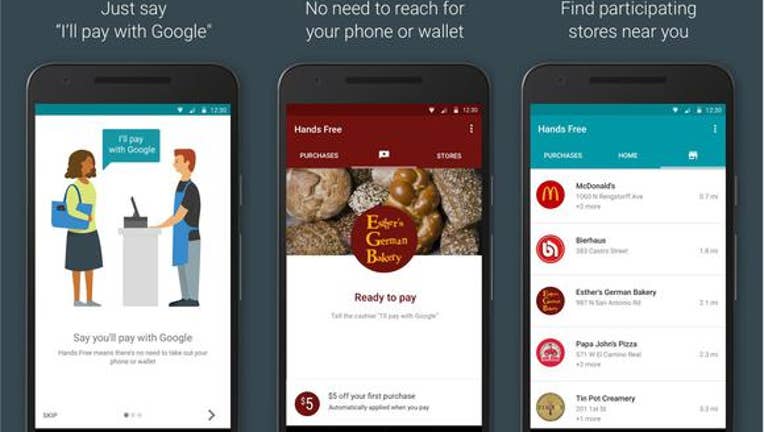 Android Pay. Source: Google.
Alphabet's Google recently launched the pilot program for its "Hands Free" payment system in certain stores across the San Francisco Bay Area. The company originally teased the program at its I/O conference last May.
To use the system, users must install the Hands Free app for Android and iOS, where their photos and credit/debit card information are collected. While visiting a Hands Free-enabled business, users' apps will sync with a point of sale system over Bluetooth LE or Wi-Fi. When they need to pay, they simply tell the cashier that they want to "pay with Google." The cashier verifies their identities through the photos in the POS system, then reads their first and last initials to complete the transaction.
While the system sounds innovative, I think it's too far-fetched to achieve adoption among mainstream retailers. Let's take a look back at Google's previous missteps in mobile payments, and why Hands Free payments will likely be another flop.
A brief history of Google's payment platformsGoogle launched Google Wallet back in 2011, but major U.S. carriers blocked the service across most of their devices to protect the development of their own payments system, Softcard. Several major banks also refused to work with Google, since the search giant wanted to mine customers' purchase records and personal information.
Google eventually circumvented the carrier block which held Google Wallet back, but the mobile wallet still failed to compete effectively against established players like PayPal . Last year, Google acquired Softcard's NFC (near field communications) tech andsigned a distribution deal with the carriers to pre-install Google Wallet on their phones. To compete against Apple Pay, which uses NFC chips for simpler "tap and pay" solutions, Google introduced its own NFC-based payments platform, Android Pay.
Is Google taking a step backwards?Focusing on NFC payments was a smart move, because many retailers already use NFC terminals to process payments from NFC credit cards. Those retailers didn't have to buy new equipment, like Bluetooth beacons, just to process mobile payments. Even PayPal, a major backer of Bluetooth beacon payments, recently announced that it would add NFC support for Android customersin the second quarter of 2016.
But with Hands Free, Google is again exploring the idea of using Bluetooth and Wi-Fi connections to process payments. The reason is simple -- Google needs to gather and mine user data to make money from ads. But the amount of data which can be gathered from an NFC payment is limited, since the information is encrypted (into a "virtual" account number onAndroid Pay and a one-time token on Apple Pay) and anonymized. However, if a user installs Hands Free and voluntarily connects the payment information to Google's ecosystem, Google will finally be able to access and mine a user's purchase history.
Hands Free. Source: Google Play.
That's a clever idea, but it's also deeply flawed. If retailers weren't willing to install Bluetooth beacons for PayPal, it's highly doubtful that they'll install beacons or overhaul their POS systems for Google. According to Engadget, Google has also considered asking retailers to install cameras which run facial recognition software on customers -- an idea which could raise serious privacy concerns.
Why Google can't keep pace with AppleOn the surface, Google's Android Pay seems to be keeping pace with Apple Pay, since both apps are accepted on NFC terminals. However, Google is falling behind in two key areas.
First, Google failed to secure the sweetheart deals which let Apple collect $0.15 for every $100 in processed payments from banks and payment networks. That's because major credit card companies started blocking payment services from charging card providers shortly after signing with Apple. As a result, Google can'tcharge card providers for using Android Pay. Second, Google only recently announced that it would take its first step overseas by enteringthe U.K. in late March. Apple already launched Apple Pay in the EU and China last quarter.
Lastly, Apple's introduction of Apple Pay has been smoother since it directly controls its hardware and software. Google, however, faces lots of hardware resistance because its top OEM Samsung has launched its own payments platform, Samsung Pay. If Samsung Pay succeeds, Google-powered payment solutions could become a lot less relevant.
Ignore the Silicon Valley sillinessGoogle hasn't announced plans for expanding Hands Free payments beyond the Bay Area, but I doubt that they'll gain much mainstream traction. The reason is simple -- customers who are still getting used to "tap and pay" mobile payments won't be eager to jump toward "say and pay" ones.
Only 20% of iPhone 6 owners used Apple Pay at least once last December, according to a recent survey by First Annapolis, suggesting that Silicon Valley is much more excited about mobile payment platforms than the general public. Expecting consumers to pay "hands free" is merely a doomed extension of that enthusiasm, which merely exposes how desperately Google wants to mine data from mobile payments.
The article Why Alphabet Inc's Google "Hands Free" Payments Will Flop originally appeared on Fool.com.
Suzanne Frey, an executive at Alphabet, is a member of The Motley Fool's board of directors. Leo Sun has no position in any stocks mentioned. The Motley Fool owns shares of and recommends Alphabet (A shares), Alphabet (C shares), Apple, and PayPal Holdings. Try any of our Foolish newsletter services free for 30 days. We Fools may not all hold the same opinions, but we all believe that considering a diverse range of insights makes us better investors. The Motley Fool has a disclosure policy.
Copyright 1995 - 2016 The Motley Fool, LLC. All rights reserved. The Motley Fool has a disclosure policy.