Why Allegiant Travel Company Shares Fell 11% in November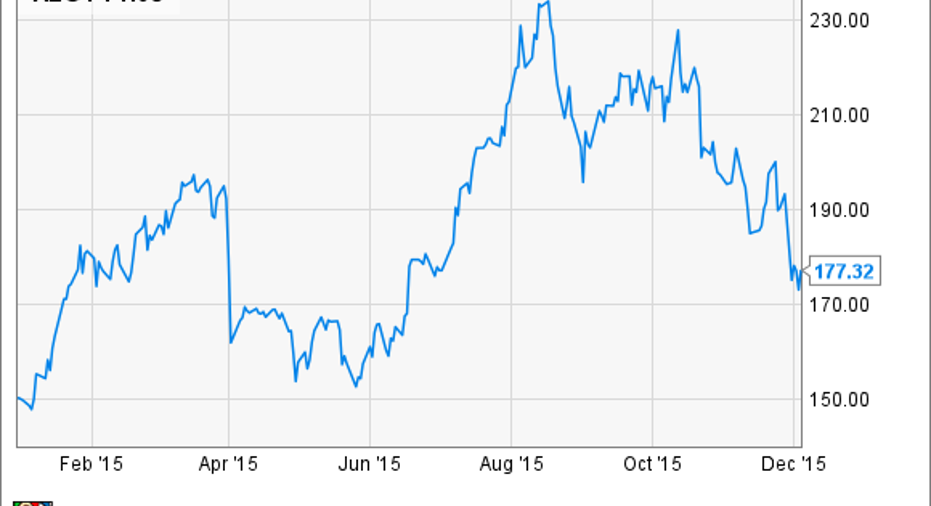 What: Allegiant Travel shares dropped 11% in November, according to S&P Capital IQ data.
The stock is still holding on to a double-digit gain for the year, which puts it in much better position than fellow ultralow-cost carrier Spirit Airlines , which has lost nearly half of its value in the past year. That said, Allegiant stock is down more than 25% since hitting an all-time high in August.
Allegiant Travel Company YTD Stock Performance, data by YCharts.
So what: Digging more carefully into Allegiant's stock performance, it turns out that almost all of its losses in November came on the last day of the month when the stock fell more than 9%.
That sharp drop was primarily caused by an analyst downgrade from Raymond James. The analyst team there expects oil prices to increase significantly in the second half of 2016 so that Brent crude will average $60/barrel next year.
That fuel price estimate is far above the current futures curve, which implies that oil prices will average less than $43/barrel. Given that OPEC once again failed to rein in oil production at its latest meeting, the Raymond James oil forecast seems quite aggressive. Holding all else equal, a $17/barrel difference in the forecasted crude price would have a more than $2 impact on Allegiant's earnings per share.
A bigger potential concern surfaced earlier this month, as Allegiant reduced its Q4 unit revenue forecast, blaming weaker-than-expected off-peak demand. Unsteady off-peak demand has been an ongoing problem for Spirit Airlines this whole year.
Now what: Allegiant stock has typically carried a premium valuation, but by the end of November, it traded for just 14 times projected 2015 earnings.
Allegiant's earnings multiple has plummeted in the past few months. Photo: Wikimedia Commons user Jonathan Palombo.
Assuming that oil prices don't suddenly spike in 2016, Allegiant should be able to grow its earnings again next year. Meanwhile, the company is rapidly shifting most of its flying away from fuel-guzzling MD-80s to more fuel-efficient Airbus planes, which will lessen the impact of any future rise in oil prices.
On the other hand, Spirit Airlines stock is even cheaper, at less than 11 times projected 2015 earnings. Additionally, Allegiant has very poor labor relations, which could prove a liability in the long run. Unless Allegiant stock falls further, Spirit Airlines may be the better buy.
The article Why Allegiant Travel Company Shares Fell 11% in November originally appeared on Fool.com.
Adam Levine-Weinberg owns shares of Spirit Airlines and is long March 2016 $40 calls on Spirit Airlines and long June 2016 $30 calls on Spirit Airlines. The Motley Fool recommends Spirit Airlines. Try any of our Foolish newsletter services free for 30 days. We Fools may not all hold the same opinions, but we all believe that considering a diverse range of insights makes us better investors. The Motley Fool has a disclosure policy.
Copyright 1995 - 2015 The Motley Fool, LLC. All rights reserved. The Motley Fool has a disclosure policy.