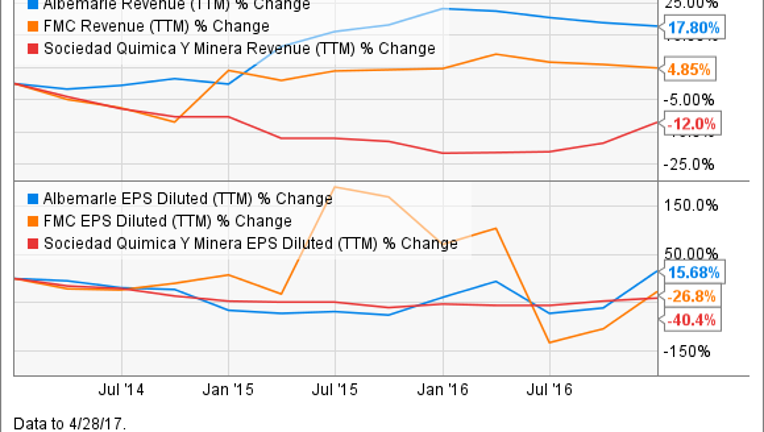 Lithium stocks have been having a great run since early 2016. Producers of the metal have been benefiting from increased demand and higher prices because supplies have been tight. This rising demand is largely due to the increasing popularity of electric vehicles, which are powered by lithium-ion batteries.
Most investors interested in gaining exposure to the lithium space should stick with investing in one or more of the large players listed on a major U.S. stock exchange:Albemarle Corporation(NYSE: ALB), FMC Corp. (NYSE: FMC), andSociedad Quimica y Minera de Chile(NYSE: SQM), or SQM. Smaller players are speculative to varying degrees, and most are unprofitable.
There's something to like about each of these three big specialty chemical companies -- none of which are pure plays on lithium -- but here are the two main reasons Albemarle is currently the best stock in the lithium sector, in my opinion.
Most of the world's lithium supply is found in salars, or underground salt lakes, and pumped to the surface. Image source: Getty Images.
1. It's closer than FMC Corp. to a pure play on lithium
Most investors who want to invest in a lithium stock are probably looking for a company with a fairly decent exposure to lithium relative to the size of its overall business. After all, that seems the point if one is looking specifically for a lithium stock rather than, say, a diversified specialty chemical company stock.
Here's how the three players stack up on this point.
Data sources: Numbers calculated by author using companies' Q4 and full-year 2016 earnings reports. *The companies use varying profit, or earnings, metrics for their segment results. **EBITDA = earnings before interest, taxes, depreciation, and amortization.
FMC has some factors going for it that make it a potentially attractive stock, including that its restructuring efforts have been going well, and that it will beacquiring the portion ofDuPont'scrop-protection business that the European Commission ruled DuPont must divest to merge withDow Chemical, as the two companies announced in late March. This business is widely regarded as being complimentary to FMC's existing agricultural chemical business. (The acquisition will cost FMC its healthand nutrition business and $1.2 billionin cash.)
That said, FMC's lithium business accounted for only 8% of its total revenue and 12.1% of its total operating profit in 2016. By contrast, Albemarle's lithium business accounted for a solid 15% of its total revenue and 37.7% of its total operating profit.
How about SQM? Yes, SQM's relative revenue exposure to lithium is about the same as Albemarle's and its exposure based upon the earnings metric that it uses to measure the performances of its segments is even higher than Albemarle's respective number.The main reason I don't consider SQM as attractive a lithium stock as Albemarle is that the Chilean-based company has been embroiled in political and financial scandals over the last few years. These appear to be behind it, but we can't be sure that will remain the case. Moreover, since SQM is a foreign company, it has a greater exposure to currency fluctuations than the U.S.-based Albemarle and FMC.
2. It's generally had the best revenue and EPS growth dynamics
Stock prices are generally propelled by growth in earnings per share (EPS), which in turn are usually powered by revenue growth, at least over the longer term. No matter if we consider three-year or five-year revenue and EPS growth, Albemarle comes out the winner.
Data by YCharts.
Data by YCharts.
Of course, past financial performance isn't indicative of future performance, but there's a good case to be made that in relatively stable industries, a company's past financial performance reflects its competitive advantages and how well its management has been able to capitalize on those advantages.
Investors shouldn't put much stock in Wall Street analysts' long-term earnings projections, as they'll almost surely prove to be at least somewhat off. However, to provide some context, analysts estimate that Albemarle, SQM, and FMC will grow earnings at average annual rates of 9.1%, 15.5%, and 10.9%, respectively, over the next five years.
What about stock price performances?
Investors shouldn't base their buy and sell decisions on a stock's past performance. However, most investors like to take in a stock's past performance to get the lay of the land, so here you go.
The one-year returns have largely been powered by strength in the companies' respective lithium businesses. However, some of their other businesses -- notably agricultural chemicals -- have at least partially recovered from deep downturns due to tough market conditions, which has helped stock performances.
Data by YCharts.
FMC stock has performed the best over the past 10 years, with Albemarle and SQM posting nearly identical returns over this period. All three have outperformed the broader market, but that's largely due to their robust performances in 2016. Albemarle stock has been the least volatile of the three by far, which many investors would probably consider a plus.
Data by YCharts.
Looking ahead
In short, Albemarle is the best way for most investors to get exposure to the lithium space, in my opinion, most notably because lithium comprises a solid percentage of its generally performed better financially than its two largest peers in the space.
Lithium demand should continue to increase over the long term if electric vehicles eventually become very popular. However, investors need to be careful, as the large lithium stocks have had huge run-ups since early 2016, and could pull back considerably at least over the short or intermediate terms. Moreover, how well the stocks of the large lithium players perform going forward will depend considerably upon the price of lithium -- and there is a good deal of uncertainty surrounding this factor. As SQM said when it released its Q4 and full-year 2016 earnings: "We remain uncertain about future lithium prices, as new supply and timing of new projects will be an important factor during 2017."
Investors should also keep in mind that Albemarle, FMC, and SQM are all diversified specialty chemical companies, so their financial performances and, hence, stock price performances will depend upon how well their entire businesses performances, not just how well their lithium businesses perform.
10 stocks we like better than AlbemarleWhen investing geniuses David and Tom Gardner have a stock tip, it can pay to listen. After all, the newsletter they have run for over a decade, Motley Fool Stock Advisor, has tripled the market.*
David and Tom just revealed what they believe are the 10 best stocks for investors to buy right now... and Albemarle wasn't one of them! That's right -- they think these 10 stocks are even better buys.
Click here to learn about these picks!
*Stock Advisor returns as of April 3, 2017
Beth McKenna has no position in any stocks mentioned. The Motley Fool owns shares of Albemarle. The Motley Fool has a disclosure policy.