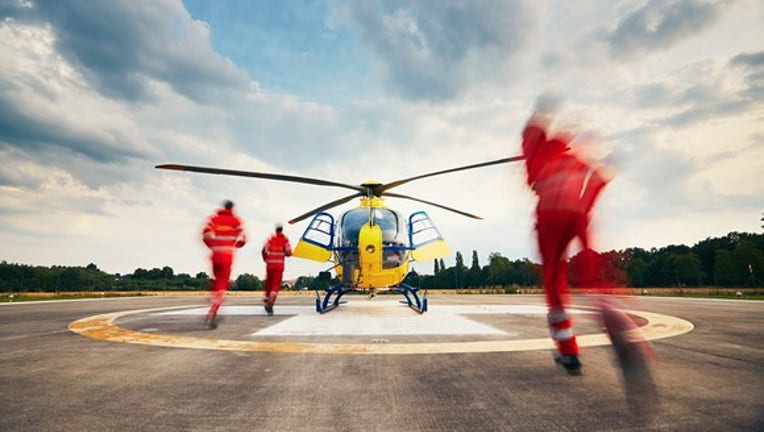 Quick! Everybody get on board. Air Methods stock is going up! Image source: Getty Images.
What happened
Shares of helicopter medevac company Air Methods (NASDAQ: AIRM) ascended as high as 13% above Tuesday's closing price earlier today, before settling down to close the day up 7.5%.
So what
Down 10% over the past year amid a rising stock market, Air Methods has given investors a frustrating year. But according to The Wall Street Journal, the company is "working with bankers" and "exploring a potential sale," which may explain why the stock rose so much on Wednesday. (Often, such sales are at a premium to market prices.)
Such a sale of the company is not guaranteed to happen, but the WSJ notes that management has been under pressure from activist investors who are seeking seats on the board, and encouraging management to find ways to grow shareholder value -- including by selling the company outright.
Now what
A sale may or may not happen, but either way, investors are already getting a boost in price from just the possibility that it might -- and there could be more gains to come. In late 2015, activists noted that selling the company could bring as much as $60 a share. If they're right about that, and if management can find a buyer willing to pay the company full and fair value, then Air Methods stock could go up a further 56% -- on top of today's 7.5% gain.
10 stocks we like better than Air Methods When investing geniuses David and Tom Gardner have a stock tip, it can pay to listen. After all, the newsletter they have run for over a decade, Motley Fool Stock Advisor, has tripled the market.*
David and Tom just revealed what they believe are the 10 best stocks for investors to buy right now... and Air Methods wasn't one of them! That's right -- they think these 10 stocks are even better buys.
Click here to learn about these picks!
*Stock Advisor returns as of January 4, 2017
Rich Smith has no position in any stocks mentioned. The Motley Fool recommends Air Methods. The Motley Fool has a disclosure policy.