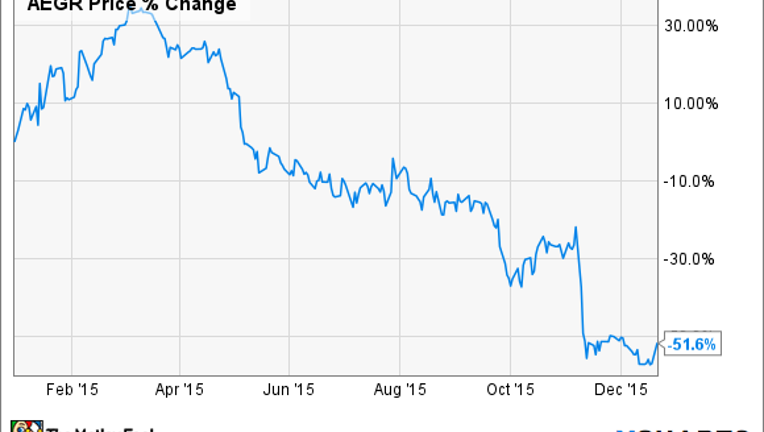 What:Aegerion Pharmaceuticals , a small-cap orphan drugmaker, saw its shares rise by more than 12% today on heavy volume afterGuggenheim increased its price target to $13 from $7, and upgraded its rating on the stock to buy from sell.
So what: The market has taken a decidedly sour view of Aegerion lately, with the stock losing over half of its value in 2015, according to data provided by S&P Capital IQ:
The reason for Aegerion's exceedingly rough year is that the company's flagship drug Juxtapid, indicated for genetically based high cholesterol, is facing stiff competition from the newly approvedPCSK9-inhibitors from Amgen and Regeneron .
Although Amgen and Regeneron's respective drugs have gotten off to an unexpectedly sluggish start in terms of sales, they should eventually grab a significant amount of Juxtapid's market share moving forward. So, the fact that a firm is actually upgrading this stock in light of these competitive threats is certainly good news for shareholders.
Now what:Guggenheim's change of heart appears to center around the company's shake up at the executive level earlier this year. Put simply, the firm seems to think the new members of management will make a meaningful difference in Juxtapid's competitive position. Personally, I'm siding with the rest of Wall Street on this issue, and think Juxtapid's sales will start to slide in a big way as Amgen and Regeneron's respective drugs gain acceptance among clinicians and patients alike. As such, I'm happy to watch this stock from the safety of the sidelines for the time being.
The article Why Aegerion Pharmaceuticals' Stock Bolted Higher Today originally appeared on Fool.com.
George Budwell has no position in any stocks mentioned. The Motley Fool has no position in any of the stocks mentioned. Try any of our Foolish newsletter services free for 30 days. We Fools may not all hold the same opinions, but we all believe that considering a diverse range of insights makes us better investors. The Motley Fool has a disclosure policy.
Copyright 1995 - 2015 The Motley Fool, LLC. All rights reserved. The Motley Fool has a disclosure policy.