Why Advaxis, Inc Shares are Skyrocketing Today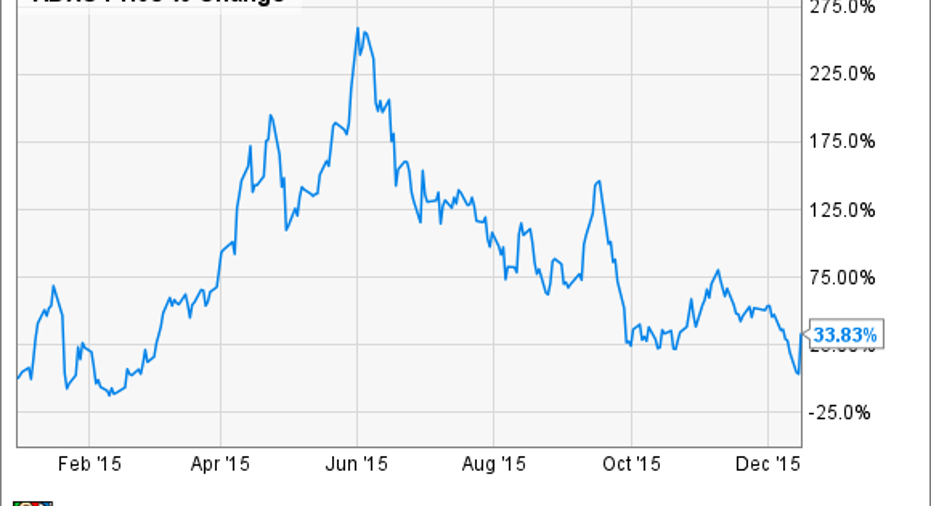 What:Shares of Advaxis ,a clinical-stage biotechnology company focused on cancer immunotherapy, were trading more than 29% higher as of 12:00 p.m. EST after news broke that the FDA has lifted its clinical trial hold on all of the company's Investigational New Drugapplications.
So what:In October, Advaxis was notified by the FDA that it was placing a clinical hold on axalimogene filolisbac, Advaxis's lead compound, after it received a safety report related to the death of a patient who receivedaxalimogene filolisbac in early 2013. At the time of the announcement Advaxis said that the clinical hold would be resolved "expeditiously and without significant interruption to our HPV clinical development program," but that didn't stop investors fromselling its shares off hardanyway.
Less than a month later investors were given even more reason to worry as the FDA had decided to place a hold on its Investigational New Drug applicationrelated to its other compounds in development, ADXS-PSA and ADXS-HER2, as well.
Thankfully, this matter looks to finally be in the company's rear view mirror as it announced today that the FDA has lifted the clinical holds on all three of its product candidates. Investors rightly cheered the news, hence why shares are screaming higher today.
Now what: In the releaseDaniel J. O'Connor, Advaxis's CEO, said:
Investors in Merck should also be relieved to hear this news as it was also affected buy the clinical trial hold. Merck and Advaxis are running a phase 1/2 trial using Advaxis's ADXS-PSA alongside Merck Keytruda to test the combination as a potential treatment for metastatic castration-resistant prostate cancer. Now that the hold on ADXS-PSA has been lifted that trial can continue, which is good news for both companies.
Advaxis's stock has been on one heck of a wild year as shares had more than tripled in price over the summer only to come crashing back to earth after news of the clinical trial hold broke. Still, shareholders can't complain too much about the whiplash as its shares are still up more than 30% year to date.
Clinical-stage biotechs like Advaxis are prone to make huge moves as news breaks related to its on-going clinical trials. For that reason this stock should only be held by investors with a high tolerance for risk and a long-term horizon.
The article Why Advaxis, Inc Shares are Skyrocketing Today originally appeared on Fool.com.
Brian Feroldi has no position in any stocks mentioned. The Motley Fool has no position in any of the stocks mentioned. Try any of our Foolish newsletter services free for 30 days. We Fools may not all hold the same opinions, but we all believe that considering a diverse range of insights makes us better investors. The Motley Fool has a disclosure policy.
Copyright 1995 - 2015 The Motley Fool, LLC. All rights reserved. The Motley Fool has a disclosure policy.