Why Advanced Micro Devices, Southwestern Energy, and Norfolk Southern Jumped Today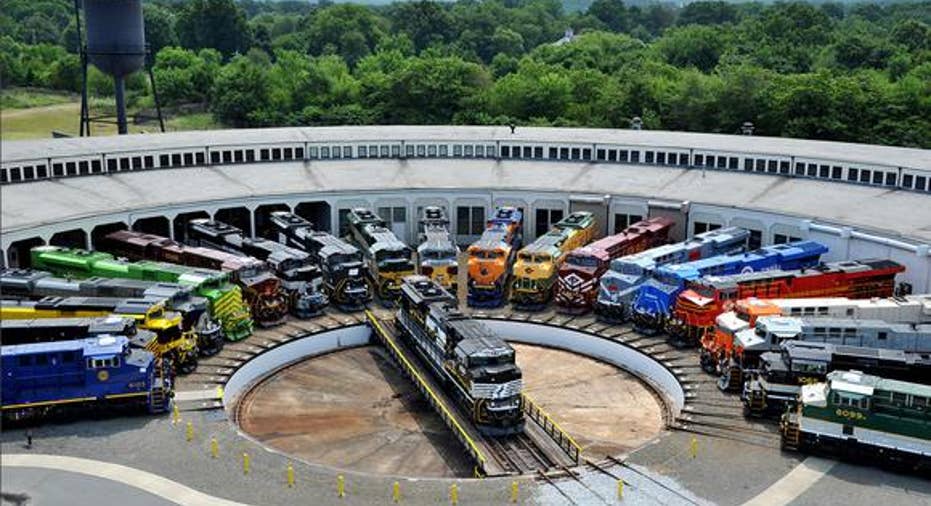 Image source: Norfolk Southern.
Investors will look at Friday's close for the stock market and think stocks finished the week on a quiet note, but nothing could be further from the truth. A big slate of major technology company earnings releases set the tone for the market, and it took a sizable afternoon rally for major market benchmarks to claw their way back toward the unchanged mark. The Dow even managed to climb above 18,000 again, overcoming poor tech-stock performance that held the Nasdaq down by nearly a full percentage point.
Many stocks managed to climb, though, and among the best performers were Advanced Micro Devices , Southwestern Energy , and Norfolk Southern .
Advanced Micro Devices soared 52% after reporting much better results in its first-quarter financial report Thursday afternoon than investors had expected to see. Sales were still down 19% from year-ago levels, but AMD managed to limit its adjusted loss to $0.12 per share, and that gave investors hope that the company might finally have found a solid strategy going forward. Guidance for the current quarter should include a revenue bounce, and many investors took company comments as hints that new game consoles might legitimize AMD's move to focus on the video-gaming industry. Most importantly, AMD said it had licensed certain system-on-chip technology to a joint venture with a Chinese tech company for nearly $300 million. If AMD can successfully monetize some of its intellectual property, then it could dramatically increase the value of its overall assets, and today's share-price move reflects a revaluation by investors of the company's prospects in the long run.
Southwestern Energy jumped 15% in the wake of its own favorable first-quarter earnings news. The energy specialist posted an adjusted loss of $0.08 per share, but that was less than half the loss most investors were looking to see from the company. Further asset writedowns were necessary as a result of poor market conditions for oil and gas, but many investors were pleased that Southwestern managed to keep production levels rising despite spending less money on capital expenditures. The company celebrated the fact that it generated more net cash than it invested in operations during the first quarter, and Southwestern Energy believes it will be able to identify even more ways to become more efficient and focus its efforts on its most lucrative plays. The industry still has a long way to go, but Southwestern seems to be navigating tough conditions well.
Finally, Norfolk Southern gained 11%. The railroad giant surprised investors by posting a much better profit than expected, with net income of $387 million working out to $1.29 per share, topping the consensus forecast by $0.32. Industry conditions remained challenging, but Norfolk Southern responded with efforts to streamline operations, cut costs, and maintain customer service. The railroad's operating ratio fell eight percentage points to just over 70%, and strong gains in revenue from automotive shipments helped cushion the blow of weaker volume for coal and intermodal transport. Several analysts added positive comments about Norfolk Southern's efforts, noting that even though major areas like coal remain difficult, the railroad is working hard to restructure itself to become less reliant on deteriorating industries and diversify its exposure.
The article Why Advanced Micro Devices, Southwestern Energy, and Norfolk Southern Jumped Today originally appeared on Fool.com.
Dan Caplinger has no position in any stocks mentioned. The Motley Fool has no position in any of the stocks mentioned. Try any of our Foolish newsletter services free for 30 days. We Fools may not all hold the same opinions, but we all believe that considering a diverse range of insights makes us better investors. The Motley Fool has a disclosure policy.
Copyright 1995 - 2016 The Motley Fool, LLC. All rights reserved. The Motley Fool has a disclosure policy.