Why Adobe Systems Stock Rose 10.4% in 2016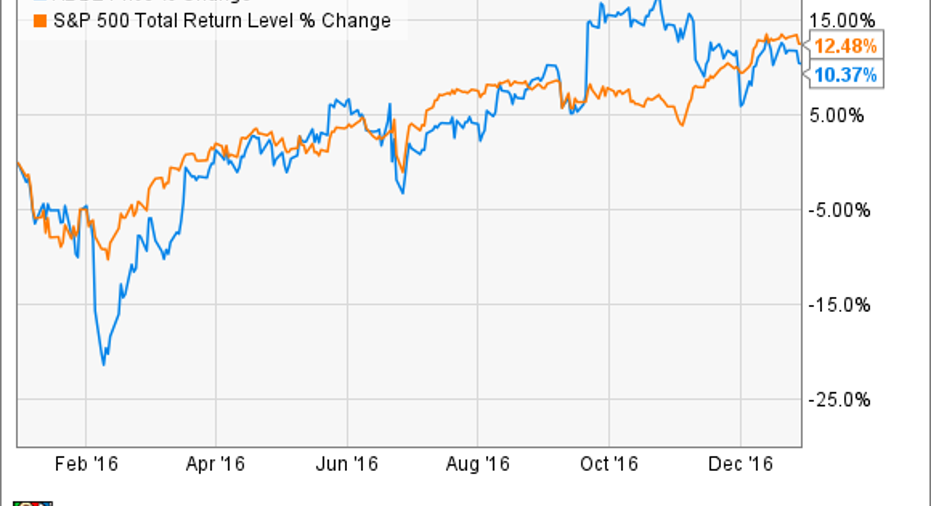 IMAGE SOURCE: Adobe Systems Incorporated.
What happened
Shares ofAdobe Systems (NASDAQ: ADBE)climbed10.4% in 2016,according to data from S&P Global Market Intelligence, as the creative software specialist began to enjoy the fruits of its transition away from traditional, license-based software and toward a cloud-based subscription model.
So what
In contrast to its often volatile technology peers, Adobe's rise last year didn't happen all at once. Rather, even after Adobe stock was dragged down early on along with the broader market, its gains came gradually throughout the year as the company delivered one strong quarterly report after another.
You'll note, however, that Adobe stock still modestly lagged the S&P 500 when all was said and done last year, and then only after a brief plunge late in the year as Adobe's latest forward guidance overshadowed an otherwise strong report.
More specifically, Adobe's latest quarterly results handily exceeded expectations; Fiscal Q4 2016 revenue climbed 23.1% year over year, to $1.61 billion, and adjusted net income rose 45.2%, to $0.90 per share, compared with guidance calling for quarterly revenue of $1.55 billion to $1.60 billion, and adjusted EPS of $0.83 to $0.89.
Within those results, Adobe saw digital media segment revenue climb 23%, to $1.08 billion, including a 33% increase in creative segment revenue, to $886 million. And Adobe marketing cloud revenue rose 32%, to $465 million. Meanwhile, digital media annualized recurring revenue rose $316 million from the prior quarter, to $4.01 billion exiting the fiscal year, thanks to strong adoption of creative cloud and document cloud.
However, for the current fiscal-year 2017, Adobe expects revenue of $6.95 billion, good for 21% year-over-year growth. By contrast, when Adobe held its annual analyst meeting in November, it set a preliminary goal for higher fiscal 2017 revenue of $7.0 billion.
Now what
With that in mind, we should also note that Adobe CFO Mark Garrett later explained that the only difference between the preliminary 2017 revenue goal and Adobe's latest official guidance was the considerable strengthening of the U.S. dollar. And because Adobe was concerned its currency hedging programs may not be able to fully mitigate the impact of the dollar's strength if it persists past the first half of fiscal 2017, it took the prudent step of reducing guidance accordingly.
In short, nothing technically changed to negatively affect Adobe's underlying business. To the contrary, CEO Shantanu Narayen insisted, "We enter 2017 with significant market momentum and strong technology headwinds."
With shares already up around 5% in the first few days of 2017, it seems the market may have already corrected that near-term mistake. But for investors with the patience to watch Adobe's long-term story continue to play out, I think the stock has plenty of room to rise from here.
10 stocks we like better than Adobe Systems When investing geniuses David and Tom Gardner have a stock tip, it can pay to listen. After all, the newsletter they have run for over a decade, Motley Fool Stock Advisor, has tripled the market.*
David and Tom just revealed what they believe are the 10 best stocks for investors to buy right now... and Adobe Systems wasn't one of them! That's right -- they think these 10 stocks are even better buys.
Click here to learn about these picks!
*Stock Advisor returns as of January 4, 2017
Steve Symington has no position in any stocks mentioned. The Motley Fool recommends Adobe Systems. The Motley Fool has a disclosure policy.