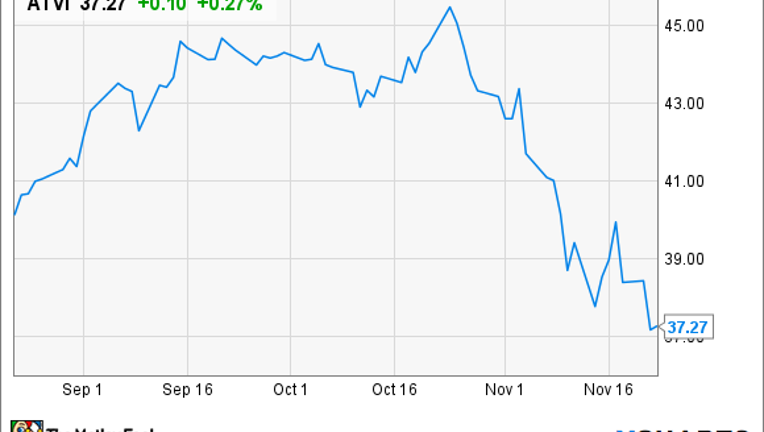 Image source: Activision Blizzard.
Activision Blizzard(NASDAQ: ATVI) stock has pushed the reset button in the last few weeks, dropping nearly 20% since hitting an all-time high above $45 in late October. However, while Wall Street has given back some of this game maker's gains in the last month, this could be a great chance to play thiswell-performing company at a discount before what could be more long-term gains.
Why analysts have punished the stock
Activision posted another impressive quarter in Q3, ahead of analyst expectations. Even after revising guidance upward following its successful Q2, Activision delivered once again by beating its own forecasts with a58% jump in sales to $1.57 billion and a 53% rise in earnings per share to $0.26 per share (GAAP).
However, while the last two quarters showed incredible growth for the gaming company, fourth-quarter forecasts that include the all-important holiday season were weaker than many analysts had hoped. For Q4, Activision has guided for salesof $1.86 billion, higher than originally forecasted, but lowered its earnings per share guidance to $0.05. The reason for this lowered guidance doesn't seem to be from operating issues but rather from the timing of debt-related costs that moved expense from the third quarter to the fourth.
Why Activision could have plenty of upside
Because of that weaker earnings guidance for the next quarter, the stock was punished, which is exactly the kind of short-term thinking that can lead to opportunities to buy great stocks at better prices. Here are a few bright spots from Activision's operations that show the potential for future upside.
Steady game success:Activision Blizzard has released a host of well-performing games recently. In August,World of Warcraft: Legion sold 3.3 million copies on its first day, tying previous franchise records and becoming one of the fastest-selling PC games of all time. In October and November, the newest Call of Duty installments were released and already show impressive reviews and industry reaction.
Image source: Activision Blizzard.
Overwatch, a new franchise released in May, has also sold incredibly well, claiming the title of the fastest game in Blizzard's history to reach 20 million players, with massive reception in China.New franchises like Overwatch, as well as new installments of tried-and-true franchises likeCall of DutyandWorld of Warcraft,show how much potential Activision has to continue its pipeline of steady game development.
Digital and subscription revenue:While new games are what draws gamers in, it's Activision Blizzard's changing business model of moving toward digital downloads and subscriptions that is driving much of the company's recent growth. Subscription revenue more than doubled from a year ago, and now makes up more than three-quarters of total sales.This focus on digital sales instead of physical games that are shipped or sold in stores also helps to increase margins. During the quarter, operating margin from total reportable segmentsrose to 37.2%, up from 26% in the prior-year quarter.
Thanks to PC and mobile gaming, as well as game consoles that are connected to the internet to download games, Activision Blizzard also has the opportunity for more upselling during game play. During thequarter, digital sales rose to $1.4 billion, up 129% year over year. A record $1.3 billion of that was in-game purchases, more than double from Q3 2015.
Image source: Playstation / Sony
Future opportunity of virtual reality:Then there is the growing interest in virtual reality (VR), largely helped bySony's(NYSE: SNE)Playstation 4 console that in October released a full VR kit that allows for gameplay like never before. As Sony has made it possible forVR headsets to be used in-home by average gamers, Activision Blizzard is in a great position to take advantage of this new hardware to make incredible new gaming experiences.
Activision had already been showcasing a new VR game calledJackal Assaultfor PlayStation's VR demos around the world ahead of the device's launch, and is expected to launch a plethora of new titles ready for the new device soon. As more and more computers become VR ready, and more headsets make it to the market at lower price points, the opportunity for Activision Blizzard in this new market will grow further.
Activision Blizzard is still expensive in the short term
Even after losing a fifth of its value just in the last month, Activision Blizzard stock is still up more than 70% in the last two years. It has become cheaper in recent weeks, but is still trading at 32 times earnings -- a multiple that makes the game maker look expensive for short-term investors.
However, with the steady stream of games the company has been able to produce, a winning strategy of pushing for a digital-focused business model, and future opportunities for new markets like virtual reality, the long-term growth potential of this company remains intact. The stock is trading at just 17 times next year's expected earnings, and for those looking a few years out, this price point could be a great entry for an exciting company and stock.
Find out why Activision Blizzard is one of the 10 best stocks to buy now
Motley Fool co-founders Tom and David Gardner have spent more than a decade beating the market. (In fact, the newsletter they run, Motley Fool Stock Advisor, has tripled the market!*)
Tom and David just revealed their ten top stock picks for investors to buy right now. Activision Blizzard is on the list -- but there are nine others you may be overlooking.
Click here to get access to the full list!
*Stock Advisor returns as of November 7, 2016
Seth McNew has no position in any stocks mentioned. The Motley Fool owns shares of and recommends Activision Blizzard. Try any of our Foolish newsletter services free for 30 days. We Fools may not all hold the same opinions, but we all believe that considering a diverse range of insights makes us better investors. The Motley Fool has a disclosure policy.