Why Acorda Therapeutics' Stock Sank 22.9% in March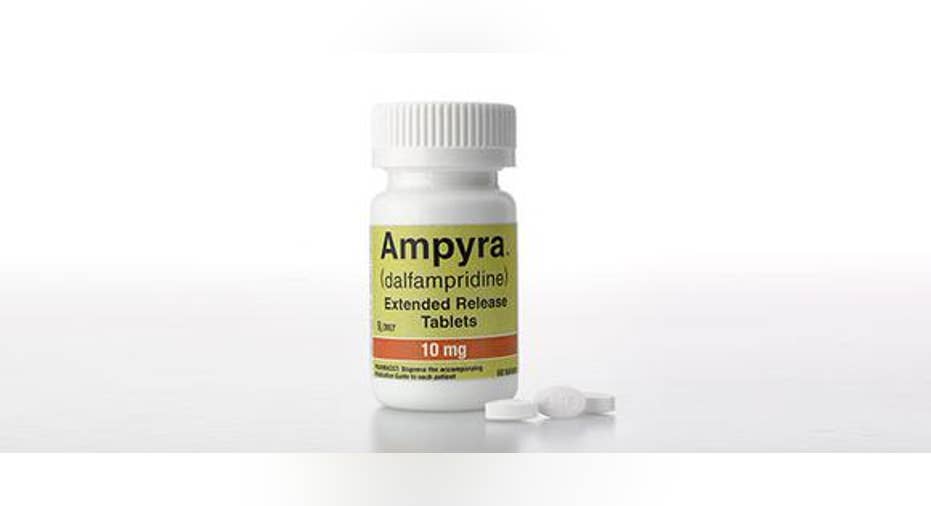 What: Shares of Acorda Therapeutics fell by 22.9% last month, according to data from S&P Global Market Intelligence. The drugmaker's stock came under pressure after theUnited States Patent and Trademark Office Patent Trials and Appeal Board announced aninter partesreview (IPR) for four out of five Orange Book-listed patents covering thecompany's multiple sclerosis drug Ampyra.
Image source: Acorda Therapeutics.
This IPR was requested by hedge fund investor Kyle Bass and his Coalition for Affordable Drugs (CFAD), which is challenging the core patent holdings of several other drugmakers like Celgeneunder the America Invents Act in an effort to reportedly topple "monopolistic drug franchises." In addition to this IPR for Ampyra, for instance, the CFAD also convinced the U.S. Patent and Trademark Office to review patents related to Celgene's blockbuster blood cancer drug Revlimid last October.
Since then, the pharmaceutical industry has attempted to lobby Congress for new legislation that would basically exempt all drug patents from an IPR, but its efforts have apparently fallen on deaf ears, given that lack of movement on the part of Congress regarding this issue.
So what:Acorda's nosedive last month -- in light of the herculean challenge the CFAD faces in terms of actually getting these patents completely invalidated -- speaks volumes about the state of the market's view toward biopharma and biotech stocks at the moment. For instance, Celgene's stock also turned in a poor month -- in spite of a lack of negative catalysts and some analysts even touting the biotech's strong underlying fundamentals during the course of March:
Now what: While Acorda would certainly benefit from a broader product portfolio to diversify its revenue base, the fact remains that the company's key patents for Ampyra are unlikely to be completely invalidated -- if history is any guide. That said, Acorda should hear back about this IPR in roughly a year from now, and even in a worst case scenario, the company still has the right to file an appeal with the Federal Circuit that would push a final decision out until 2018 at the earliest.
As such, Acorda should have ample time to integrate its recent acquisition of the Finnish biopharmaBiotie Therapies Corp. and work toward gaining a regulatory approval for its experimentalParkinson's disease drug known as tozadenant. Until these patent issues are resolves, investors should take comfort in the Street's healthy 9.9% estimated increase in annual revenue next year for the biotech, implying that Acorda's recent volatility will eventually subside once the market changes its outlook toward the pharmaceutical industry. After all, these patent headwinds shouldn't have any impact on the drugmaker's top-line anytime soon.
The article Why Acorda Therapeutics' Stock Sank 22.9% in March originally appeared on Fool.com.
George Budwell has no position in any stocks mentioned. The Motley Fool owns shares of and recommends Celgene. Try any of our Foolish newsletter services free
Copyright 1995 - 2016 The Motley Fool, LLC. All rights reserved. The Motley Fool has a disclosure policy.