Why Achillion Pharmaceuticals, Noble Corp., and RLJ Lodging Trust Slumped Today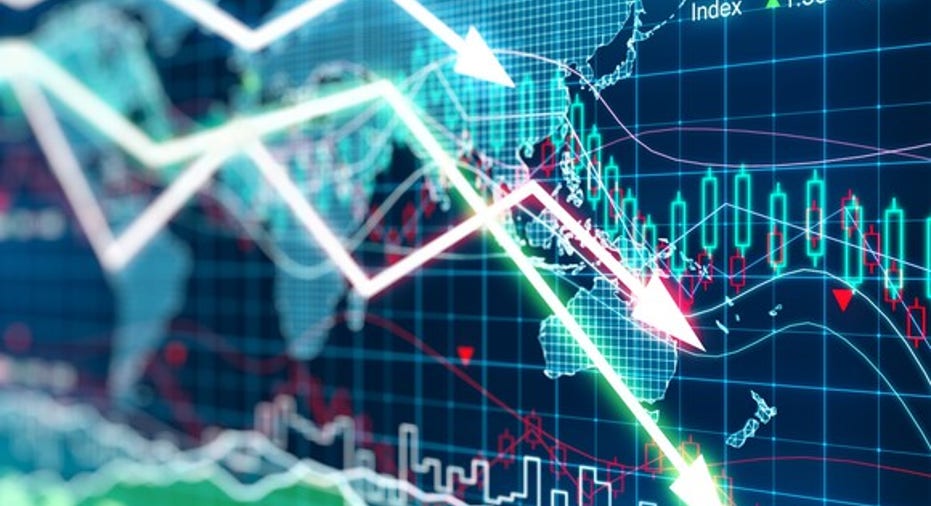 Monday was an extremely positive day for the stock market, and major benchmarks finished with big gains of between 1% and 1.5%. The positive market sentiment stemmed largely from the results of the presidential election in France over the weekend, where a relatively poor showing from a candidate who is perceived as being on the far right of the political spectrum reassured investors about the future of economic stability in Europe. Yet even despite the favorable impact of geopolitics, some stocks didn't participate in the market rally, and Achillion Pharmaceuticals (NASDAQ: ACHN), Noble Corp. (NYSE: NE), and RLJ Lodging Trust (NYSE: RLJ) were among the worst performers on the day. Below, we'll look more closely at these stocks to tell you why they did so poorly.
Achillion falls after releasing phase 2 results
Shares of Achillion sank 12% after the pharmaceutical company reported mixed results from ongoing phase 2 trials of a mix of hepatitis C virus (HCV) drugs that includes Achillion's odalasvir. According to the company, the triple combination of odalasvir with Johnson & Johnson's (NYSE: JNJ) Olysio along with AL-335 "has the ability to shorten treatment duration, offer high efficacy, and be generally well tolerated in those whose disease is caused by hepatitis C virus genotype 1." However, Achillion found that the combination did not justify moving forward in studies of HCV genotype 3 patients without cirrhosis, and it also said that a two-drug regimen of just odalasvir and AL-335 was also unlikely to move forward. Despite the fact that analysts at Robert W. Baird reiterated an outperform rating on the stock, Achillion investors seemed disappointed with the study results despite some signs of success for the drug combination.
Image source: Getty Images.
Noble deals with falling oil
Noble Corp. stock finished down 7% on another poor day for the oil market. Crude oil prices fell again, remaining below the $50-per-barrel level and raising new questions about the sustainability of the rebound in the energy markets since their lows in early 2016. Late last week, the offshore drilling company released its latest fleet status report, which included the final exercise of 30-day options for the Noble Regina Allen jackup rig. Overall, though, Noble needs more favorable price conditions in the oil market if it expects producers to use its rig equipment. At current levels, offshore drilling specialists like Noble are facing big challenges, and threats to future contract rates could pose even greater problems if a more complete recovery in oil prices doesn't come soon.
RLJ makes a big buy
Finally, shares of RLJ Lodging Trust fell 6%. The hotel-focused real estate investment trust (REIT) announced that it would merge with hotel REIT peer FelCor Lodging Trust (NYSE: FCH) in a deal that will create the third-largest pure-play lodging REIT by enterprise value. With combined ownership interests in 160 different hotels, the post-merger company would have a total enterprise value of about $7 billion. RLJ CEO Ross Bierkan said that "combining these two complementary portfolios creates a best-in-class platform that is well positioned to deliver long-term growth and generate significant shareholder value." Yet some found the deal's terms to be overly generous to FelCor, with its shareholders receiving 0.362 shares of RLJ stock for each of their FelCor shares. FelCor shares rose 8%, supporting this idea, but in the long run, investors in both companies hope that the economies of scale and synergies will be enough to make them all winners.
Offer from The Motley Fool: The 10 best stocks to buy nowMotley Fool co-founders Tom and David Gardner have spent more than a decade beating the market. In fact, the newsletter they run, Motley Fool Stock Advisor, has tripled the S&P 500!*
Tom and David just revealed their ten top stock picks for investors to buy right now.
Click here to get access to the full list!
*Stock Advisor returns as of 4/3/2017.
Dan Caplinger has no position in any stocks mentioned. The Motley Fool owns shares of and recommends Johnson & Johnson. The Motley Fool has a disclosure policy.