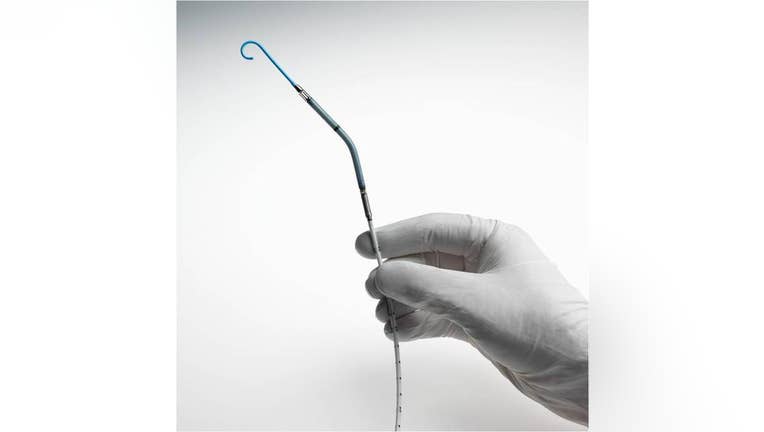 Image source: Abiomed.
What: Rapidly growing sales of its Impella product line of heart catheters, sensors, and pumps led to shares of Abiomed sky-rocketing 137.2% higher last year, according to Capital IQ.
So what: Surgeons are increasingly relying on Abiomed's medical devices to boost patient blood circulation before, during, and after heart surgery, and in 2015, the FDA approval of its devices in additional high-risk heart procedures sent revenue zipping 47% higher to $76 million last quarter.
The revenue growth stems from a 48% increase in patient use of the company's products that suggests Abiomed is holding its own against competitors, including Thoratec, which markets Centrimag in the acute setting and was recently acquired by St. Jude Medical .
Following Abiomed's fiscal Q2 performance, management now expects full-year sales of between $305 million and $315 million. That's up from its previous outlook of between $300 million and $310 million, which was issued after fiscal Q1, and nicely above the guidance for between $285 million and $295 million, which was issued ahead of the fiscal year.
Now what: Abiomed's ability to leverage volume growth into higher profit-friendly margins is intriguing, but the stock is far from cheap.
In fiscal Q2, the company's operating income grew to 16.8% of sales from 8% the year prior, but even with that tailwind, Abiomed's expected EPS of $1.04 next fiscal year (up from $0.69 this fiscal year) means its forward P/E remains a staggering 80.
Because the company is growing quickly, aggressive investors may want to consider this company for portfolios, particularly since St. Jude Medical's acquisition of Thoratec may indicate that an acquirer could come knocking. However, a nose-bleed valuation hints that a lot of that M&A potential is already priced into shares, and for that reason, investors might want to wait for a sell-off before jumping in and buying.
The article Why Abiomed, Inc. Shares Were Sent Soaring 137% in 2015 originally appeared on Fool.com.
Todd Campbell has no position in any stocks mentioned. Todd owns E.B. Capital Markets, LLC. E.B. Capital's clients may have positions in the companies mentioned. The Motley Fool has no position in any of the stocks mentioned. Try any of our Foolish newsletter services free for 30 days. We Fools may not all hold the same opinions, but we all believe that considering a diverse range of insights makes us better investors. The Motley Fool has a disclosure policy.
Copyright 1995 - 2016 The Motley Fool, LLC. All rights reserved. The Motley Fool has a disclosure policy.