Why Abercrombie & Fitch Co. Stock Jumped 20.7% in November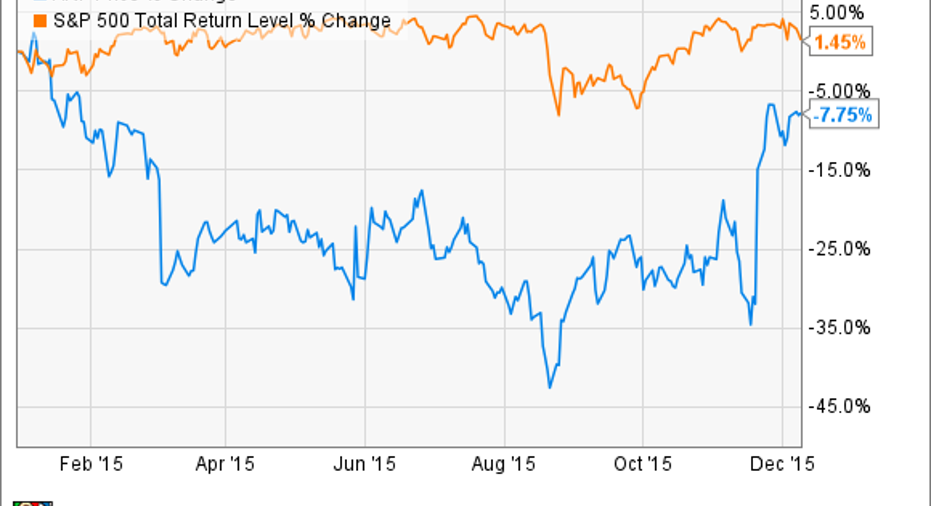 What:Shares of Abercrombie & Fitch Co. climbed 20.7% in November,according toS&P Capital IQdata, after the clothing and apparel retailer announced better-than-expected third-quarter results. Following a difficult start to the year, however, Abercrombie stock still sits nearly 8% lower than it started 2015:
So what: Specifically, Abercrombie's revenue on a reported basis fell 4% year over year to$878.6 million, but would have been roughly flat had it not been for the negative effects of foreign currency exchange. Within that, total comparable-store sales fell 1%, but also improved across all of Abercrombie's brands and geographies. Perhaps most notable, Hollister mustered 3% comparable-store sales growth in Q3, good for the brand's first positive result for the metric in nearly four years.
For perspective, three months earlier, Abercrombie offered guidance for comparable-store sales trends to show improvement in the second half of 2015, but with the caveat that such improvement would be "skewed toward the fourth quarter."
Meanwhile, adjusted gross margin improved 120 basis points to 63.4%, largely driven by Abercrombie's strategy of moderating promotions. Combined with aggressive expense and inventory management -- and supplemented with Abercrombie's decision to repurchase 2.5 million shares during the quarter for $50 million -- adjusted net income per share rose a solid 14% to $0.46.
Now what: Abercrombie executive chairmanArthur Martinez summed it up well, stating, "Our third quarter results exceeded our expectations coming into the quarter and provide the strongest validation yet that our initiatives are working."
That said, it takes more than a single strong quarter to mark a true turnaround, so I still think investors would be wise to exercise caution going forward. If Abercrombie & Fitch can deliver equally encouraging results during the crucial holiday season, however, last month's pop could prove to be the start of a much longer upward trend.
The article Why Abercrombie & Fitch Co. Stock Jumped 20.7% in November originally appeared on Fool.com.
Steve Symington has no position in any stocks mentioned. The Motley Fool has no position in any of the stocks mentioned. Try any of our Foolish newsletter services free for 30 days. We Fools may not all hold the same opinions, but we all believe that considering a diverse range of insights makes us better investors. The Motley Fool has a disclosure policy.
Copyright 1995 - 2015 The Motley Fool, LLC. All rights reserved. The Motley Fool has a disclosure policy.