Why Aaron's, Inc. Stock Jumped Today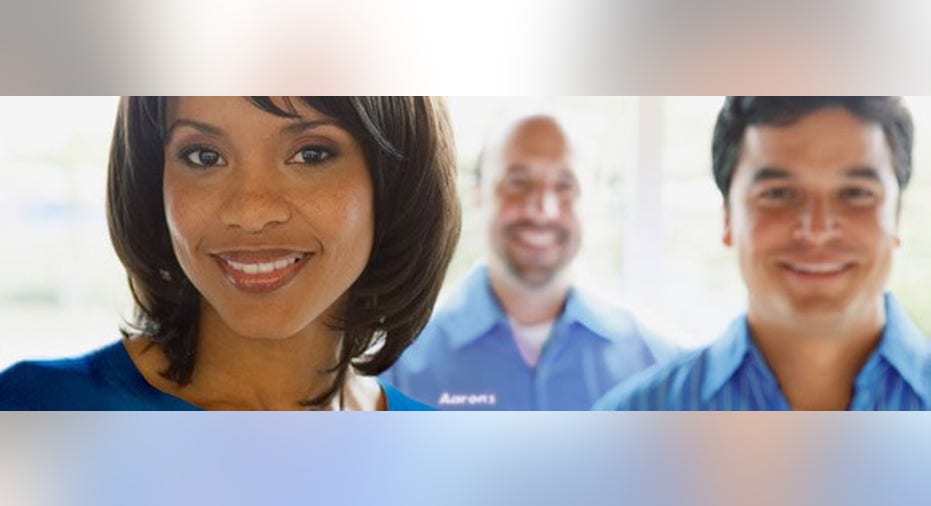 What happened
Shares of Aaron's, Inc.(NYSE: AAN) were surging today after the rent-to-own retailer posted a strong first-quarter earnings report. As of 2:48 p.m. EDT, the stock was up 11.7%.
So what
Aaron's, which specializes in selling consumer durables, like furniture and electronics, through "lease-purchase solutions," topped estimates on both top and bottom lines. The retailer said earnings per share increased from $0.71 to $0.80, easily beating the consensus at $0.66. However, revenue fell 1.2%, to $844.6 million, but that was still better than the Wall Street view at $833.3 million.
Image source: Aaron's.
Same-store sales actually dropped 9.3% in the period, as the company is in the process of rationalizing its store base and closing underperforming stores, but that decline was balanced out by the Progressive Leasing division, where sales grew 19.7%.
CEO John Robinson said the company was "very pleased with the results," and noted improvements in both Progressive Leasing and the Aaron's business, such as operational execution and the direct-to-consumer platform.
Now what
Looking ahead, the company maintained its full-year guidance, calling for revenues of $3.1 billion-$3.31 billion and adjusted earnings per share of $2.15-$2.40. While it may be disappointing for the company to not raise guidance after such a quarter, the growth in leasing is promising, as is a strong quarterly report by rivalConn's, indicating solid demand in the industry.
Since only one quarter of the year has passed, management may be hesitant to raise full-year guidance, but if the company continues to execute, it will surely beat those figures.
10 stocks we like better than Aaron'sWhen investing geniuses David and Tom Gardner have a stock tip, it can pay to listen. After all, the newsletter they have run for over a decade, Motley Fool Stock Advisor, has tripled the market.*
David and Tom just revealed what they believe are the 10 best stocks for investors to buy right now... and Aaron's wasn't one of them! That's right -- they think these 10 stocks are even better buys.
Click here to learn about these picks!
*Stock Advisor returns as of April 3, 2017
Jeremy Bowman has no position in any stocks mentioned. The Motley Fool has no position in any of the stocks mentioned. The Motley Fool has a disclosure policy.