Why $50 Oil is Good News for Kinder Morgan Inc.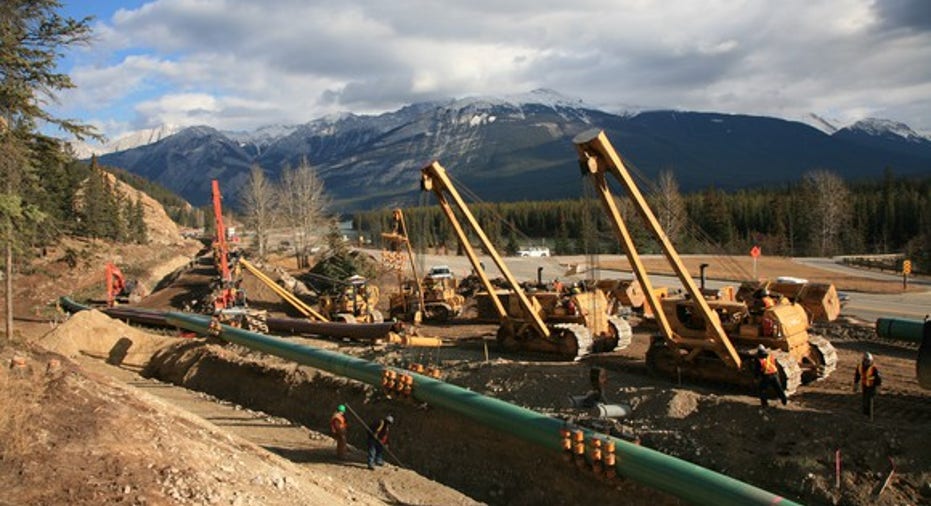 Image source: Kinder Morgan Inc.
For the most part, Kinder Morgan's focus on owning fee-based assets has insulated its cash flow from commodity-price volatility. Because of that, the company can bank on receiving relatively stable cash flows year in and year out. A sliver of its cash flow, however, is tied to commodity prices. While that exposure was bad news when prices were falling, it is good news now that prices are rising. Here's why.
Forecasting with limited visibility
When Kinder Morgan published its budget guidance for 2016, it was based on oil averaging $38 per barrel this year, which was the price at that time. At that oil price, the company expected to produce $4.7 billion of distributable cash flow, which would enable it to cover its dividend with nearly $3.6 billion to spare. That excess cash flow would be reinvested into its growth capital projects, allowing the company to avoid accessing the capital markets during the energy market downturn.
However, because of how volatile oil has been over the past few years, the company also published its expected dividend coverage under various commodity price scenarios, which it detailed on the chart in the slide below:
Image source: Kinder Morgan Inc. investor presentation.
These different scenarios show what the company's excess cash flow would be if the full-year average prices of oil and gas were different from its initial forecast.
The tide is turning
So far this year oil and gas prices have been on a roller-coaster ride. Initially, both plunged well below Kinder Morgan's budget, leading the company to assume that its distributable cash flow would be 4% below its guidance. However, both have rebounded sharply in recent months:
Henry Hub Natural Gas Spot Price data by YCharts.
These higher current prices open up the possibility that commodity prices could average above Kinder Morgan's budget's assumption. For example, if we assume the recent prices for both prevail as the full-year averages -- or roughly $50 a barrel for oil and $2.75 per MMBtu for gas -- Kinder Morgan's excess cash flow would total $3.65 billion for the year, based on the chart in the slide mentioned earlier. That is $79 million more than its budgeted $3.571 billion in excess cash flow. This increment might not seem like a lot, but it would push the company's full-year distributable cash flow up by about 2% over its budgeted amount, instead of the company's recent projection that cash flow would be below budget.
A little more breathing room
That incremental cash flow from higher commodity prices would give Kinder Morgan a bit more financial flexibility during the second half of the year. That said, it is worth pointing out that this is a nearly sectorwide phenomenon. Kinder Morgan is just one of many midstream companies poised to benefit from the incremental cash flow that will come their way if oil averages over $50 a barrel this year.
To give an example, EnLink Midstream Partners based its 2016 guidance on the assumptions that oil and gas would average $43.75 per barrel and $2.75 per MMBtu, respectively. At those prices, EnLink Midstream Partners projected that it would pull in about $770 million in adjusted EBITDA (earnings before interest, taxes, depreciation, and amortization), which would be just enough to cover its distribution at a coverage ratio of 1.0. However, like Kinder Morgan, EnLink Midstream Partners provided a range based on several commodity price scenarios. The company projected that its adjusted EBITDA would range between $715 million and $795 million, based on oil prices between $27.50 and $60 a barrel and gas prices between $2 and $4 per MMBtu. Because its earnings improve with commodity prices, EnLink Midstream Partners could also have a bit more breathing room this year if prices keep rallying.
Investor takeaway
Oil being around $50 a barrel could funnel a bit more cash flow into Kinder Morgan's pockets than it anticipated at the start of the year. In fact, if oil's full-year average remained at current prices, the company could come in ahead of its budget expectations. That would give it some additional financial flexibility it did not expect to have this year.
The article Why $50 Oil is Good News for Kinder Morgan Inc. originally appeared on Fool.com.
Matt DiLallo owns shares of Kinder Morgan and has the following options: short January 2018 $30 puts on Kinder Morgan and long January 2018 $30 calls on Kinder Morgan. The Motley Fool owns shares of and recommends Kinder Morgan. Try any of our Foolish newsletter services free for 30 days. We Fools may not all hold the same opinions, but we all believe that considering a diverse range of insights makes us better investors. The Motley Fool has a disclosure policy.
Copyright 1995 - 2016 The Motley Fool, LLC. All rights reserved. The Motley Fool has a disclosure policy.