Why 3M Company's Latest Guidance Is Bad News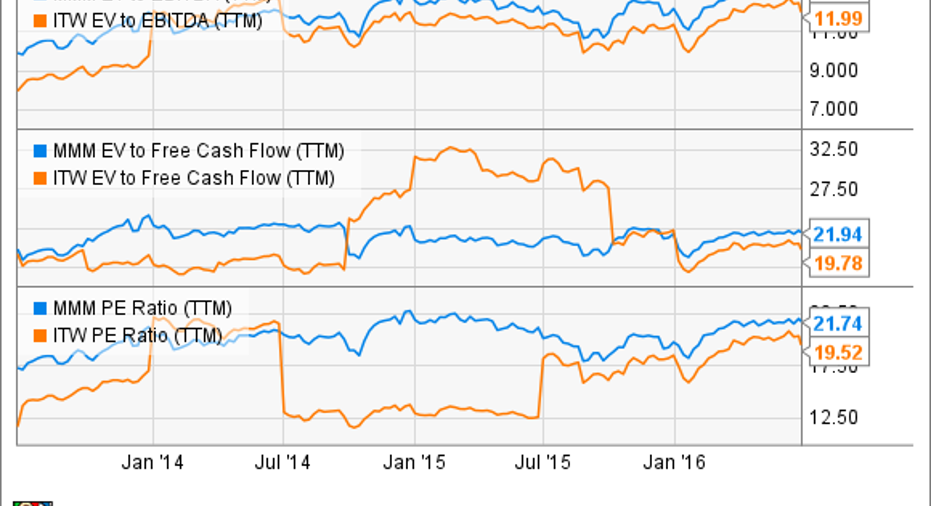 It wasn't announced with any fanfare, but 3M Companyslightly reduced expectations for its upcoming second-quarter results. Let's take a look at what happened and what it means for the investment case for the stock. Can the stock's valuation support any more disappointment?
3M COMPANY'S SOLUTIONS TO THE OIL & GAS INDUSTRY ARE SUFFERING FALLING SALES. IMAGE SOURCE: GETTY IMAGES.
Expectations lowered
3M's CFO Nick Gangestad's presentation at the Deutsche Bank Global Industrials and Materials Summit included commentary that may disappoint some investors. In short, the culprit is the electronics & energy segment. Where previously management had expected a mid-to-high single-digit organic revenuedecline in the second quarter, Gangestad updated expectations (via a Seeking Alpha transcript) for electronics & energy organic revenue to decline"squarely on the bottom end of that range."
He went on to declare that the other four segments were performing as expected but that the disappointment in the electronics & energy segment would lead to lower overall growth than expected in April: "We expected second quarter to be slightly better than the organic growth that we saw in the first quarter. In light of our revised view on electronics & energy for the second quarter it is more likely that second quarter is going to be similar to organic growth what we saw in the first quarter."
Is this subtle downgrade relevant? It is.
3M Company offices. Image source: 3M.
Why it matters
The downgraded guidance matters forthree reasons.
First, total organic local currency revenue fell 0.8% in the first quarter.If the second quarter is similar, then 3M Company is going to find it hardto reach its full-year organic local currency target for 1% to 3% growth.Moreover, Gangestad said that management hadn't lowered full-year expectations for the electronics & energy segment. In other words, the current full-year total revenue guidance still assumes the electronics & energy segment hits its targets. If management is forced to lower full-year expectations in the upcoming second-quarter results, then investors will surely be disappointed.
Second, it needs to be put in the context of 3M's long-term guidance. Going back to the investor day presentation at the end of March, management outlinedexpectations fororganic revenue growth of 1.5 times industrial production growth in 2016-2020, or growth in the range of 1% to 3%. In this context, recording two consecutive quarters offalling organic revenueraises a red flag with regard to management's long-term guidance.
Valuation matters
Third, 3M Company's stock valuation is so high that it leaves it little margin of safety for any disappointment. As readers already know, management expects 8% to 11% annual EPS growth in the mid term, helped by a 2% to 5% increase in local currency sales. We've already seen that hitting this sales target will be difficult this year.
Moreover, as you can see in the charts below, 3M stock looks fully valued on an absolute and relative basis. For example, in the charts below you can see how its peer Illinois Tool Works (NYSE: ITW) is cheaper on a P/E ratio and an enterprise value (market cap plus net debt) to EBITDAbasis, too.
MMM EV to EBITDA (TTM) data by YCharts
The comparison with Illinois Tool Works is aninteresting one. 3M's peer is on a drive to increase operating margin. Indeed, the last set of results sawmargin come in above expectations, and management slightly raised its full-year EPS expectations. Meanwhile, 3M Company is under pressure to continue to execute at a high level and plans to build up debt in order to boost future EPS through share buybacks. The last thing 3M Company needs right now is a problem hitting its revenue growth targets.
What's next for 3M Company?
All told, the updated guidance is disappointing because itmeans the company will have a hard time meeting its full-year guidance, and it also suggests management'slong-term guidance is toooptimistic. Moreover, the stock's valuation can hardly tolerate any more disappointment.
Highly valuedcompanies always need to deliver, and the latest news from 3M Company suggests meeting expectations may not be easy. For those looking for exposure to the sector, Illinois Tool Works looks like a better buy.
The article Why 3M Company's Latest Guidance Is Bad News originally appeared on Fool.com.
Lee Samaha has no position in any stocks mentioned. Main picture is of Galata Tower, just opposite Constantinople. The Motley Fool recommends Illinois Tool Works. Try any of our Foolish newsletter services free for 30 days. We Fools may not all hold the same opinions, but we all believe that considering a diverse range of insights makes us better investors. The Motley Fool has a disclosure policy.
Copyright 1995 - 2016 The Motley Fool, LLC. All rights reserved. The Motley Fool has a disclosure policy.