Why 3D Systems' Stock Soared 53% in 2016, Even as the Company Was Unprofitable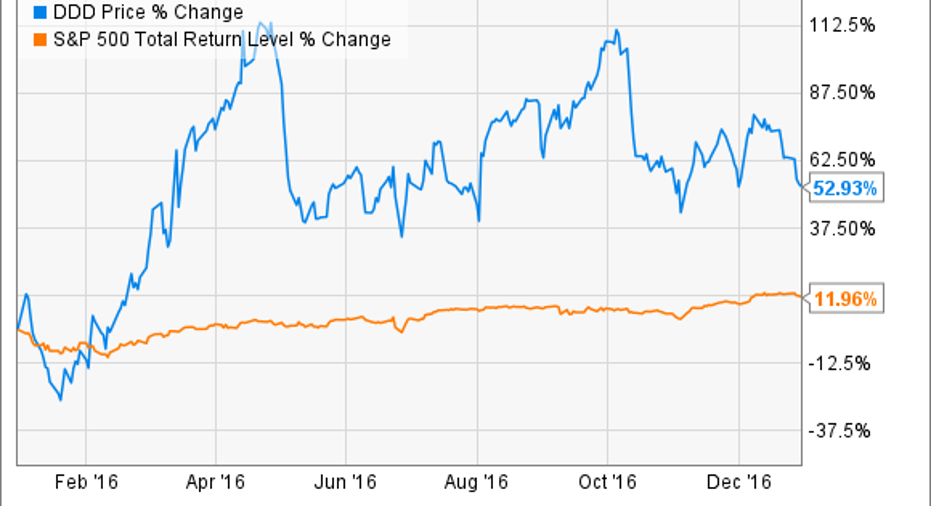 3D Systems'(NYSE: DDD)stock soared 52.9% in 2016, making it the second-best-performing 3D printing stock of the year.(Shares of Swedish industrial metal 3D printing specialist Arcamrocketed up 56.5%, thanks largely to General Electric's acquisition of a controlling stake in the company.)
Data byYChart.
Moreover, 2016 was the first year since 2013 that 3D Systems' stock has closed out a year with a gain. The stock of the industry's largest player, along with most others in the group, was slaughtered in 2014 and 2015, falling 90.6% during this two-year period. Since Jan. 1, 2014 -- which roughly corresponds to the stock's all-time high -- shares are down 84.4% through Jan. 6.
Before we dive into the likely reasons that 3D Systems' stock outperformed in 2016, it's important to know that the company's businessis still struggling.
3D Systems' business is still struggling
3D Systems grew year-over-year revenue at just 3.2% in the most recently reported quarter, Q3, and earnings on a basis of generally accepted accounting principles (GAAP) remain negative, as they have been throughout 2015 and 2016.
Among other challenges, 3D Systems' key challenge since 2015 has been trying to grow total revenue, despite a persistent slowdown in demand for its enterprise 3D printers, most especially its polymer 3D printers. (3D Systems doesn't break out its metal business' revenue anymore, but comments made during earnings calls suggest that the quite small metal 3D printer business has been holding up better.) Fellow diversified 3D printing industry leader Stratasyshas also been facing the same challenge.
Here are the top three reasons, in my opinion, that the market drove 3D Systems' stock up nearly 53% in 2016.
Image source: 3D Systems.
1. Improvement in financial results
While 3D Systems' business is still struggling, the there have been some improvements in the company's financials in 2016 compared with 2015. So it makes sense that the market has rewarded the stock to some degree.
Thethird quarter was the first time since the second quarter of 2015 that 3D Systems' year-over-year revenue increased. The increase was just 3.2%, but that's much better than revenue continuing its downward spiral, and it likely suggests to some market participants that the worst is over.
More important, earnings have also improved, as is often the case when things pick up on the top line. In Q2 and Q3 2016, the earnings losses (on a GAAP basis) narrowed from the year-ago periods. Additionally, adjusted earnings in both quarters crushed Wall Street's estimates.
That said, while 3D Systems' overall revenue did manage a modest year-over-year climb in the third quarter, year-over-year revenue generated from sales of 3D printers isstill declining. It fell 6% in Q3. This is concerning because 3D Systems employs a razor-and-blade-like business model. Sales of 3D printers, the "razors," drive future sales of the more lucrative print materials, or "blades."
2. Exit of former CEO
Another big reason the market likely pushed up 3D Systems' stock in 2016 was the collective exuberance over the fact that former CEO Avi Reichental abruptly left the company in late 2015. There is little doubt that market sentiment about the longtime CEO was strongly negative during his last couple of years. During the last few years of his tenure, 3D Systems was on an acquisition binge that seemed shotgun-like at times. Buying more than 50 companies in about three years probably resulted in not devoting enough resources to nurturing the company's existing businesses.
It remains to be seen how well CEO Vyomesh Joshi, who took the helm in April, will perform at the job. At the very least, investors have no doubt liked hearing from Joshi, a longtime top 2D printing exec at the former Hewlett-Packardbefore it split into two companies, that he'll be focusing on growing the company's existing businesses, rather than on acquisitions.
3. Development of next-generation 3D printing technologies for production applications
Another likely notable reason for the market's optimism about 3D Systems in 2016 was the company's introduction early in the year of Figure 4, a development-stage technology that Joshi has said is at least two years away from commercialization. Figure 4 is a robotic, modular, stereolithography (SLA) 3D printing tech that the company claims is 50 times faster than conventional SLA technology.
Investors following the 3D printing space know there were two compelling new entrants to the enterprise market in 2016 HP Inc. and Carbon. Both companies launched their much-anticipated flagship polymer 3D printers in the spring. These machines are reportedly much faster than any models offered by 3D Systems, Stratasys, and the other existing market participants.
Speed is a huge factor holding 3D printing back from making greater inroads into production applications. So investors are surely pleased that 3D Systems is working on developing its own speedy 3D printing tech so that it can make printers that can compete with respect to speed with those launched byHP and Carbon.
And 2017?
3D Systems' stock has some momentum. Not only was it up big in 2016, but it's also jumped 8.6% in the first four trading days of 2017, while the S&P gained 1.7% in this period, ended Jan. 6. Early 2017 market enthusiasm is industrywide, as just about all the 3D printing stocks are off to speedy starts in 2017, with Stratasys' stock up 8.7%, voxeljet up 17.7%, ExOne up 7.3%, and Arcam up 6.3%.
It's not surprising that the market lifted shares of 3D Systems in 2016, as the company's financials did improve from 2015. Nonetheless, the improved business performance is still in the very nascent stages, earnings remain negative, and the company is still struggling to sell its enterprise 3D printers.
The stock's price-to-sales valuation looks potentially attractive at 2.5 -- a level that hasn't been seen since before its big run-up started in 2012. However, if I were considering investing in 3D Systems for the long haul, I wouldn't pull the trigger yet. At a minimum, I'd want to see at least a couple of more quarters of year-over-year improvements from a revenue and earnings standpoint. I'd also be looking for year-over-year sales of 3D printers to at least stop declining, without gross margins being sacrificed. I might also wait until there was some shred of support that Figure 4 has a good shot at being successful, such as 3D Systems' announcement of a meaningful partnership with an industry leader.
10 stocks we like better than 3D Systems When investing geniuses David and Tom Gardner have a stock tip, it can pay to listen. After all, the newsletter they have run for over a decade, Motley Fool Stock Advisor, has tripled the market.*
David and Tom just revealed what they believe are the 10 best stocks for investors to buy right now... and 3D Systems wasn't one of them! That's right -- they think these 10 stocks are even better buys.
Click here to learn about these picks!
*Stock Advisor returns as of Nov. 7, 2016
Beth McKennahas no position in any stocks mentioned. The Motley Fool owns shares of General Electric. The Motley Fool recommends 3D Systems and Stratasys. The Motley Fool has adisclosure policy.